Even with the current climate and challenging business landscape, Hong Kong is still welcoming new culinary offerings in the city. Adding to the lineup of restaurants opening this season is the return of Cobo House, now with a new location offering a spectacular view of the Victoria Harbour from the sixth floor of K11 Musea.
The restaurant offers over 50 seats with the options for grab and go, dine in, and bar service
The restaurant's interior boasts of a spacious, grey colour tone with modern aesthetic, displaying contemporary works by artists Zhang Enli, Pascale Marthine Tayou and Fred Eversley, among others. The floor-to-ceiling glass windows are one of the highlights of the restaurant as it overlooks the picturesque views of the harbour. Offering a grab and go, dine-in, and bar service, the kitchen will be led by two young Hong Kong chefs Ray Choi and Devon Hou, whose personality and cooking style contrasts yet complements each other. These promising talents – hailing from various Michelin-starred restaurants around the world including L'Atelier de Joël Robuchon, Mandarin Grill + Bar, Amber, Arbor, and Tate Dining Room – are set to take Cobo House' menu to culinary heights. Expect a bespoke tasting menu that will feature a highlight ingredient presented in a six ($1,180) to eight-course ($1,480) meal that will change every six weeks.
Chefs Ray Choi and Devon Hou
The tasting menu named The Knife & Spoon, is divided into nine different chapters and is inspired by the two cutlery that has an entirely unrelated functionality on the dining table, yet sits side by side on table settings – correlating it to the duo chefs who acts as the 'yin' and 'yang' of the kitchen. Each chapter of the menu will highlight key ingredients that will be utilised throughout the courses. To give you a glimpse of the intriguing menu, Chapter Zero will start with an appetising sea bream dish marinated in kombu and sake paired with gazpacho consommé. For the main, the highlight will be on Japanese Hokkaido Akkeshi oysters complemented with caviar and salmon roe. Guests can finish the course with a seasonal Yamanashi white peach with Shiso ice cream and rice puff. For Chapter Two, the menu will give the spotlight to, the humble breakfast staple, the egg. Expect various iterations of dishes from different types of eggs flown in from America, China, Japan, and Spain. The menu will also feature a century egg paired Japanese crabmeat and fermented cherry tomatoes, marinated soy sauce duck egg yolk with abalone, and abalone risotto mixed with duck egg yolk and kombu.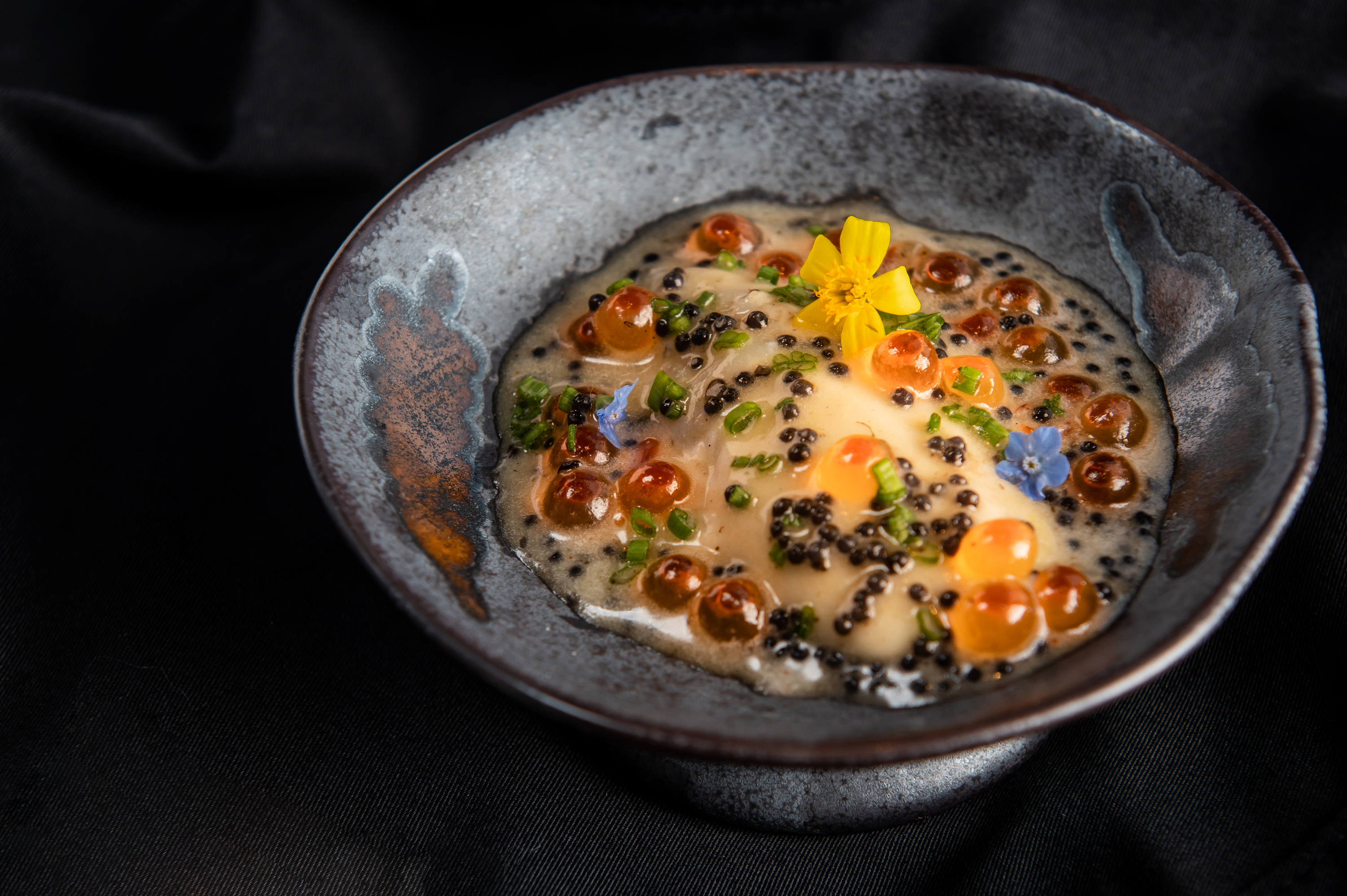 Japanese Hokkaido Akkeshi oysters complemented with caviar and salmon roe
Cobo House is located at Shop 602, 6F, K11 Musea, Victoria Dockside, 18 Salisbury Rd, Tsim Sha Tsui. Contact 2656-3088 or info@cobohouse.com for enquiries and reservations.