Winter is fast approaching, and to no one's surprise, a trip to a tropical paradise might still be off the travel calendars. For most of us who are confined in the city, we take comfort that relaxed social restrictions are still allowing us to scratch our travel itch through eating and drinking in establishments that remind us of our holiday getaways. This October, if you're dreaming of being transported to a Polynesian beach bar, head to Honi Honi Tiki Cocktail Lounge and take advantage of their eight-anniversary back-to-back specials.
From now until November 1, guests can enjoy Honi Honi's best-selling cocktails for only $88 per order which will include signature rum cocktails Pina Colada (gold rum, coconut liqueur, coconut milk, lime juice, pineapple, and coconut syrup), Bikini Girl (rum, lychee purée, cucumber, rose water, cranberry juice, and lychee syrup), The Four Wise Monkeys (spiced rum, Cartron apple liqueur, lime juice, fresh ginger, apple juice, sugarcane syrup, and tiki bitters), and Dark and Stormy (spiced rum, lime juice, ginger beer, and Angostura bitters). And because drinks enjoyed with friends taste so much better, bring the entire gang and share a serving (or two) of Honi Honi All The Way ($800) served inside a hollowed-out watermelon dressed with tropical flowers, and dosed with a strong blend of rums.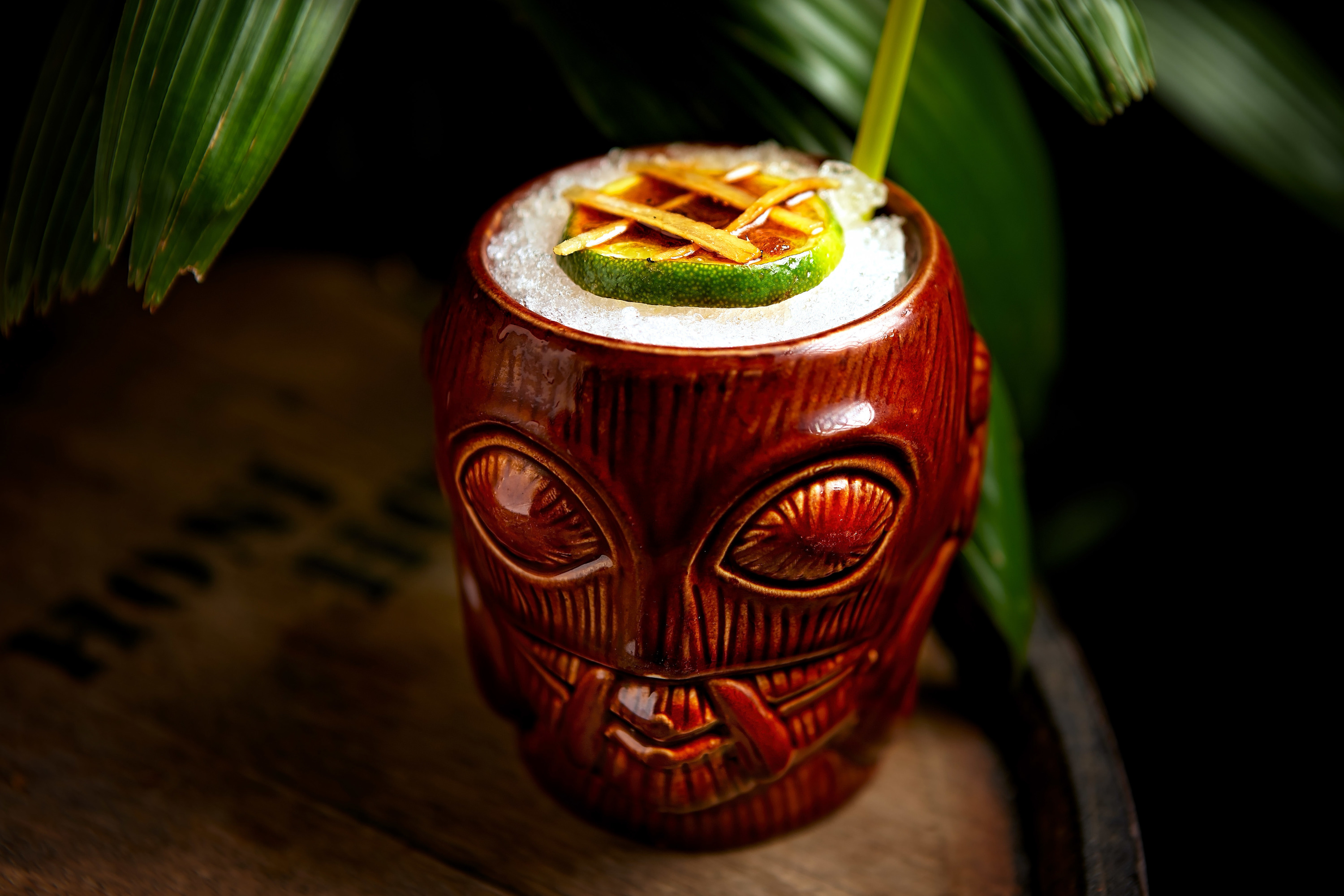 The Four Wise Monkeys
If you're thinking about getting inked but still haven't mustered the courage to do so, maybe all you need is a little liquid courage, and Honi Honi will offer exactly that. On October 22, Honi Honi will be collaborating with Circuit Square and Tattoo to host a '1 drink for 1 ink' pop-up event that will allow patrons to get a unique 5cm to 10cm tattoo when they purchase a serving of Yellow Eye Coffee Rum cocktail ($800). Just remember alcohol impairs judgment, and getting inked is permanent, so make sure not to get your ex's initials or any weird tat you'll regret in the end. If this is not for you, opt to drink for a cause and support Pink Month instead. As support for Breast Cancer Awareness Month, Honi Honi is donating $150 to the Hong Kong Breast Cancer Foundation for every sale of a bottle of Champagne rose wine Taittinger Nocturne Rose ($750).
Honi Honi All The Way
For Halloween, get your favourite costumes ready and enjoy a free-flow Halloween menu at Honi Honi which includes glasses of bubblies, bloody mojito, pumpkin organic vodka punch and various sweet treats. Tickets to the festivity will be available for $550 per person for early-birds and $660 per person if bought at the door on the night of October 31.
The bar's regular happy hour is still available daily from 4pm to 7pm, enjoy beers, spirits, and mixers for only $70 per order. Or head there on Saturdays from 7pm to 10pm, and indulge in the bar's free-flow special package ($250/2 hours or $300/3 hours) which includes Aperol Spritz, Kozel beers, and mojitos.
Visit Honi Honi Tiki Cocktail Lounge on Facebook for updates.
Want to hear about the latest products, openings, pop-ups, and learn about the most happening dining and drinking spots in the city? Subscribe to our newsletter and be the first to get the news!