Hong Kong's top 10 cycling routes
The best cycling routes to get you out and about on two wheels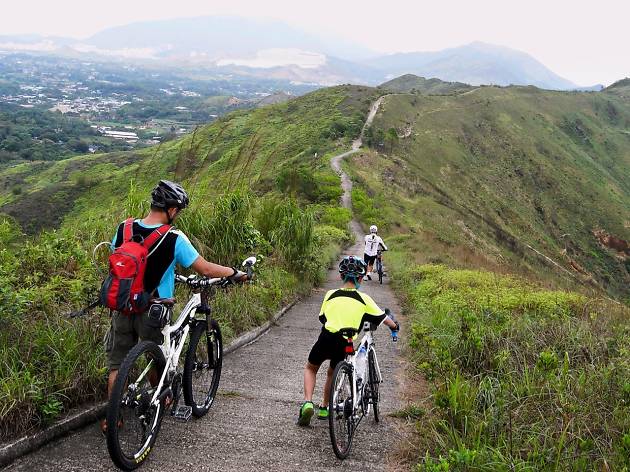 We've already rounded up the best outdoor bootcamps and the best hikes in Hong Kong, for those of you looking to get a sweat on. Now we're trying our hand at exercising on two wheels, and we don't mean in a air conditioned spin class. Whatever the time of year, don't fret about the weather outdoors. Hot or cold, from famous routes in the New Territories to lesser-known gems, you'll find them all here.
Best cycling routes in Hong Kong
1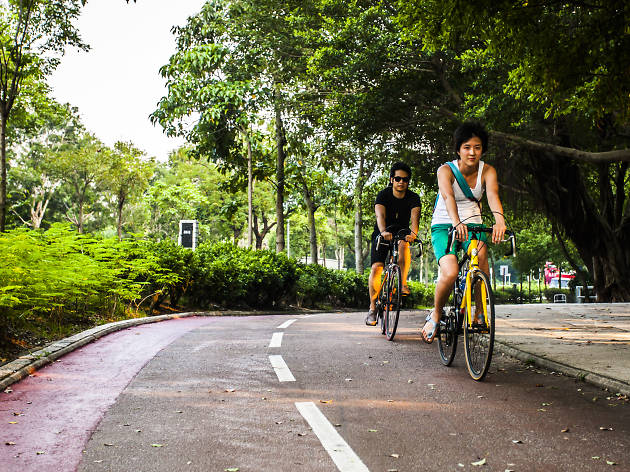 Tai Wai/Sha Tin to Tai Po
Starting along the Shing Mun river, this route takes you through the Hong Kong Science Park, the Pak Shek Kok Promenade as well as the Tolo cycling track – probably Hong Kong's most picturesque cycling route. With cafés dotted along the route and Tai Po Waterfront at the end, this three-hour-long route can easily be stretched into an all-day affair. Bikes can be rented in the park, or if you fancy doing it backwards, in Tai Po.
2
Tai Po waterfront is the perfect place to rent a bike and escape from the city. Nearby you'll find the Tai Wong Yeh temple, built by fishermen in the 17th century – it's still an important place for Tai Po residents, who hold the Tai Wong Yeh festival annually. You'll also be able to spot the striking Tsz Shan Monastery Guan Yin statue along the way. The popular route is a leisurely 1.5 hours but can be extended along the Tai Mei Tuk dam for a longer 9km ride. More experienced riders can complete the whole 20km track from Tai Wai to Tai Mei Tuk.
3
A world away from urban Hong Kong, the Nam Sang Wai landscape is dominated by abandoned farms, fish ponds and lush greenery. Bikes can be rented from the Tin Fung Bicycle Company – if you prefer to be shown around these lesser known areas, the crew at Mountain Biking Asia offer a 35km guided tour. If you're a more independent traveller, however, the route is just 20km of easy paths, taking around three hours.
4
Perfect for beginners, or if you just wanted a more leisurely cycle, Po Kong Village Park offers a 1km elevated track. The park is ideal for a family day out with bikes available to rent for all age groups, a children's play area and (for the more daring) a skate park! If you fancy testing your luck on one of the ramps, the park is also open to BMX enthusiasts.
5
This trail follows the contours of Lantau Island's southern coast. Keen cyclists gather at the Friendly Bike Shop in Mui Wo, where high-quality bikes can be rented. With river crossings and steep steps, this 9.5km trail can be a bit challenging, but it offers some of the best sea views in all of Hong Kong.
6
Not for the faint of heart, this 25km route is a combination of road biking and the infamous Dragon's Back. The beginning alone is a real challenge – the roads of Wan Chai and Repulse Bay. Then there's the Dragon's Back, equal parts picturesque and treacherous with its many rocks, roots and steps. Once you've broken into the southern part of the island, though, you're afforded views of unspoiled greenery and seascapes. Come prepared with lots of water for this two-hour journey, as well as a suitable mountain bike.
7
Leisurely tracks not your thing? For a bit more thrill-seeking action, head over to The HKJC International BMX Park. Located in Kwai Tsing District, this is the first venue in Hong Kong to qualify as a venue for international BMX racing. The park offers a generous 350m track, bike and gear rental as well as coaching sessions for those wanting to pick up new tips and tricks.
8
With a number of shops to rent from and many routes along the harbourfront, this is ideal for those wanting to escape the fast-paced city life. However, if you're looking for more of a workout, then look no further than the North Lookout Pavilion. As the highest point of the island it offers stunning views over the Tung Wan waters and is no mean feat. The ride only takes about 30 minutes, but can be extended by cycling around the quirky back streets of the island.
9
Ideal for a family day out, this route offers 15km of flat paths. Start in Tung Chung and pick up a bike from Sunny Bike Shop and then simply follow the MTR track for the majority of the way. The roads are quiet and there are great views over the coast. The route ends at Inspiration Lake, where paddle boats can be rented for more outdoor fun.
10
For an easier route on Lantau, this scenic 25km trail takes you through villages, with views over both the sea and hills. This three-hour journey is not without its challenges though, as a number of rather ominous hill climbs are dotted along the track, one of which leads up to the Big Buddha. Much of the track is concrete but for the more rural parts we still recommend using a mountain bike. Bikes can be rented at Friendly Bike shop in Mui Wo, mentioned above.
Want to exercise the fun way?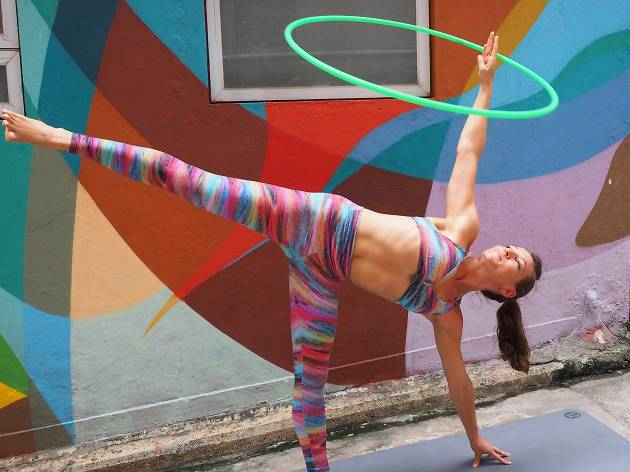 Sport and fitness, Gyms and fitness centres
Put your hikes and bootcamps on the back burner in favour of some slightly more unusual fitness regimes. The best part about them? They're so much fun you won't even realise that you're working out.