5 best night hikes in Hong Kong
Hiking in Hong Kong is great and it's just as good at night as it is during the daytime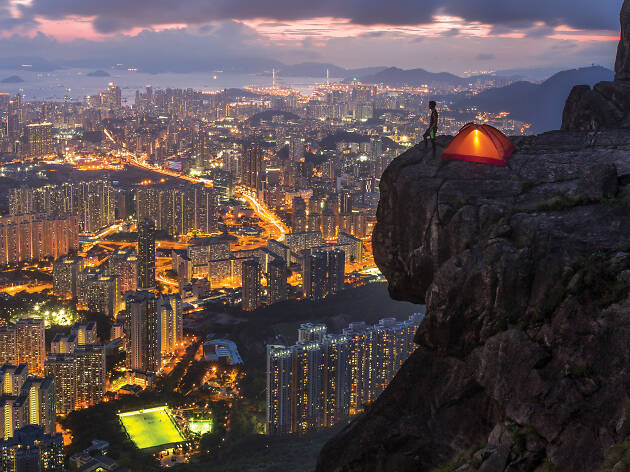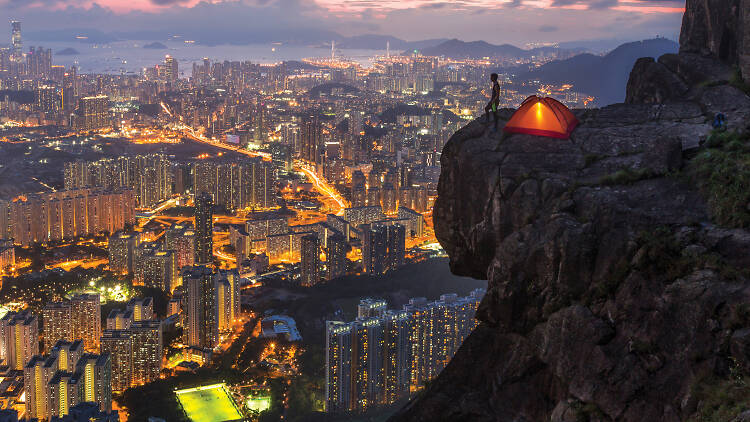 Hiking in Hong Kong is such a popular past-time that trails like Dragon's Back and Sunset Peak have become packed with the hobbyists and tourists come weekends, and the views from those vantage points no longer impress us. Even the rarely-treaded paths on outlying islands and other alternative hikes don't cut it anymore. But if you tackle the same routes under the cover of night, you'll be rewarded with an entirely new experience.
Not only is it less gruelling and hot without the sun overhead, but a nocturnal hike also provides the most captivating night views of Hong Kong as the city's skyscrapers all light up, illuminating our beloved metropolis in a magical way. Whether you prefer a leisurely stroll that comes with harbour views or a challenging cliff-side climb, these are five of the best night hikes to try for you active night owls out there. By Amanda Sheppard
RECOMMENDED: Can't be bothered with the workout? Well, there's nothing wrong to sticking to drinks at a late-night bar either.
Hong Kong's best night hikes
Distance: 3km
Duration: 60 minutes
Difficulty: 1/3
A leisurely hike over Hong Kong Island's eastern corridor, Sir Cecil's Ride takes you from Quarry Bay to Braemar Hill and provides panoramic views of the harbour. The walk is brief and the terrain mostly flat, making this ideal for casual night hikers.
Starting with a steep incline – this is probably the hardest part – follow Mount Butler Road, where a canopy of trees gives way to a concrete path and little else, leaving you alone with your thoughts for a rare moment of quiet in the city. From there, take the path across a narrow bridge, after which you'll reach the intersection of the Hong Kong Trail and Wilson Trail, leading up to Sir Cecil's Ride (named after the former Hong Kong governor Cecil Clementi). There are two short, steep flights of stairs to climb, though in comparison to many other hikes, Sir Cecil's Ride is pretty easy.
The vistas take on an entirely new dimension at night with illuminated skyscrapers poking over the undulating hills in the foreground. Continuing on the trail, now downhill, you'll end up at the Braemar Hill Shopping Centre, with a bus terminus on-site linking to the rest of the city.
How to get there: Minibus 24M from Admiralty takes you to the start of the trail on Mount Butler Road, while bus 11 from the Central Ferry Piers takes you halfway up Mount Butler Road (the hike is reached after a sharp ascent).
Distance: 7km
Duration: 2 hours
Difficulty: 2/3
There are few views in the city more iconic than our vertical skyline seen from atop Victoria Peak – and the view is just as spectacular, if not better, come nightfall. Though this hike centres around the top of the mountain, it's still one of the most accessible in the city and perfect for anyone hankering for a mid-week night climb.
In order to rack up those cardio points, start from the Green Trail near the Peak Tram terminus in Central. You'll embark on a short, albeit vertical, ascent to The Peak, which for the most part follows the tram tracks, passing through dense greenery in the heart of Mid- Levels. Once you plateau, enjoy a steady stroll along The Peak.
A fairly easy hike to fit into a busy schedule, the pinnacle of the walk has you circling Harlech and Lugard roads to the highest reachable part of Hong Kong Island, with grand views of the harbour laid out before you. If you head out just before sunset, you'll reach Lugard Road in time for twilight to witness the city pulsing with light – an Instagrammer's dream.
How to get there: From Central MTR station you can walk to the start of the trail on Garden Road, by the Peak Tram, within 15 minutes. From Central Ferry Pier, bus 15C goes direct to Garden Road with just one stop at City Hall along the way.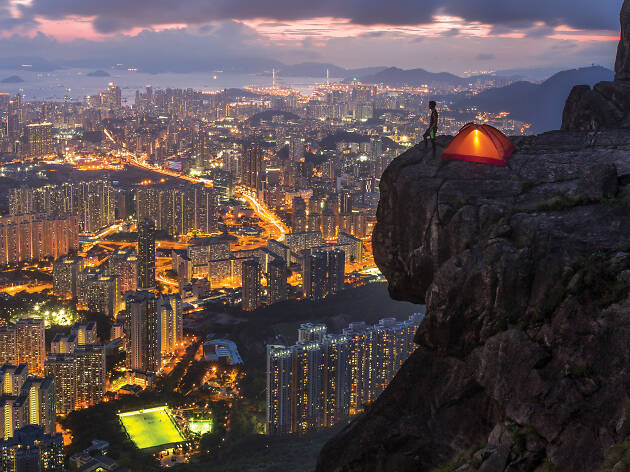 Kelvin Yuen
Kowloon Peak (Suicide Cliff)
Distance: 12km
Duration: 3-4 hours
Difficulty: 3/3
This is definitely not a hike for any acrophobics. The harrowing name refers to the jaw-dropping cliff face that overlooks Kowloon Bay. Don't think it's easy just because photography enthusiasts often lug their tripods on the trail to capture the city from a unique angle. This is a hike that should be approached with caution, especially at night in the final stage down to Suicide Cliff.
The start is probably the hardest part. Once you're on Fei Ngo Shan Road, continue until you see a stone with '328' marked in red, the trailhead of the eastern path up towards Kowloon Peak. Walk up the stone stairs and eventually you'll come to a signal-transmission tower and a helicopter-landing pad. Go past the tower and nearby building and, after some further trekking, Suicide Cliff will come into view. Work your way cautiously down the rocks to reach the jutting promontory and your photo op.
Coming back, be very careful and follow the trail past the helipad down to Fei Ngo Shan Road, basically retracing your steps home.
How to get there: From Kwun Tong MTR exit D, take minibus 47 to the Lee Ming House Shun Lee Estate. Walk past the parking lot on your right and take the stairs up to Clear Water Bay Road. Continue along the main road until reaching where Fei Ngo Shan Road branches off.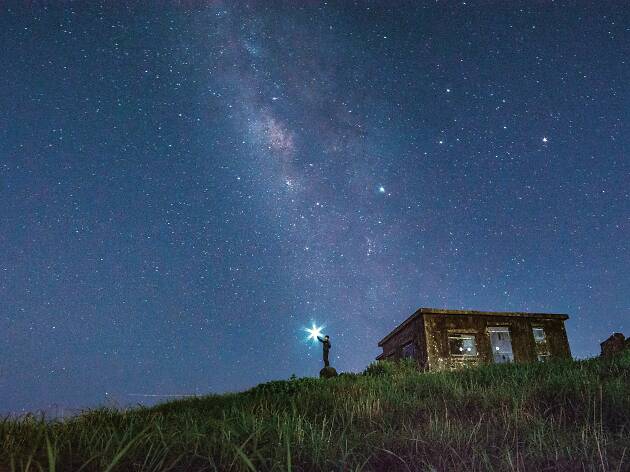 Parkes Chan
Nam Shan Country Park to Pak Kung Au
Distance: 6.5km
Duration: 3 hours
Difficulty: 3/3
This hike on Lantau is tough but the stunning views over Chek Lap Kok and the airport make it worthwhile. Set off from Nam Shan barbecue area, a short distance uphill from the Mui Wo Ferry Pier, then get on stage two of the Lantau Trail (there are signs), which takes you from a quaint seaside village to the lower slopes of Sunset Peak on the island's northern edge, overlooking the airport and Tung Chung town centre.
Climb a series of gruelling stone steps etched into the exposed mountainside, reaching heights of 700m, then pass above the seaside village of Pui O before ascending further towards Yi Tung Shan, as the climb enters its most difficult phase.
Near the end of the hike, the bottom rungs of Sunset Peak and its stone houses are visible. From here, views of Hong Kong International Airport rest on one side of the mountain, with the idyllic beach and village structures of Cheung Sha on the other. South Lantau Road connects to Pak Kung Au, with buses running to both Mui Wo and Tung Chung to help you get back home.
How to get there: Take the Mui Wo Ferry from Central Ferry Pier 6. Climb the hill directly across from the ferry pier for around 200m, after which the South Lantau Trail begins. Follow signs to Pak Kung Au in a westerly direction and continue towards Tung Chung Road.
Distance: 4.4km
Duration: 1.5 hours
Difficulty: 1/3
Ominous-sounding but not too difficult, the hike to Devil's Peak in Kwun Tong district takes you past numerous relics from Hong Kong's history. The trail here begins in Lei Yue Mun, a once-bustling fishing village, before passing through a Chinese cemetery and a series of former bunkers that date back to the Second World War. The military installations were established to protect the harbour, though the peak itself was used as a lookout point for pirates back during the Qing dynasty. See? You're learning already.
While the hike itself is relatively simple, getting to the start of the trail requires an element of navigation – check a map before setting off. From Yau Tong MTR station, walk
in the direction of the Chinese Permanent Cemetery. After roughly 15 minutes walking uphill, section three of the Wilson Trail connects with the road near the start of Ko Chiu Road. From there it's a simple matter of following the trail to Devil's Peak and its sweeping vistas of Kowloon and Tsueng Kwan O.
To exit the circular hike, climb down the stairs that lead to Pau Tai Path and retrace your footsteps back to Yau Tong station.
How to get there: At Yau Tong MTR station, take exit A1, follow Lei Yue Mun Road and take a right to the roundabout. Turn left on to Ko Chui Road and follow the blue signs to the Chinese Permanent Cemetery, continuing for 500m. Finally, take the Wilson Trail to Devil's Peak.
• There's safety in numbers: never hike alone.
• A torch or headlamp is essential to aid visibility.
• Take at least two litres of water as it's unlikely you'll be able to restock.
• Gloves come in handy when navigating rocky terrain.
• Countryside maps are essential (available from the Survey and Mapping Office).
• Practice. Don't try a new trail at night if you're not already familiar with it.
Discover more great hikes