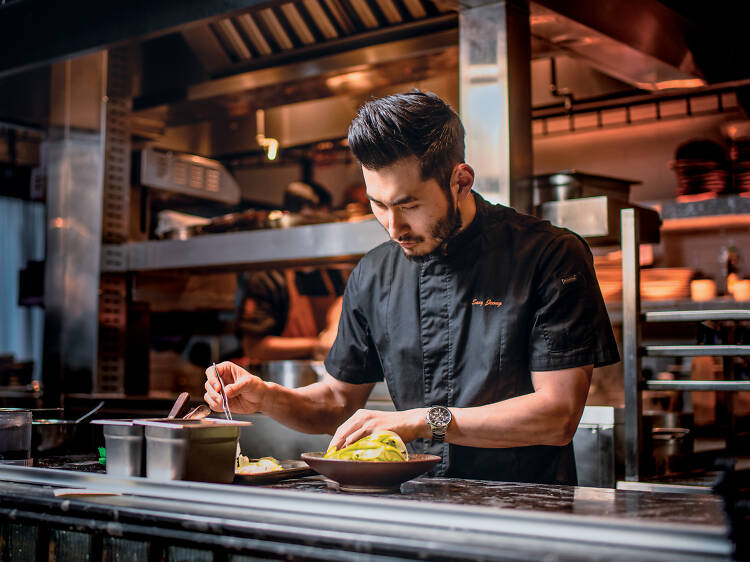 Calvin Sit
Sang Jeong, Head chef at Ichu Peru
Originally from South Korea, Sang Jeong worked at Lima's renowned Central Restaurante for three years before relocating to Hong Kong to head up H Queen's contemporary Peruvian restaurant, Ichu Peru.
How are you spending your first Christmas in Hong Kong?
Since I work in the hospitality industry, I'll be working. I remember one time when I was working in America for Sofitel, they gave me a day off on Christmas. I didn't really know what to do. To be honest, for me, being in the kitchen is more comfortable.
What if you had the holidays off?
When I was younger, I always thought of spending time with my girlfriend. Now though, I'm thinking about spending more time with my family. These days, I don't have much time to spend with them, so whenever I visit Korea for the holidays, I'll go to restaurants with my family, or go camping with them and our dog, Thunder.
What do you plan to gift to your loved ones this year?
Whenever I've had a girlfriend, I always bought jewellery from Tiffany & Co. I think it's a safe bet. If I had a girlfriend now, I might buy her electronics, something from Apple. I try to buy gifts that everyone likes.
What's on your wishlist this year?
If I can get a gift, I want to drive a Lamborghini for a day. I have a license but I don't really drive because I'm always work ing. In a fine-dining restaurant, there's a lot of of competition. To survive, I always had to push myself in a low-salary condition. When I looked at celebrities, like singers or rappers, they have a lot of swag. I used to think, why can't a chef drive a Lamborghini to his restaurant? I always imagined this.
Favourite Christmas song?
I like Christmas songs, especially Last Christmas. Whenever you're on the streets around Christmas in Seoul, you hear this song. So if I listen to it, I feel like Christmas is coming but, at the same time, I'll also feel a little homesick. I mean, in a good way.
What's your go-to holiday food?
In Korea, I usually go straight for Korean barbecue. I love Korean barbecue, especially with my family. I also like Korean-Chinese food. In Korea, we call it Chinese food but I realised these dishes don't exist in China, like jajangmyeon.