Heads up! We're working hard to be accurate – but these are unusual times, so please always check before heading out.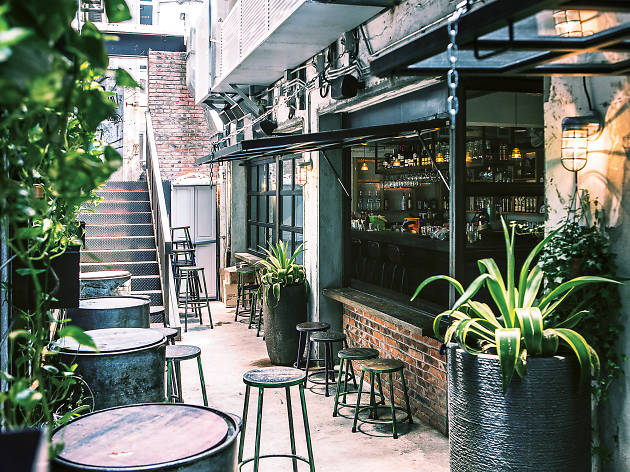 Hong Kong's coolest hidden alleyways
From awesome graffiti to hidden bars, these are the best secret spots in alleyways actually worth lingering in...
Hong Kong is blessed with amazing secret islands, gorgeous beaches and brilliant hiking trails that are the envy of Time Out cities worldwide. Oddly enough, Hong Kong's many alleways aren't held in quite such high esteem. But if you think all alleyways are dank, dark and dangerous, then think again.

The intrepid staff of Time Out have jumped oily puddles, dodged noxious bin bags and sidestepped unknown drips to locate the best secret spots in alleyways actually worth lingering in. In fact, these streets are so secret they don't even have names...
Hong Kong's coolest hidden alleyways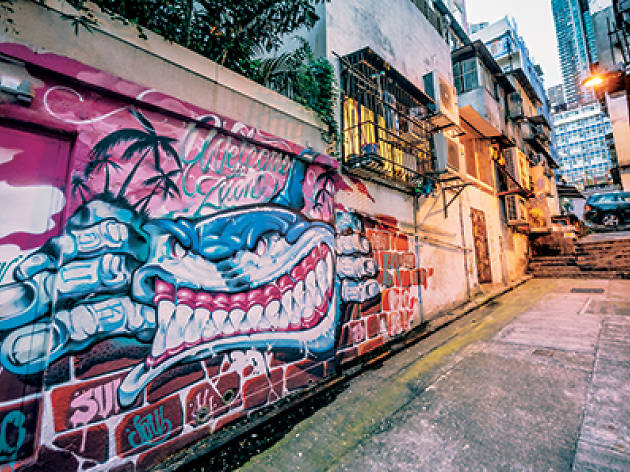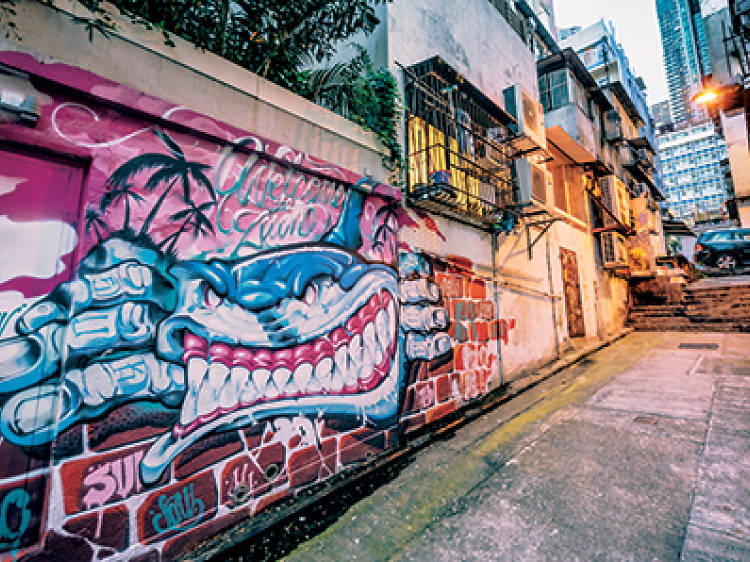 'We need walls. You need art.' This pithy slogan is the essence of the annual HK Walls street art festival – the only one in the city devoted to this particular art form. The hub of the festival is the area around Tai Ping Shan Street in Sheung Wan, which enjoyed a temporary transformation in May 2014 during the occasion's first iteration and again for a second time in March this year. You'll spot art on walls and shops all around the area, but we especially love this alleyway, tucked between Sai Street and Upper Station Street. Make the effort to take a detour and admire the brick-busting, teeth-baring shark mural by Korean artist Jay Flow.

Artwork in image above in alley between Sai Street and Upper Station Street, Sheung Wan; hkwalls.org.

No, you didn't plunge down the rabbit hole. This is House of Siren, and it's not a solitary hidden gem – there are thousands of gems in here, sewn into the 300 costumes that are for rent in the dramatically decorated space. Seeking a metal corset, flapper dress or a Renaissance pageboy outfit? You'll find it here. Designer Gregory Derham originally opened House of Siren on Staunton Street in 1996. It moved to Robinson Road in 2011, although you need to dip down a flight of stairs and into the alleyway behind the building to find the entrance. Derham sadly passed away shortly after the move, but the House has broadened into an impressive event space with a bar and kitchen, decorated with antiques and pieces Derham acquired from colonial houses and buildings earmarked for demolition. Costume rental starts at around $600, although larger pieces cost more. AC
LG/F, Carlos Court, 64 Robinson Road (entrance behind building), Central, 2530 2371; siren.com.hk.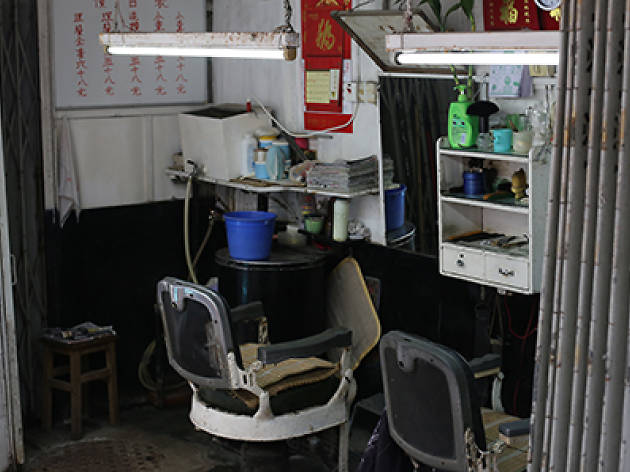 Defying all logic, this vintage hairdresser has been serving local clientele in a tiny alley next to a loo between Shing Wong Street and Hollywood Road for more than 50 years. Despite booming construction around the area, this store has remained very much unchanged, with old-fashioned barber chairs still in use and only a traditional metal gate to secure its exterior. Even with prices soaring elsewhere around Hong Kong, haircuts at this photogenic institution cost a mere $30 to $60 – that's a steal for a trim, although it's the experience you'll really want to go for.

Corner of Hollywood Road and Shing Wong Street, Central. Suggested by photographer Michael Kistler via samthelocal.com.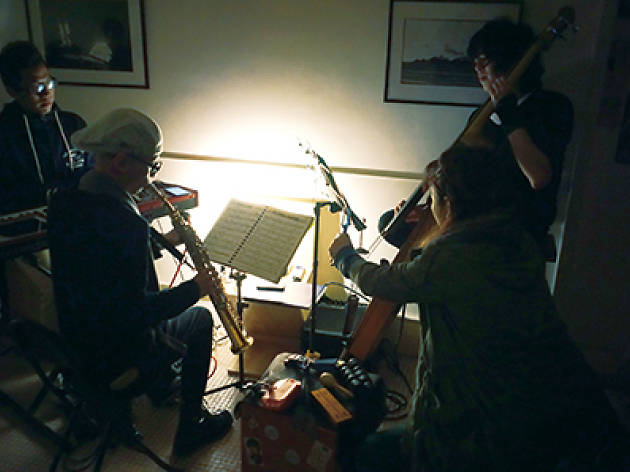 This nightspot in an alley behind Hollywood Road is equal parts covert and awesome. Owner Benky Chan decided to combine his joint love of haircutting and jazz to open up this super intimate venue, which hosts jazz nights on Saturdays but is a hair salon the rest of the week. Get your hair cut during the day, then return at night to chill out on the sofas or hop up to the mezzanine as some of the best local jazz acts strum their stuff. The best way to find out about these gigs is by word of mouth as there is no official website or social media page.
LG/F, Po Lung Building, behind 93 Hollywood Road (off Shin Hing Street), Central, 2523 8988.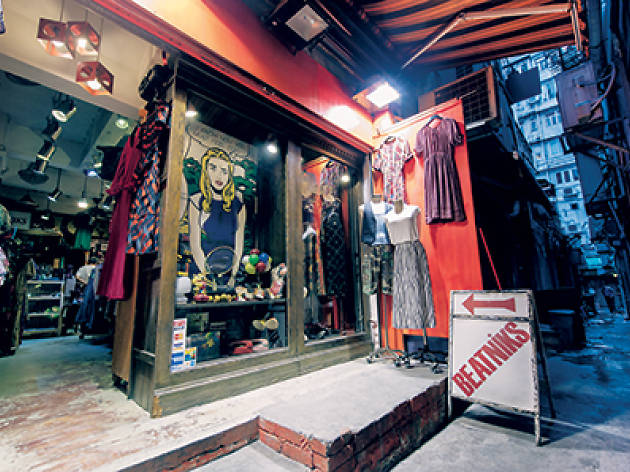 Peer into a dimly lit alleyway on the side of Graham Street and you'll discover this treasure trove of vintage clothes, accessories and collectibles. Beatniks was established in the basement of a Staunton Street building six years ago, although the store is like a time capsule in itself, with old American license plates and a woven tapestry of Elvis adorning the walls. The Beatles are a prevalent theme throughout the store, with John, Paul, George and Ringo staring at you while you indulge in retro retail therapy. Specialising in items from the 70s, most of Beatniks' stock is adorned with some variation of polka dot or floral design. There's also a wide array of costume jewellery in vibrant shades for those looking for a statement piece. For the less fashionably inclined, Beatniks also hosts an impressive collection of old toys sourced from Europe. Here, you can get your fix of Mickey Mouse collectibles, Coca Cola clocks and Miller Lite beer plaques among other things. Look out for its vintage sign and colourful mannequins on Graham Street.

Behind 31 Staunton Street, Central, 2881 7153.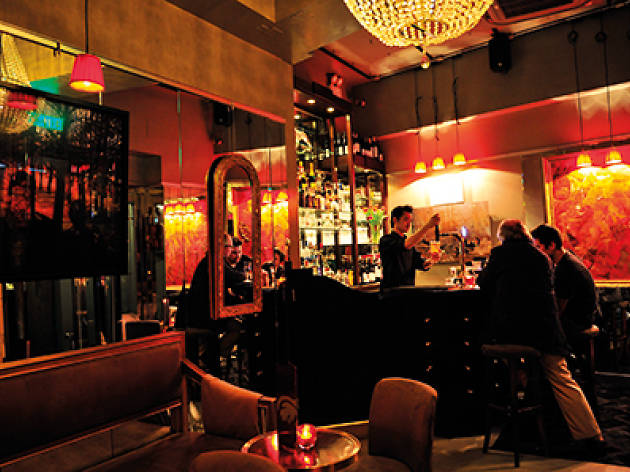 The steep slope of Peel Street has been ruffling the feathers of unfit locals and tourists alike for more than 150 years. Where once stood colonial quarters you'll now find firmly established cultural hotspot, PMQ. Where there was once vibrant and seemingly endless activity in the market stalls at the foot of the street there's now a dwindling flitter of activity. One thing that looks set to remain for the foreseeable future, however, is the street's mantle as the heart of Soho. You'd be hard pressed to find a night when crowds aren't strung throughout the many bars and restaurants that line the street. One of these has managed to remain a (somewhat) well-kept secret, however, thanks in part to its location behind the main drag. Jaabar is an intimate bar, reminiscent of a speakeasy or a scene out of Moulin Rouge. In homage to its interiors, the drinks are decadent and just that little bit daring.

Next to 33 Peel Street (via Gage Street), Central, 2815 8887; fb.com/jaabarhk.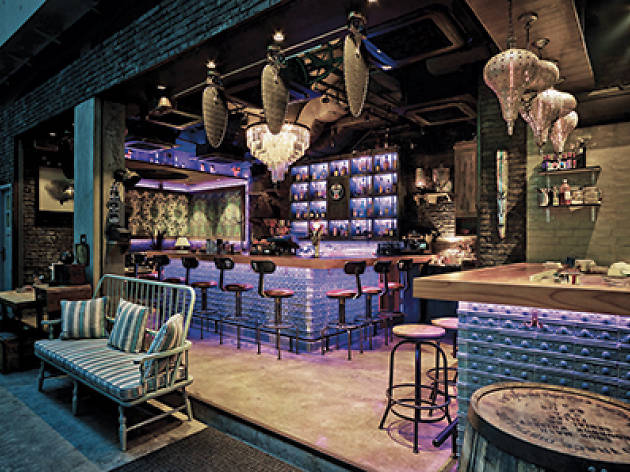 We know what you're thinking – not many nameless, faceless alleyways in Wan Chai have appeal. But bear with us. Landale Street borrows its name from a prominent figure – former Chairman of Jardine Matheson and (unofficial) Legislative Council Member, DF Landale. Nowadays, high-rise glass buildings sit alongside walkups; you pass hairdressers, coffee shops, and burger bars. Walking in the direction of Johnston Road, however, you're met with a narrow gap between two buildings which hosts a hidden sanctuary that's a safe distance from the cacophony of Lockhart Road. Here you'll spy Djiboutii. The safari-esque décor spices up the hidden hideaway, as do the dishes on their Middle Eastern and Mediterranean-inspired menu. There's also an impressive list of cocktails that are known to pack a punch!

Next to 2 Landale Street, Wan Chai, 9449 0777; djiboutii.com.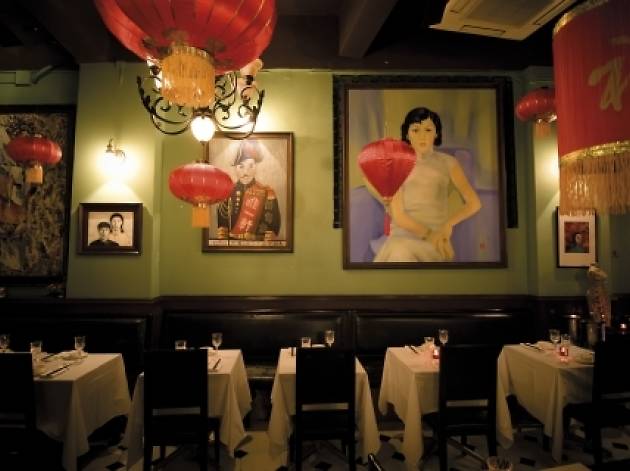 Lurking under Soho's escalator, the Monogamous Chinese is easy to miss if you're sailing by overhead. But this cosy restaurant, which serves Sichuan and Beijing cuisine in a space bedecked with modern Chinese art and red lanterns, is worth stopping off for. Don't be put off by the apparent disparate nature of the two cuisines – Monogamous does them both equally well. You'll be reaching for the water in no time. Perfect.

59 Caine Road (enter between Caine Road and Elgin Street), Central, 2523 2872; themonogamouschinese.com.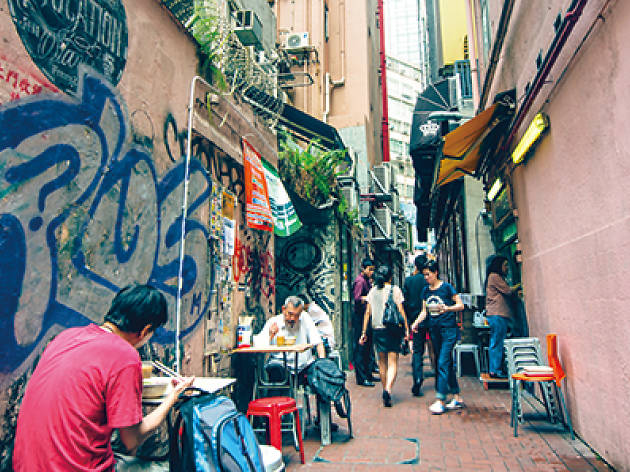 9. Breakfast near Tiffany's
Okay, this one is actually about a block away from Tiffany & Co's Causeway Bay branch, but we couldn't resist the pun. This remarkable pop-up breakfast joint (its Chinese name is 'Yao lei') is really quite special. In a tiny alley cutting through from Tang Lung Street to Russell Street, loyal punters have been queuing up to grab thick white bread sandwiches, fried eggs, noodles and lashing of HK milk tea from a hole in the wall to start them off on their day for the last 20 years. You can have a decent breakfast here for a cool $35, and sandwiches are sub $20. Yao lei is open from 6am every morning until around 2pm, when the chairs and tables are packed up and you'd never realise it had ever been there. There's no English menu, so practise your pointing if you can't read Chinese.

Between Tang Lung Street and Russell Street, Causeway Bay.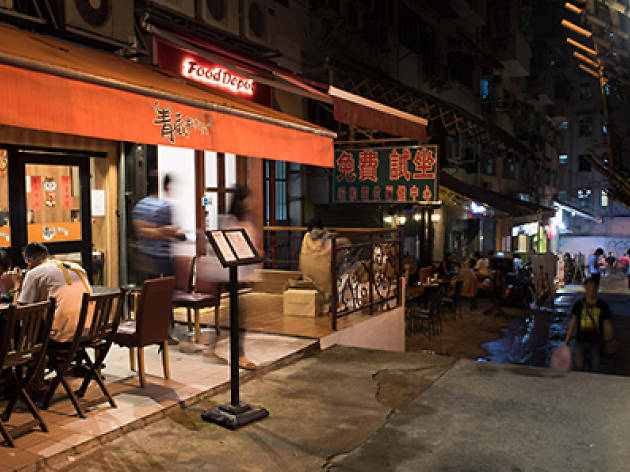 10. Qinghai Tibetan Noodles 青藏牛肉麵
The alleyway that houses this noodle joint is full of an entire range of top-notch restaurants, including French bistro Chez Didier and funky Singaporean and Malaysian restaurant Ancient Moon, which boasts Insta-worthy wall murals. However, we're raving about Tibetan noodles and grilled skewers right now. The prices at Qinghai are ridiculously good, and your bill should come to well under $100 per head for an assortment of dishes. There's no English on the outside, but look for the orange and black awning covering a smattering of tables. There's a clear English menu inside, which we intend to come back and devour thoroughly.

Alleyway connecting Shu Kuk Street and Kam Ping Street, North Point, 2151 0506. Suggested by Louis Huynh and Karen Ng via samthelocal.com.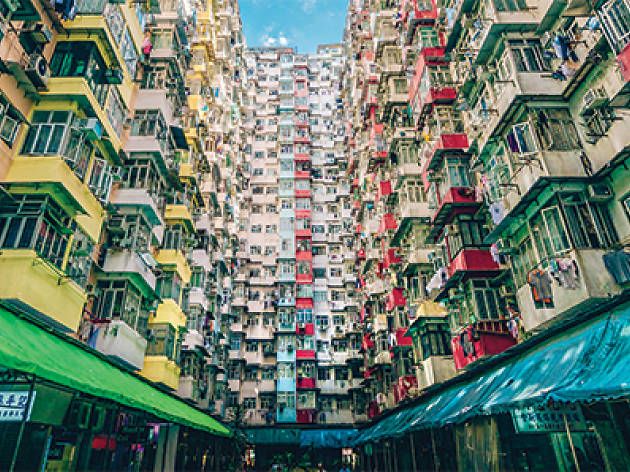 A stone's throw from King's Road, Yick Fat building is a large residential complex comprising three towering apartment blocks perched atop independent launderettes, massage parlours and workshops. It sits on Yau Man Street, but if you wander down the alleyway that connects the road with Quarry Bay Street, you'll enter the courtyard of the complex. This unassuming enclave is worth a visit simply for its imposing architecture, which graced the cover of photographer Romain Jacquet-Lagrèze's book Vertical Horizon in 2012.The spot gained notoriety in October 2013 when Transformers director Michael Bay was attacked during filming by locals demanding payment. With paint peeling off the walls and tired canopies stretched above shop entrances, it's a stark contrast to the glossy residential towers just a block away.

Yick Fat Building Courtyard, between Yau Man Street and Quarry Bay Street, Quarry Bay.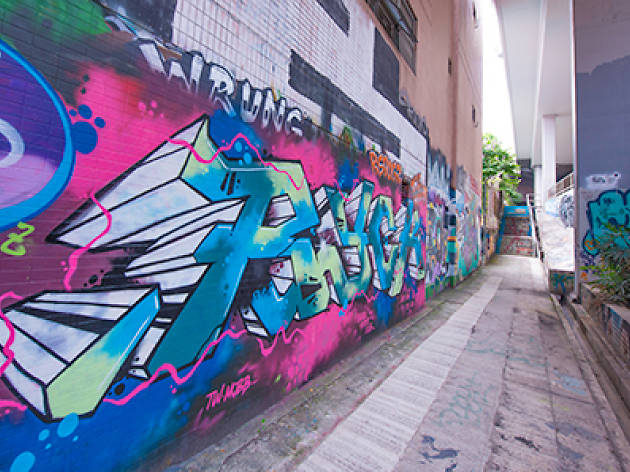 12. Mong Kok's Wall of Fame
Kwun Tong may have the government backing its latest street art project, but this awesome MK alleyway has fostered the local street art scene, albeit illegally, for around a decade. Police appear to turn a blind eye to the myriad works that spring up along the two block-long section of wall, which could be easily missed altogether from Argyle Street – hence its popularity for street artists. It's also developed into a popular location for photo shoots and cosplay. You'll see new works springing up on top of the old from one visit to the next – we see works by artists Parents Parents and Ryck during our trip. London artist Orlando Campbell even left a piece here during Art Basel 2014.

Alleyway between Argyle Street and Bute Street, Mong Kok (turn left at 111 Argyle Street).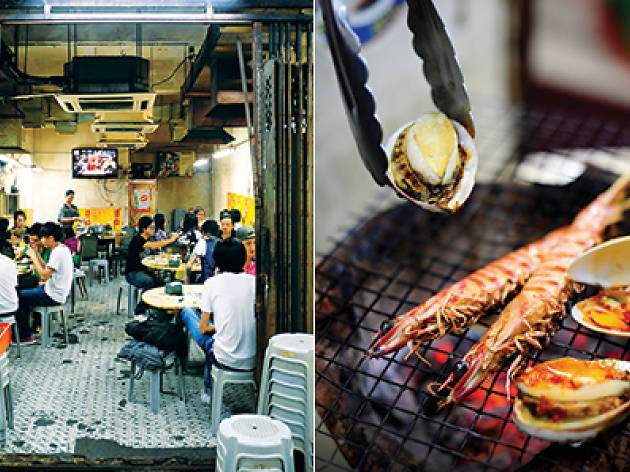 13. Hung Fook Seafood Hot Pot
The ultimate in hidden, down-to-earth dining, you have to seek this place out. Like, really seek it. But once you've negotiated the long and decidedly shady looking alleyway it's tucked into, you'll find a convivial spot full of patrons happily simmering individual charcoal barbecues and hotpots on round tables loaded with cuts of meat and fresh seafood. It's such an institution that a scene in 2003 crime flick Infernal Affairs II was filmed here. Charcoal hotpot is warm for a summertime activity, for sure, but if you can stand the heat (and the odd stray cat brushing past) Hung Fook is the kind of joint you'll be telling people about for months.

G/F, alleyway next to 86 Lok Shan Road, To Kwa Wan, 2365 0112. Suggested by Casper Lui via samthelocal.com.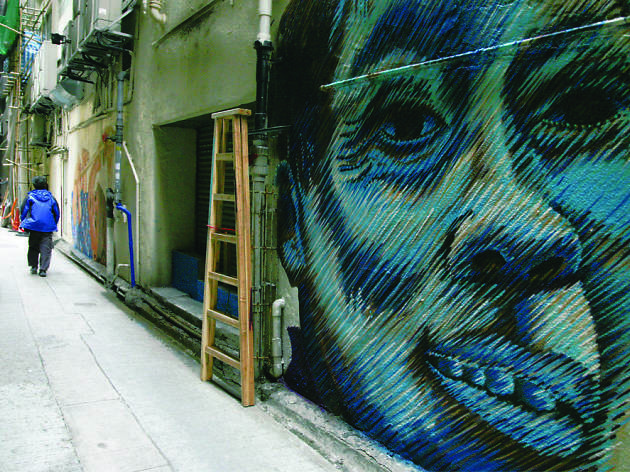 Two things you don't often hear in the same sentence are 'Development Bureau' and 'promoting local street art'. But that's exactly what's going on through 18 various back alleys in Kwun Tong. The bureau's Energizing Kowloon East office is encouraging pedestrians to use alleys more by recruiting artists to give them a proverbial (or literal) lick of paint over the next year. Artists including 4Get, Sautel Cago, Pantone C and Gobriel Lo have created murals and installations that give identity to formerly nameless lanes. The eye-catching neon installations by Dylan Kwok carry the moniker 'Din Lo (Electric) Lane' and there's an engaging blue face by Addison Karl. The next batch of alleys will be 'energised' later this year. We recommend downloading the 'BackStreet Run' map from RunOurCity, which guides you for 3.5km to all the most interesting and historic spots in the area.

Streets around Tsun Yip Playground, Kwun Tong, 3904 1337; runourcity.org.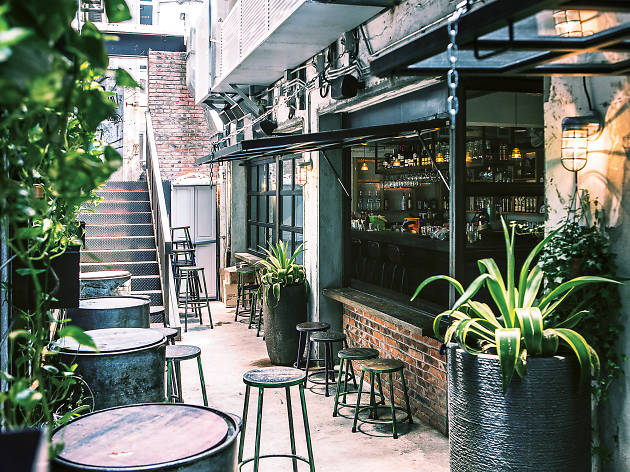 Brickhouse is located at the end of a narrow alley at the base of LKF. It's deliberately tucked-away, boasting exposed ceilings and walls with graffiti art. "Nothing here is too serious," explains Malcolm Wood of Maximal Concepts (responsible for Mott 32, Fish & Meat and Blue – Butcher & Meat Specialist), "everything is down-to-earth." The menu culls from various Latin American cultures but the main focus is on Mexico City, a city the kitchen team have a particular passion for. The spotlight is on fresh ingredients and honest, back-to-basics techniques. Brickhouse will also serve food later than other restaurants in the area. Of course, as a late-night haunt, it'll also have awesome drinks, like the Cubana, with tobacco-infused tequila and grilled pineapple. If cocktails don't float your boat, the bar stocks microbrewery beers from the USA, as well as tequila flights.

Brickhouse, 20A D'Aguilar Street, Central; brickhouse.com.hk. Open Mon to Wed, 6pm to 2am, Thu to Sat, 6pm to 4am.

Want more things to do?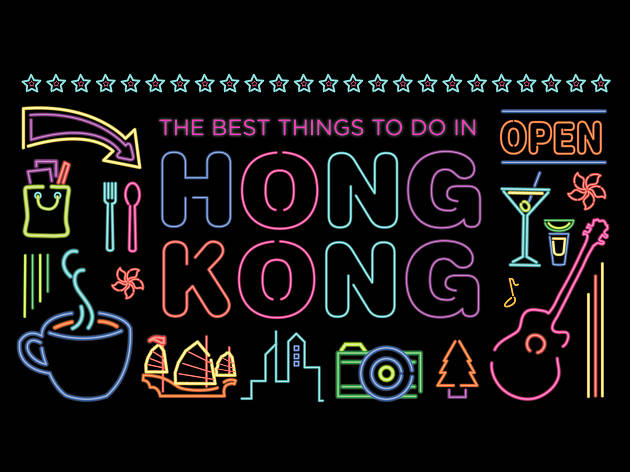 Whether you're a first-time traveller looking for the best Hong Kong hotels or a seasoned vet of LKF, these are the essential things to see, do, eat and drink while you're in town.