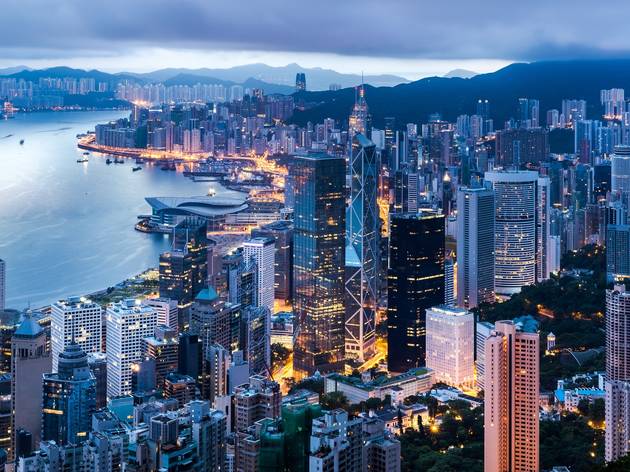 The best photos of Hong Kong skyscrapers taken by Instagrammers
We have some absolute gems of skyscrapers in our city. Here are some of our favourite caught in all their glory by Instagrammers
Hong Kong holds the lofty distinction of being home to more skyscrapers than any other city in the world – many more, in fact, than second-place New York. Tall buildings indeed have become part of the very fabric of our great city, and Hong Kong wouldn't be Hong Kong without them.
As well as providing living and working spaces for many of the city's 7.5 million inhabitants, our tall buildings garner a lot of attention for being photogenic, especially now that seemingly everyone is on the 'gram. From old to new, and from little – by today's standards – to large, we take a look at some of our favourite Hong Kong's skyscrapers through the eyes of Instagrammers who've captured them in all their glory.
RECOMMENDED: Got a penchant for pictures? Check out this list of the best Instagrammable spots in Hong Kong.
Our favourite buildings through the eyes of Hongkongers
International Commerce Centre
Standing at an impressive 484 metres tall, the International Commerce Centre is the tallest building in Hong Kong and 13th in the world. As well as housing the highest bar in the world, the ICC is also home to the fourth highest hotel in the world and is known for its Sky100 observation deck, from where visitors can enjoy panoramic views of the city.
View this post on Instagram
The Bank of China Tower is certainly among the most iconic buildings in Hong Kong's skyline. Designed by I.M Pei, the same architect who designed the Louvre Pyramid, the 367m tower was designed to resemble a bamboo shoot that symbolises prosperity.
View this post on Instagram
Two International Finance Centre
Immortalised in films like The Dark Knight and Tomb Raider, the 412m skyscraper (which stands alongside One IFC) has been an iconic part of our skyline since its completion in 2003. Currently Hong Kong's second tallest building, it is quoted as having an extra auspicious 88 storeys and 22 trading floors, making good use of its double-decker elevators.
View this post on Instagram
Hong Kong's first skyscraper might seem small by modern standards, but at 179m used to be the tallest building in the city when it was completed in 1972. Its many porthole windows are a nod to the Jardine family's maritime trading past, and its circular windows also symbolise the idea of bringing in wealth. The locally dubbed 'thousand-hole building' is a perfect example of feng shui and functional design.
View this post on Instagram
Completed in 1988, architect Paul Rudolph wanted to challenge the usual sleek appearance of HK skyscrapers, designing clusters of protruding windows in this twin-tower complex. The Lippo Centre has been nicknamed 'The Koala Tree' since the protruding sections bear a resemblance to koalas scampering up the 186m tall twin towers.
View this post on Instagram
The Hopewell Centre was completed in 1980 and upon completion, overtook Jardine house as the tallest building in the city. Standing at 222 metres, the iconic Wan Chai landmark is the first circular skyscraper in Hong Kong and houses the city's only revolving restaurant.
View this post on Instagram
A true jewel of the Hong Kong skyline, 374m Central Plaza was built with a triangle floor plan in order to allow as much office space as possible to enjoy views of Victoria Harbour. The building also houses Sky City Church, the world's highest church inside a skyscraper.
View this post on Instagram
One Island East was completed in 2008, and to this day towers over everything else in the Quarry Bay neighbourhood where it is located. A tropical storm damaged the skyscraper in the year of its completion, but today thrives with office space, dining options and a gym.
View this post on Instagram
The Nina Tower was initially designed to be the tallest building on earth but had its height restricted due to its vicinity to Chek Lap Kok Airport. One of the most recognisable landmarks in Tsuen Wan, the 319.8m tower houses a mall and a hotel.
View this post on Instagram