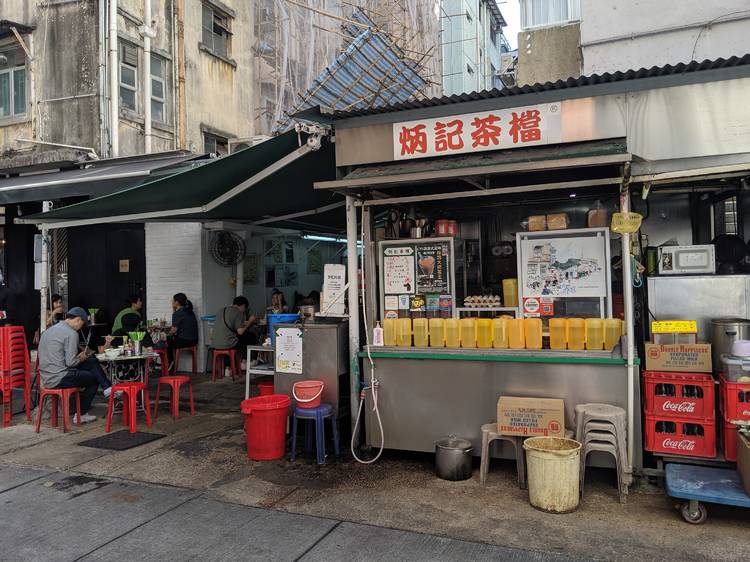 Photograph: Cara Hung
Somewhat of a landmark in Tai Hang, Bing Kee Cha Dong has been serving up local bites in a quiet alley for over half a century. Foodies come far and wide from around the city for their pork chop noodles and Hong Kong-style milk tea. For more traditional eats, head to Shun Hing Cha Dong, which sits just across the street from Bing Kee, for arguably the best char siu egg rice in town.
Photograph: Cara Hung | Shun Hing Cha Dong
Apart from establishments that have been in the neighbourhood for many decades, a slew of modern cafes and restaurants are also popular destinations. One of our favourite places to hit up is Chin Jor Fan Tong. Hidden behind a set of white, archaic shopfront gates, which makes for a cool contrast with the neon-lit, pop-art strewn interior, the restaurant plates up a range of choose-your-own noodle dishes for diners to pick different soup bases, spice levels, noodle types, and toppings for a tailor-made slurping experience.
Photograph: Joshua Lin | Miles by MMT
Other places to grab a bite include Tipsy Restaurant and Bar, which specialises in European fare, as well as Plumcot, a small patisserie that specialises in artisanal ice cream, cakes, and French pastries. And if you're looking for something to satisfy your sweet tooth, head to Miles by MMT for treats like Basque Burnt Cheesecake with mochi and a selection of baked goods; or pop over to Cookie Vission for everything from classic cookies and ice cream sandwiches to big boy milkshakes and other beverages to pair with the sweet treats.