Where to go scuba diving in Hong Kong
We round up the best spots in Hong Kong for underwater exploration
From its evolution from a humble fishing village into one of the world's busiest ports, Hong Kong has always had a history intertwined with the water that surrounds it. While scuba diving may not be the first thing that comes to mind when thinking of the seas surrounding our city, you'll be surprised how clear and ripe for diving the water can get off the shores of HK's less populated alcoves.
Delve into Hong Kong's waters and rediscover the sea, gliding in the depths while marvelling at schools of fish and curious, rare critters of fascinating colours. While our waters may not be quite as clear as The Maldives', the sunken artefacts that allow a glimpse of our home's history, and reefs teeming with aquatic life, make a dive very worthwhile here, given you know where to go. Here's a list of some of the very best places to take the plunge. By Hoi Man Yau
RECOMMENDED: Looking for adrenaline-boosting ways to have fun closer to land? Check out our list of extreme sports you can do right here in Hong Kong.
Essentials before you dive:
If you are going open water diving, you need the appropriate PADI (Professional Association of Diving Instructors) certification. (See how to get one

here

)


Alternatively, get an instructor to accompany you from reputable dive shops.


Always dive with a buddy! Most emergency techniques are dependent on you having a helping hand.


Ever been on a plane? You will feel a similar ache in your ears when you dive. Descend slowly and constantly equalise the pressure to protect your eardrums.


Take only photos, leave only bubbles!


Try to avoid diving in July-September, as algae bloom and winds reduce visibility, leading to a sub-optimal experience.



If you are travelling by plane after a dive, make sure to check with your PADI instructors what are the proper 'no-flight time' parameters between your last dive and your next flight to avoid decompression sickness. Instructors will typically advise you to wait 12 to 18 hours after diving before travelling on an airplane depending on depths and the number of dives you made.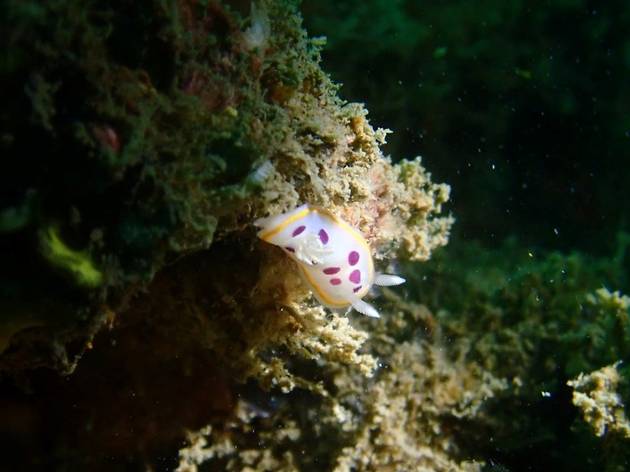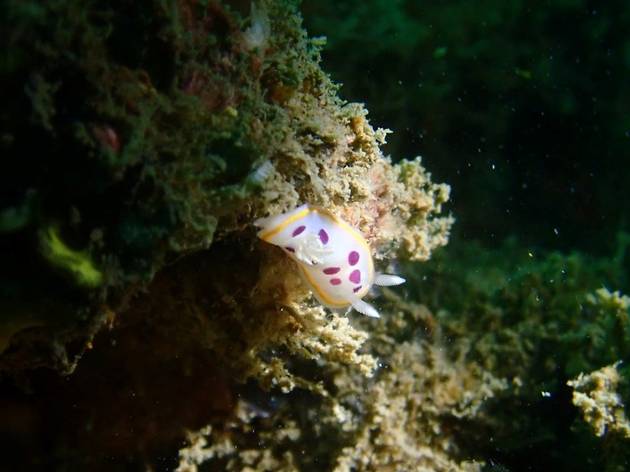 Photograph: Courtesy WWF Hong Kong/Tom Chan
A protected marine reserve that spans 260 hectares, Hoi Ha Wan has a fascinatingly diverse ecosystem with a plethora of maritime animals including starfish, seahorses, and more. Hoi Ha Wan also has a fascinating shipwreck, but scuba diving is difficult to arrange because the area is out of the way for diving boats. But if you're up for that deep underwater adventure, ring Splash Hong Kong PADI instructors to join their scheduled trips to Hoi Ha Wan. Alternatively, those who are not too keen on diving into the water can also book a guided tour with the World Wide Fund for Nature on a glass-bottom boat, on which you can marvel at the marine life while keeping your feet dry.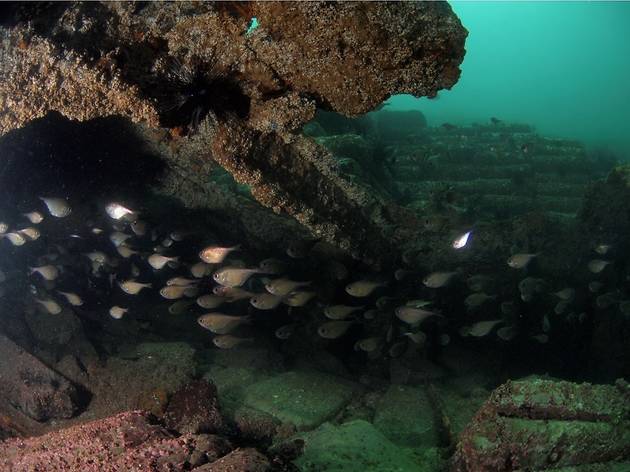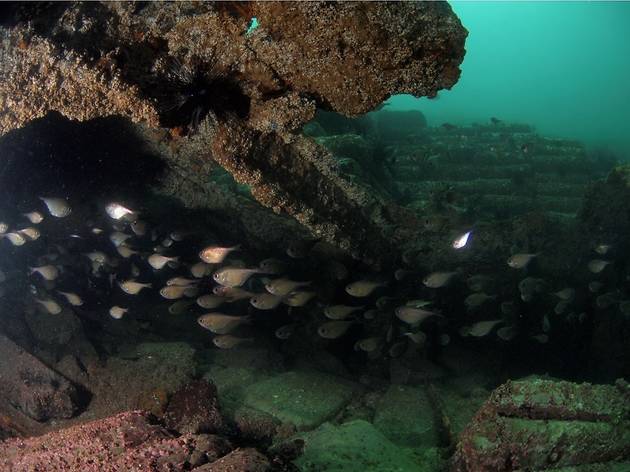 Photograph: Courtesy Diving Adventure Ltd.
Aquatic life is exciting, but how about some underwater history? Seasoned divers who can withstand the strong currents can travel to Yin Tsz Ngam, where they will find a cargo ship that was allegedly sunk in an accident in the 60s. Though the ship's body has been broken down by decades of erosion, the cement bags that it once held are still largely intact and have, over the years, become a home to a variety of aquatic life.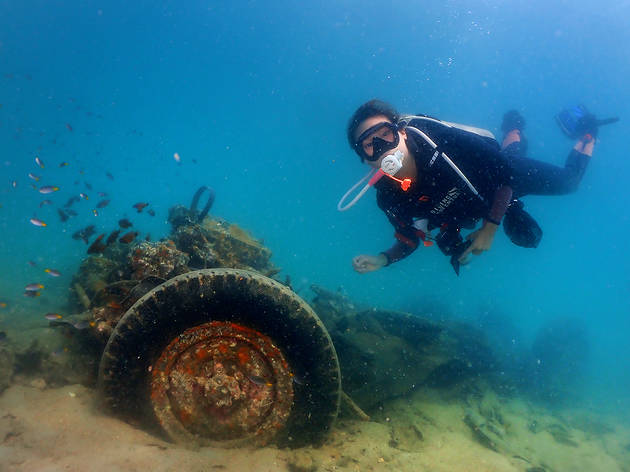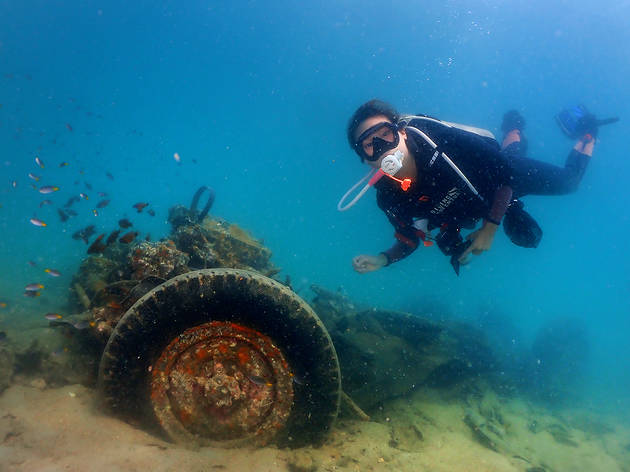 Photograph: Courtesy Diving Adventure Ltd.
Ung Kong Chau (Bluff Island)
What's a car doing underwater, next to an isolated island no less? People theorise that the car was dumped there decades ago by smugglers, who sank the car in a desperate bid to get rid of incriminating evidence. Though it has been eroded by the sea, the chassis and wheels are still clearly visible. A relatively simple dive ranging from six to 10 metres, Ung Kong Chau is a prime dive site for those who are not as experienced, but still hope to see something other than aquatic life during their dive.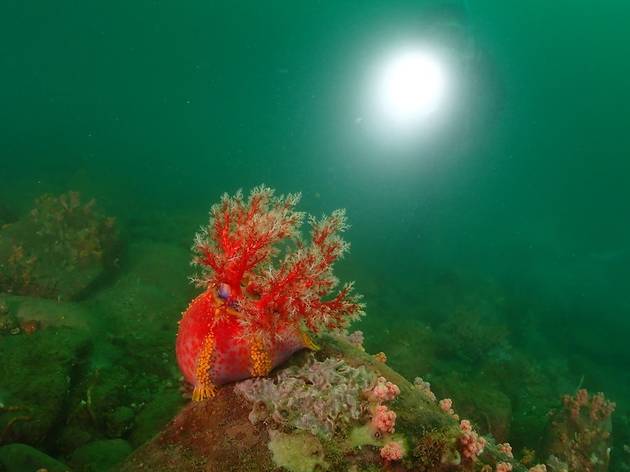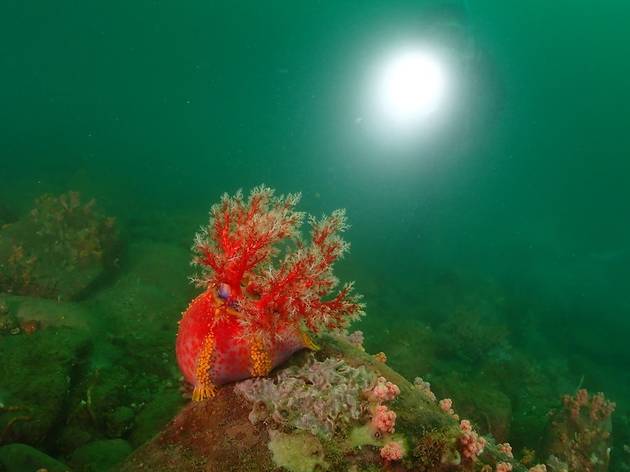 Photograph: Courtesy Diving Adventure Ltd.
An hour away from Pak Sha Wan pier, Ninepin Islands is a group of interestingly shaped islands that are among the highlights of The Hong Kong UNESCO Global Geopark due to their hexagonal columns. The dive can range from seven to 17 meters, depending on where in the area you go. Schools of fish are visible at a relatively shallow depth, and clownfish can be spotted hiding in the anemone at a depth around seven meters. Delve deeper and find other beautiful oddities such as the sea apple, a surprisingly colourful sea cucumber, and thus aptly named after the bright red fruit. The rare weedy scorpionfish, a stunning purple-bodied fish, can also be found here; consider yourself very lucky if you spot one, as they are difficult to find.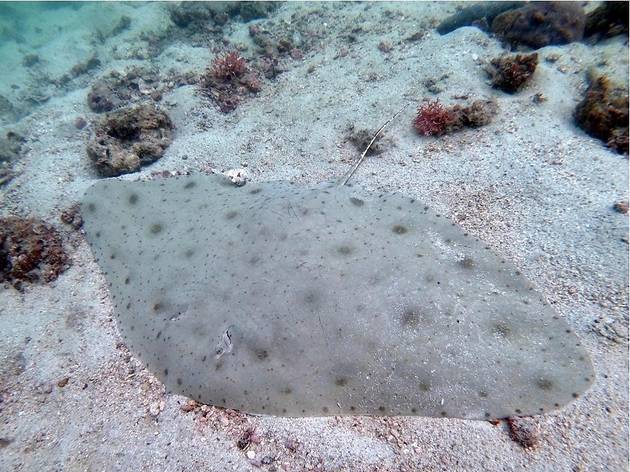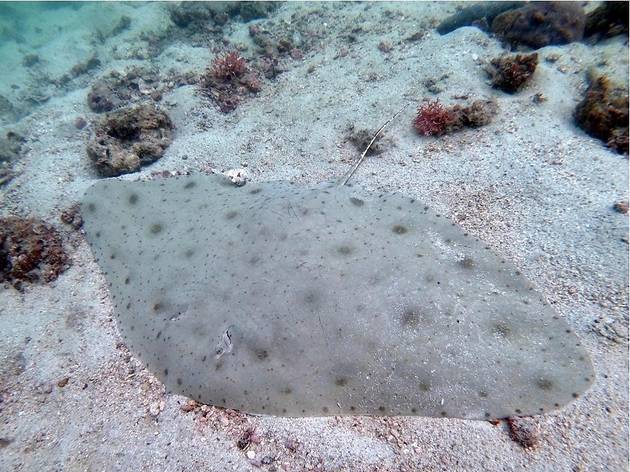 Photograph: Courtesy Diving Adventure Ltd.
Though Sharp Island is considered a diver's training ground due to the relatively weak currents and ease of access, it is actually a prime location for spotting the butterfly ray. It is also a short, 10-minute boat ride away from Sai Kung, so it is great for those who can't wait to get into the water. Moreover, many corals and colourful coral reef fish can be spotted at a relatively shallow depth of 4m. If you are not quite ready for scuba diving, you can also snorkel here, as long as you are relatively comfortable in the water.
Organising your dive and getting there
Unfortunately, most of us don't have a boat lying around to take us out to Hong Kong's best diving spots. However, multiple diving organisations offer dives if you already hold a PADI certification, or guided diving experiences if you're not so experienced.
For all diving options, we recommend calling one of the companies below. Both of these organisations arrange dives at all of the above sites, but beware that due to shifting currents and weather conditions, the availability of each site differs throughout the year.
Diving Adventure, 2572 2138
Splash HK, 2792 4495
Most dive companies including the two above start the dive trips at Hebe Haven Public Pier or Sai Kung Public Pier, depending on the site and time of your dive. You will be notified about the boarding site when booking a spot.
Hebe Haven Public Pier (Pak Sha Wan):
From Choi Hung MTR Station Exit C2, take the 1A minibus toward Sai Kung and alight at Pak Sha Wan. Cross the road to get to Hebe Haven Public Pier.
Sai Kung Public Pier:
From Choi Hung MTR Station Exit C2, take the 1A minibus toward Sai Kung and alight at Sai Kung Public Pier.