The 1960s was a seminal decade for Hong Kong. Not only was this a time when attitudes began to change as people became more culturally and sexually liberated, but the 60s was also a period when our city flourished. Hong Kong grew in wealth and population at an unprecedented rate to become the significant high-rise metropolis it is today.
It's a great thing to journey back and imagine what the city must have looked like back then, and better still to actually see it. We've been lucky enough to have gotten hold of some photos that allow us a window back in time to view the Hong Kong of yesteryear. Join us as we journey back to what has been described as 'the decade of one damn thing after another'.
RECOMMENDED: From Victorian private members' clubs to Hong Kong's old international airport, read about the city's lost architectural gems.
Victoria Harbour, 1964. Photograph: Mike Cussans
Rewind the clock to the 60s, and you'll be met with a city in flux. Low-level colonial buildings are being razed to the ground and replaced by high-rise buildings that tower over the older buildings still standing – all at lightning speed.
The Prince's Building and a luxurious new hotel called the Mandarin Oriental have just opened, much to the awe of passersby. One of the older buildings that can still hold its own amongst the Central district's rapid development in the 60s is the HSBC building. Built in 1935, it stands proudly as the first air-conditioned building in Hong Kong. Nevertheless, it has seen its surroundings change significantly in the past few years.
The HSBC Building in Central. Photograph: Mike Cussans
You'll be pleased to know that rickshaws are still in use, and it will set you back a mere 50 cents for a coolie to wheel you from the Peninsula Hotel to the Star Ferry Pier. Rather than a secondary, more pleasant option for crossing the harbour – as it will become in future decades – in pre-harbour tunnel days the Star Ferry is essential, as it is pretty much your only means of getting over to Kowloon side. Unless you fancy a swim, of course.
Rickshaw pullers. Photograph: Mike Cussans
Unlike a lot of things in 1960s Hong Kong, the Peak Tram is nothing new. It's been around since 1888 as a convenient means of transportation to and from Central for those that lived on the Peak. During the 1960s this is still the case, but fast forward to the 20th century, the Peak Tram is a tourist destination, and people come here to get a glimpse of Hong Kong's cityscape.
The Peak tram. Photograph: Mike Cussans
Still years away from being a city with a supermarket on every corner, many people in 1960s Hong Kong rely on the markets as their primary source of food. Bustling, fragrant, exciting, the Hong Kong market is an institution that will continue to thrive for decades to come.
Hong Kong market. Photograph: Mike Cussans
As the economy quickly swells, you see Hong Kong transform from a colonial harbour into a modern city that is buzzing with life. There's an unprecedented population boom, and housing blocks are popping up like mushrooms – up right, left, and centre. Hong Kong is becoming a crowded city.
Kowloon street scene. Photograph: Mike Cussans
Bristol Street in Tsim Sha Tsui. Photograph: Mike Cussans
Despite the modernisation of the city, today if you take a walk by the coast, chances are you'll see a few sampans bobbing around. In the 60s, people use these vessels to get around, do business on, and even live on.
Sampans. Photograph: Mike Cussans
Hong Kong has come a long way in a short time, and by now, the horrors of Typhoon Mary are fading in memory. The typhoon hit Hong Kong on June 8, 1960, and left dozens dead and millions of dollars of damage and in its wake.
Typhoon Mary hits Hong Kong (1960). Photograph: Mike Cussans
The city marches on, and more and more previously rural areas are now becoming urban centres, full of people and amenities. Hong Kong will emerge from the 60s as a major hub of finance and culture, and one of the most talked-about cities on the planet.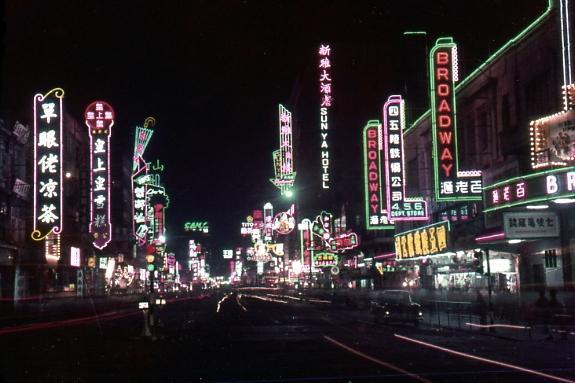 Mong Kok lights. Photograph: Mike Cussans
Mike Cussans lived in Hong Kong during the 1960s and is responsible for these beautiful photographs. For more photos from this magical time, check out this website.