East Las Vegas area guide
Get to know Las Vegas area by area—the best local restaurants and bars, arts and entertainment and things to do in East Las Vegas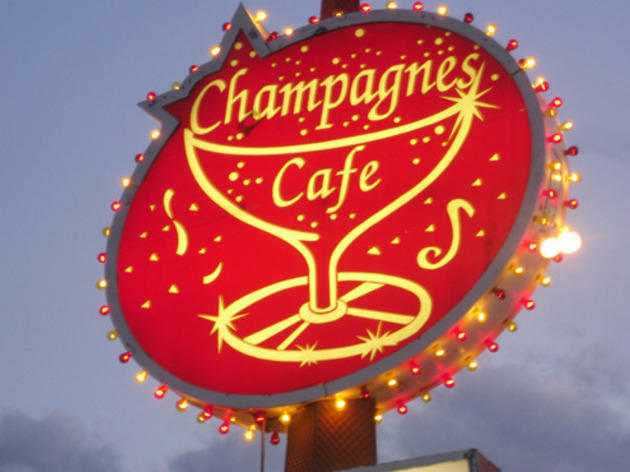 Once characterized by ugly quick-build housing tracts and trailer parks, East Las Vegas has been unable to avoid the incursion of new development. Still, the once-posh Commercial Center (953 E Sahara Avenue, between S 6th Street and S Maryland Parkway) has resisted change. One of the city's older malls, it's a scruffy spot that's home to a couple of the city's best ethnic restaurant, Lotus of Siam, various gay bars and sundry other businesses.

South on Maryland Parkway is the smarter Boulevard Mall; behind it is the modernist Paradise Palms, another old 'hood at the earliest stages of revival. East of here is Fremont Street, which runs into Downtown to the north-west and to the south-east, past Sahara Avenue, becomes Boulder Highway.

At the far north-eastern end of the valley, beyond Sunrise Manor, is Frenchman's Mountain, commonly known as Sunrise Mountain, where modern desert homes with pools enjoy panoramic views of the city. Along Boulder Highway sit several locals' casinos. Catch a movie at Boulder Station; if you're here in December, don't miss the Christmas lights at Sam's Town. A turn west down Tropicana Avenue to Pecos Avenue will take you to the Pinball Hall of Fame.
Restaurants and bars in East Las Vegas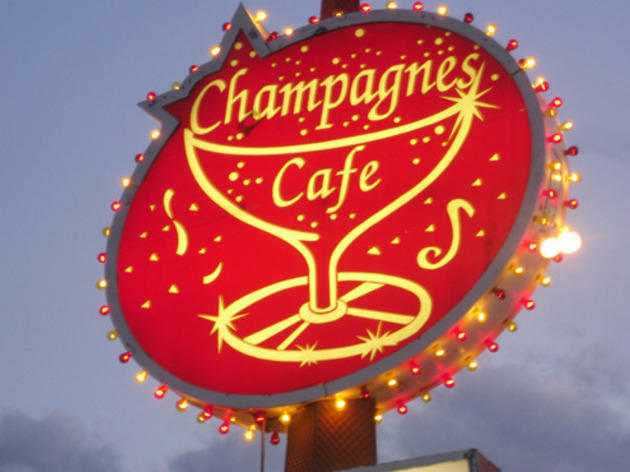 With velvety flock wallpaper, Frank and Dino on the jukebox, and a shrine (a martini, a coffee cup and a cigarette) dedicated to former manager Marty, this vintage bar is a Dom Pérignon '53 among Vegas saloons. Hipsters, barflies and discerning locals head here at all hours for cheap drinks; many find it hard to leave.
Las Vegas's favorite neighborhood Mexican, Lindo's three locations are busy at virtually all times of day, slinging solid, filling fare for purists and picky eaters alike. The lunch specials are good value, but dinner is a better bet, with the menu of standards—including goat stew, chile colorado and a full slate of beef tongue dishes—brought to life by an atmosphere that's never less than lively.
You can look at the waterwheel, you can listen to the waterwheel, but you certainly can't touch it. Sort of like the waitresses. The Dispensary is a throwback to old Vegas, complete with shag carpets, fake plants and leotard-clad serving staff who become more boisterous and less balanced as the night wears on (well, you try wearing high heels on a shag carpet). A dark, quiet answer to a bright and frenetic city.
MORE GREAT VEGAS RESTAURANTS
Things to do in East Las Vegas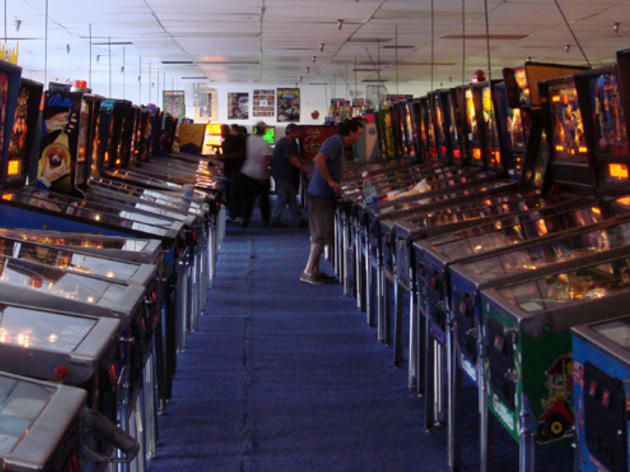 Museums, Special interest
For the most part, a pinball machine is just a pinball machine. To some folks, though, it's a kinetic monument to a simpler time when mindless entertainment didn't necessarily involve sex, hyper-violence or the pixelated undead, a perfectly designed blend of challenge, workmanship and skill. In Tim Arnold's world, it's all these things and more besides. How else to explain his Pinball Hall of Fame, a functioning museum of sorts where more than 100 operational pinball machines spanning seven decades are on show? The Pinball Hall of Fame is a true mecca in a city of replicated ones. Over the years, Arnold has assembled a vast array of machines from Gottlieb, Bally, Williams and other oddball manufacturers, from gear-and-magnet models to modern digital wonders. Descriptions of each machine's attributed and historic values have been attached to them, most handwritten on index cards. And then, best of all, Arnold invites all-comers to play his machines. All you need is quarters; and if you don't have them, he can change your bills into them. Arnold has recast some of these machines so visitors can best appreciate their inherent beauty. Take, for example, his painstaking public refurbishment of a 1978 Bally machine devoted to the band Kiss. Paying attention to the smallest detail (excepting, perhaps, an actual drop of Ace Frehley's blood in the back glass), Arnold is like an Italian restoration specialist working on the Sistine Chapel. But while both share a certain reverence in th
MORE ESSENTIAL VEGAS ACTIVITIES
Casino highlights in East Las Vegas
Arizona Charlie's Boulder is a no-frills, 300-room bunkhouse for serious players who need a place to drop. The theme is the Yukon gold rush, though you won't notice: the interior design is little more than a floor, a ceiling and rows of machines. Food options include the Yukon Grille, a low-price steakhouse, but the surest bet at Charlie's is still the Sourdough Café, where you can grab a generous meal any time of the day, usually for less than $10 a head. There's also a buffet. The Palace Grand Lounge hosts a range of lounge acts. The blackjack games here are decent, with typical low minimums, as is some of the video poker. Another outpost, Arizona Charlie's Decatur (740 S Decatur Blvd, 1-800 342 2695, 258 5200, www.arizonacharliesdecatur.com) can be found in north-west Las Vegas. Games: Bingo; blackjack ($3–$1,000); craps (10x; from $5); keno; roulette (double zero). Bus BHX/self-parking & valet parking S Decatur Boulevard
This Victorian-styled Station casino on the Boulder Strip is mostly a locals' joint. The Railhead hosts a stable of mostly forgettable acts on the cheap, but there are plenty of family-friendly amenities, such as an 11-screen movie theater and a Kids Quest childcare center. There are decent dining options too: the Feast is popular, as is The Charcoal Room. The casino is typical for the Station chain, though the minimums in this part of town seem to run a little lower, with some $3 tables scattered about, 10x odds at craps and 50¢ roulette chips. The newest machines seem to show up here first. Games: Bingo; blackjack ($3–$1,000); craps (10x; from $2); keno; Let it Ride; mini baccarat ($5–$1,000); pai gow poker; poker (11 tables); roulette (double zero); three-card poker.
The slot-club at the Fiesta Rancho is known for regular triple-points days and no-hassle food comps. There's also a 300-seat bingo room and a drive-up sports-betting window, where you don't even have to get out of the car to lay some money down. Besides the gaming, it's the party-style atmosphere that draws visitors here. A variety of acts play Club Tequila, where the emphasis is on Latin music; the obligatory Mexican food comes courtesy of Garduno's huge menu and the Blue Agave Steakhouse. Escape the desert heat in the outdoor swimming pool or the NHL-size ice arena. For visitors arriving at the other end of the city, there's Fiesta Rancho (also much closer to McCarran airport) in the north (2400 N Rancho Drive;1-800 678 2846, 631 7000, www.fiestarancho.com). Games: Bingo; blackjack ($5–$1,000); craps (10x; from $2); keno; mini baccarat; pai gow poker; poker; roulette (double zero).
MORE GREAT VEGAS CASINOS
Hotels and resorts in East Las Vegas
Carefully isolated within the Lake Las Vegas community, roughly 20 miles south-east of the Strip, the Ritz-Carlton is one of the most luxurious resorts in the Vegas metropolitan area, in no small part because it doesn't really feel much like Las Vegas. Key to this, of course, is the lack of an in-house casino: gamblers can wander next door to the Casino Montelago (939 8888, www.casinomontelago.com), but the Ritz-Carlton remains unsullied by the incessant blinking lights and tinkling melodies that characterise most major resorts in the region. The hotel itself offers all the luxury you'd expect to find in a Ritz-Carlton property. The rooms themselves are handsome without being needlessly flashy, kitted out with plush beds and chairs, fabulously generous bathrooms and most conceivable amenities (minibars, high-speed internet access and so on). The lobby bar, Firenze, delivers worthwhile cocktails, decent sandwiches and, on weekend afternoons at 1pm, a Florentine-style high tea. The real culinary action is downstairs in the renowned Medici, which serves a winning range of Mediterranean-influenced American dishes for breakfast, brunch (Sundays only), lunch and dinner. The luxury extends to the hotel's capacious spa, rightly regarded as one of the city's best. Nearby amenities include the Falls and Reflection Bay golf courses, which essentially adjoin the hotel, and Montelago Village, a sort of upscale Italianate theme park dotted with expensive boutique shops, restaurants and bar
Located 15 km from Mandalay Bay Convention Center, Luxury Loft Villa offers accommodation in Las Vegas. The property is 16 km from Crystals Shopping Center and free private parking is provided. Free WiFi is featured .A dishwasher and an oven can be found in the kitchen and there is a private bathroom with bath robes, free toiletries and a hair dryer. A flat-screen TV is available. Other facilities at Luxury Loft Villa include a hot tub, fitness centre and year-round outdoor pool.CityCenter Las Vegas is 16 km from Luxury Loft Villa, while Las Vegas Convention Center is 16 km from the property. The nearest airport is McCarran Airport, 13 km from Luxury Loft Villa.
Henderson Motel Corporation is set in the Henderson district in Las Vegas, 18 km from Las Vegas Convention Center and 18 km from Mandalay Bay Convention Center. Free private parking is available on site.Rooms are equipped with a private bathroom. Henderson Motel Corporation features free WiFi .You will find a 24-hour front desk at the property.Crystals Shopping Center is 19 km from Henderson Motel Corporation, while CityCenter Las Vegas is 19 km from the property. The nearest airport is McCarran International Airport, 16 km from the property.
MORE RECOMMENDED HOTELS IN VEGAS
Music and nightlife in East Las Vegas
Known for the seats around the combination firepit-fountain and for the luxuriant dresses worn by the bosomy waitresses, this place is old Vegas at its best. Or, at least, it was, until they put flatscreen TVs on every available surface and ruined the vintage feel. Still, the drinks are impressive; try a Scorpion, which will arrive in a glass that's bigger than your head.
The Bellagio's lake throws up entrancing fountain displays choreographed to music from Michael Jackson to Gene Kelly (and, less appealingly, Lee Greenwood). The 1,200 water cannons, arranged in lines and circles, shoot water that dances and sways to the music, reaching as high as 460 feet. Grab a seat in one of the Bellagio restaurants overlooking the water, or take in the view from the sidewalk out front. Watching live, this mandatory Vegas attraction is just like you've seen in the movies—only better.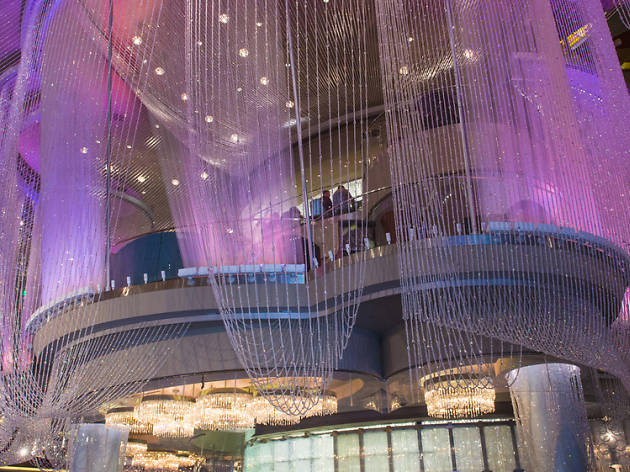 The Chandelier is at the centre of the new Vegas bar scene – and a three-storey chandelier is at the centre of this gorgeous, multi-level bar. You'll be surrounded by sparkle, and dazzled by your fellow cocktailers as you sip a Fire-Breathing Dragon – or ask your bartender to come up with something to commemorate the moment.
MORE FROM OUR VEGAS MUSIC & NIGHTLIFE GUIDE
Shopping in East Las Vegas
Shopping, Gifts and stationery
The Las Vegas Cigar Company's established varieties of cigar are hand-rolled daily in-house, using Cuban-seed tobacco imported from Ecuador and the Dominican Republic.
For more than ten years, Bodyworks' masseurs and masseuses have been kneading, prodding and pounding, with treatments including Swedish deep tissue and Chinese mix, as well as hot-stone therapies, muds and salts
Shades are a must in a city that sees an average of 320 days of sun per year. Lunettes sells products by designers including Gucci, Oliver Peoples, Cartier and Kia Yomoto
MORE GREAT VEGAS SHOPPING DESTINATIONS