London's best outdoor drinking terraces
Catch some rays while you do your drinking at these gorgeous outdoor terraces in London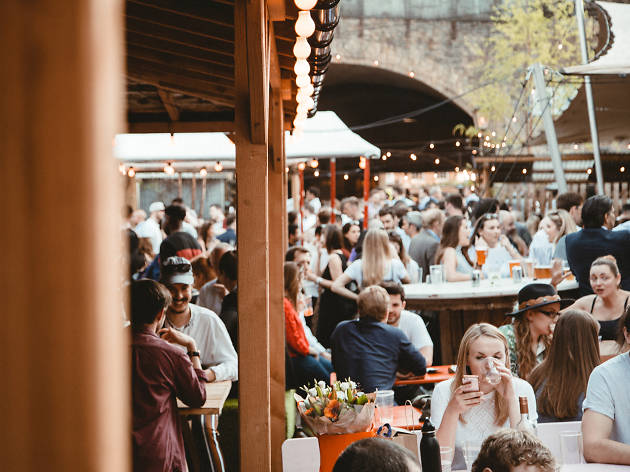 Sometimes tinnies in the park, a rowdy beer garden or one of London's heaving rooftop bars aren't going to cut it when it comes to summer drinking. For a classy way to drink when the sun comes out, you want a table on one of London's gorgeous terraces. But finding sunshiney spots in central London (and beyond) can be a bit of a challenge. Read on to discover some great locations for outdoor drinking done the right way.
RECOMMENDED: Outdoor London
What is it? A hub for drinking, dining and dancing in the shadow of The Shard.
Why go? You're spoilt for choice with bench seating, a large bar and street food vendors surrounding for when you need to slay the slurs.
Restaurants, Pop up restaurant
What is it? A flower-filled, two-floor fun palace.
Why go? Book a 'day bed' and lounge with your drink in style.
Venue says Hidden alfresco garden and rooftop: drinking/dining in the heart of London, with 850 seats, seven day-beds, four restaurants and two bars.
What is it? A craft brewery on the canal with plenty of benches dotted outdoors.
Why go? Step aboard their barge cocktail bar, Alfred Leroy, when you tire of drinking on land.
Things to do, Food and drink events
What is it? Part of the Street Feast family, Hawker House is Canada Water's sprawling street food market.
Why go? Plenty of the space is outdoors, so bring your booze out here or make a beeline for one of its bars. They call this area the Land of Bamboo and its loosely tiki themed.
Bars and pubs, Cocktail bars
What is it? A cracking Italian-themed coffee and cocktail bar tucked behind Oxford Street.
Why go? Drink on the pavement and pretend you're living the dolce vita, as a Campari terrace pops up here for the summer months.
What is it? A modern Clapham bar with a strong focus on all-day grub.
Why go? The first-floor terrace overlooking the common is a smug place to sit – watch the sunburnt groups emerge as the sun goes down.
Bars and pubs, Cocktail bars
What is it? A plant-filled, all-day space round the backstreets of London Fields.
Why go? There's a gorgeous terrace as you enter, filled with plump sofa seating and a perfect position for cocktails and bar snacks.
What is it? A community-focused shipping container village in Brixton that's always buzzing with activity.
Why go? You can easily make an afternoon of it here – bouncing from shops and street food vendors in between rounds.
What is it? A Peckham railway arch with a banging happy hour.
Why go? Come out from under the arches to enjoy this thriving drinking spot soundtracked by the rumble of trains overhead.
Venue says Come down for Happy Hour, 6pm-7pm everyday, stay for the atmosphere and the music.