Richmond restaurants
Read Time Out's list of the best restaurants to visit in Richmond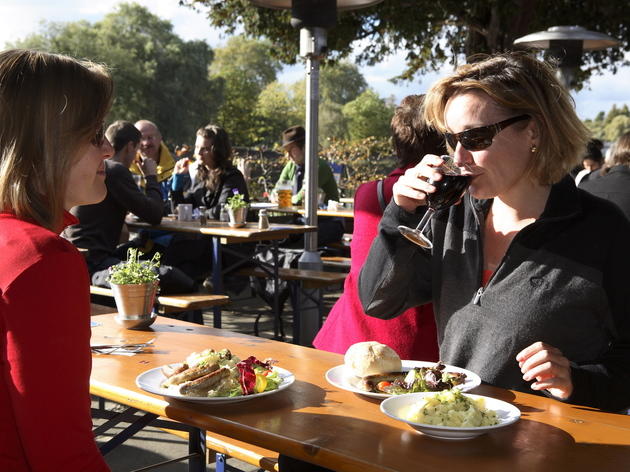 The ultimate in rustic charm, complete with a real meadow on its doorstep, Petersham Nurseries is the perfect balm for the frazzled urbanite. Housed within the garden centre, the Café resembles a stately greenhouse, hung with Indian prints and pictures, and furnished with rickety tables and chairs. Cat Ashton is now head chef, following the departure of Greg Malouf in late 2012; the seasonal menu remains a delightful read. A pre-starter plate of prosciutto san daniele with rocket and melon was exactly right on a summer's day – as was a peach bellini. Burrata with courgette flowers, sorrento tomatoes, shallot and rose dressing was queen of the starters; squid dusted in polenta with rocket, chickpeas, chilli and aïoli was oddly subdued. At this point, things slightly unravelled, despite the best efforts of the charming young staff. An overly long wait for mains produced roasted baby aubergines (with red and yellow datterini tomatoes, ricotta and basil) that simply hadn't been cooked long enough and were unforgivably chewy; grilled pata negra pork loin with sweetcorn, salsa, coriander and tomato was a glorious combination, but again, the meat required work. Such flaws are not really acceptable at these elevated prices, though a side of Cornish new potatoes with anchovies, crème fraîche and salsa verde couldn't be faulted, and neither could
Book now
Read more
Elegant simplicity is the hallmark of this Georgian house hotel bordering the Richmond towpath. The dining area occupies two spacious, well-lit rooms; french windows overlook the river; bright chandeliers and large mirrors enhance the gold tones and woodwork. Food, notably high tea, is also served in the grey- and silver-hued bar area and on the decked patio when weather permits.
Read more
In a lane that's close to Richmond Green, Gelateria Danieli is a tiny shop with a thriving takeaway business. In warm weather, you can head off with a mouth-watering scoop of the flavour of the day and bask in the sun on the grass nearby. Apart from regular flavours such as milk chocolate, pistachio or tiramisu, there are seasonal ones: on our visit, a mango gelato.
Read more
Korean-run Matsuba is as pretty as a box of luxury chocolates – all dark wood and subtle light panels running along the length of the room, with vintage Japanese parasols and smartly turned-out waiters with quiet dispositions. It's an attractive option for locals (mostly non-oriental, affluent couples and families), not least because of the decent wine list.
Read more
Just south of Richmond Bridge, this traditional Italian local was half full with a mix of families and dowdyish couples on our Sunday lunchtime visit. It isn't a particularly romantic spot – our booth table was too wide for intimate banter, the dark decor a little gloomy – but the generous, mostly reliable food makes up for it.
Book now
Read more
Looking for Turkish delight at the 'wrong' end of Richmond requires some effort, but Pomegranate could be the refuge you've been looking for. Take a seat at one of the tables outside for shisha-smokers and you can smell the garlicky aromas.
Read more
The enduring appeal of this outpost of Brittany is easy to understand: an endearingly chaotic informality; a spacious yet homely wood- and wicker-clad dining area populated by couples, families, parties of friends; authentic regional cuisine served with Gallic charm; a flexible menu and cider/wine list.
Read more
Chocoholics flock to this temple of cocoa nestled near Richmond Green. Winner of many accolades, William Curley enjoys a varied and loyal clientele, all in search of a truly special sweet treat. The melding of classic French techniques and Japanese flavours intrigues even the most experienced palates, and the display of too-pretty-to-eat pastries and chocolate sculptures is mesmerising.
Read more
Find more restaurants in Richmond