London's best restaurants for breakfast
Whether you'd like to start your day in a posh restaurant, a greasy spoon or a biker café – it's all here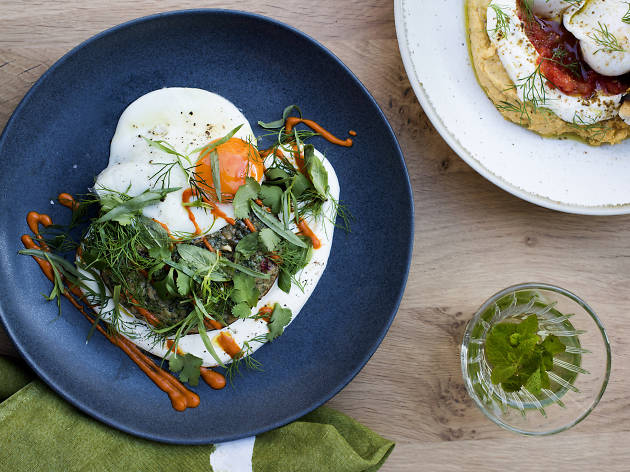 June 2019: We've added seven more morning havens, including HIDE Restaurant (from super chef Ollie Dabbous) and The Coal Office near King's Cross, serving up Jerusalem-inspired treats. There's also the Basque-influenced Henrietta Bistro in Covent Garden; Spitafields' Crispin with its wondrous coffees; and Neptune in Bloomsbury (swapping seafood for British-American Classics). For Middle Eastern flavours head to Ottolenghi's Rovi in Fitzrovia, or, if you crave eggs in abundance, head to nearby Yopo at the Mandrake.

Home of the fry-up and millions of millennials nursing avocado-related injuries, London might be the best place to eat breakfast in the world. Whether you'd like to start your day in a posh restaurant, a greasy spoon or a biker café, we've rounded up the ultimate list. From tapas to croissants and acai bowls – it's all here.
Missing Time Out magazine?
You can still read our latest issue from the comfort of your couch
Read online
The best breakfasts in London
Or while away the weekend?
Brunch in London is bigger than ever. You can barely set foot out your front door at the weekend without stumbling across a steaming pan of shakshuka or finding the waft of waffles in the air. So let us guide you to the best spots in town for a kick-ass weekend brunch in London, from boozy bottomless brunches to traditional Full English fry-ups and even New York-style feasts, you can start off your weekend in style.