Best bars in London - Cool bars
Looking for London's trendiest drinking spots? Time Out recommends the coolest bars in London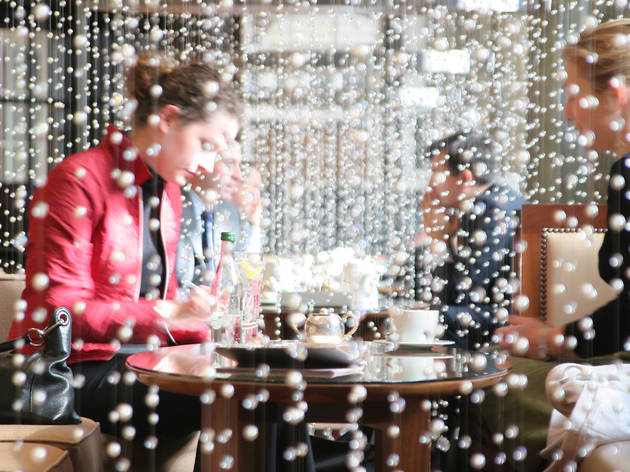 There's no shortage of hip hangouts in London so our critics' have rounded up some of the best. Whether you're looking for cool cocktail bars, great live music or some sophisticated surroundings in chic hotel bars, check out our guide to the most fashionable bars in the capital.
Think we've missed a great cocktail bar in London? Let us know in the comment box below.
Cool and trendy bars in London
The drinks menu at this part-sophisticated, part-kitsch Scottish-themed enterprise – tartan everywhere – is less of a list and more of an encyclopaedia. The histories of various whisky regions are outlined within its pages, which also contain individual tasting notes worthy of the most pedantic oenophile.

Book now
Read more
Epic, soaring, dramatic, magnificent. The Booking Office really is quite an amazing place for a drink.

Book now
Read more
This classy two-floor operation, an imposing space that easily reveals its past as a public library, is divided between a top-notch Indian restaurant, a trendy evenings-only DJ basement and a study-like cocktail bar by the lobby.

Book now
Read more
Perfectly groomed hostesses greet arrivals to this basement den. The atmosphere is lively and, better still, the cocktails are superb.

Read more
This tiny basement has such low light that torches ought to be provided to aid with reading the drinks list. But low light makes the room – dark walls and dark wooden floorboards – just that much more appealing.

Read more
This wonderful new Kentish Town bar is housed in a tiny basement with seating for 30-something people. It features low lighting, a delightful hotchpotch of decoration and seating, eclectic but well-chosen music, and a resident Jack Russell who will be happy to come and give your ankle a friendly sniff.
Read more
You don't expect to find a bar like Lost Angel along this sorry-looking stretch of the Battersea Park Road, but there is a precedent: this building was once home to Dusk, which brought a little glamour to the street.

Read more
Show more
Sponsored listing
The Luggage Room
A luxury cocktail bar and drinking den in Mayfair, located within the very swanky innards of the Marriott Grosvenor Square - a five-star hotel on Duke Street. There's a Roaring Twenties feel to things here, and it's all very lavish - the art deco aesthetic's a doozy. The cocktail list is inspired by the Twenties, too. Signature creations such as the The Darb (Citadelle Gin shaken with apricot brandy, Italian vermouth and lemon juice) and a Barney Barnato (pisco stirred with Cocchi Americano, Pierre Ferrand dry Curaçao and aromatic bitters) are served alongside juleps, cobblers, swizzles, imperials, punches, sours, flips and other popular concoctions of the time. Beers, ciders, wines and champagnes feature, too. A short food menu ranges from charcuterie boards and sharing platters to black pepper mackerel pâté served with soused mooli flutes, marinated asparagus in a sauce gribiche and crisp arctic basil bread with a tomato and pepper dip.  Keep an eye out for some of the intriguing curios of the time, including a scale model of a Bentley Blower - a Le Mans winner driven by the dandies partial to a drink or two around these parts, back in the day.   
Venue says: "Our Irish whiskey selection is expanding! There are some exciting new arrivals for your taste buds!"