Unusual things to do in London
We've searched the capital's nooks and crannies to find the very best unusual things to do in London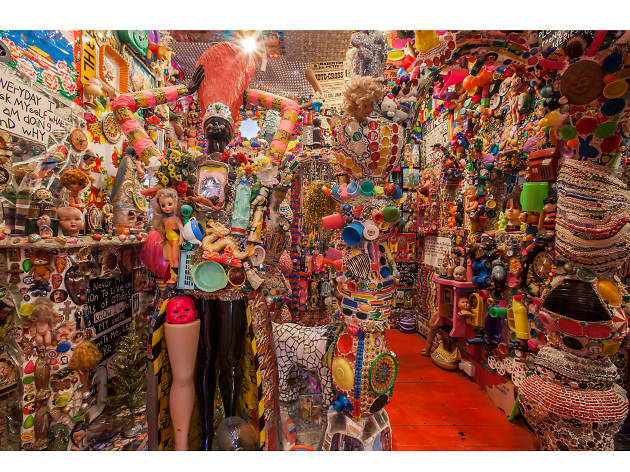 Roll up and step this way for the weirdest, freakiest and most unusual things to do in London. If you've been hanging around the same ten museums all your life, if you collect selfies at attractions like they're popping out of fashion, or if you've already seen all of London's new exhibitions a hundred times, you might find yourself wondering what else this city has left to surprise you with. Well, never fear, fun-seekers, here's our collection of the very best unusual things to do in London – now get out there, you quirky little trailblazer, you.
The best unusual things to do in London
Not weird enough for you? Explore more of this...
Don't get us wrong, we're huge fans the big London museums, the major art galleries and London's best restaurants. But sometimes what you need is a bit of tranquility – a few hours somewhere where you're guaranteed not to be asked for directions to Piccadilly Circus or whacked with a selfie stick.
Read more
Sponsored listing
Bōkan
Towering over Canary Wharf, Bōkan may sit on the 37th floor of a Novotel – but this is the kind of hotel restaurant you'll actually want to eat in. With amazing views of London's skyline it's undeniable that a key reason for coming here is the setting itself. Especially given that it's been so thoughtfully decorated, with rustic Scandi and subtle industrial vibes. And if it's true that you can judge the merits of a restaurant based on its loo, then this sky-high spot – which, per square foot, rivals Versailles in its mirroring – is soaring. Service, too, was as slickly competent and polite as the surroundings. So far, so great. The food was slightly more irksome though. Beautifully presented, the scallops tasted mainly of lemon, with only the smallest amount of lip service being paid to the promised seaweed. Similarly, the crab salad had a nice kick, but with far too much daikon (Japanese radish). Having said that, desserts were awesome, with a meringue that was everything you could hope for – coconutty, fluffy and crunchy all at once. And the ginger pudding – billed as a sharer – was so great that one person could very easily wolf the whole thing down. Don't expect culinary fireworks, but for a dining room with a view, Bōkan will do nicely. Note that there is a smart-casual dress code, so any sloppiness may be refused entry.
Venue says: "Test your taste buds and spoil yourself in our amazing sky-high restaurant. Try our five-course chef's tasting menu for £60 per person."