Light up a bleak January with Artichoke's dazzling Lumiere festival, head to The Lexington for fives days' worth of gigs from up-and-coming acts, or discover Rebecca Lenkiewicz's latest play about one of the last women to be tried for witchcraft at the Arcola Theatre. Here are 28 ways to make your working week rock.
Things to do
Soho Storytelling with the Crick Crack Club, Soho Theatre, TONIGHT, £10£8 concs. Veteran performance storytelling association The Crick Crack Club presents these monthly evenings of magical tales and mind-bending questions at the Soho Theatre.
Vertical: Le Patin Libre, Somerset House, Tue-Thu, £15, £12.50 concs. Skate at Somerset House wraps up with a sensational display of dancing on ice thanks to Canadian quintet Le Patin Libre and their award-winning double bill 'Vertical'.
West End Musical Choir Taster Session, various, Wed-Thu, free. These free taster rehearsals are aimed at fans of musicals and enthusiastic singers thinking of joining the West End Musical Choir. Learn songs from classic and hit musicals, meet other musical-theatre fans and find out if you'd like to join full time when the choir kicks off its spring term (normal price £10 per session).
Lumiere London, various, Thu, free. Lights are for life, not just for Christmas. This city-wide collection of magical installations will be brightening our streets (and, in turn, our January) for four days from Thursday January 14, and there are spectacular things in store.
5x15 in aid of the Women's Equality Party, Central Hall Westminster, Thu, £25, £15 concs + booking fee. Hear from Caitlin Moran, Sandi Toksvig, Jo Brand, Catherine Mayer, plus a fifth speaker at this 5x15 in aid of the Women's Equality Part.
The Forgotten Brutalist, The Gallery, Thu, £10, £8 members, £5 concs. John and Charles Ellis talk tonight about the work of their late father Tom Ellis, an architect at the forefront of the Brutalist style during the 1950s and '60s.
…or check out more events happening in London this week.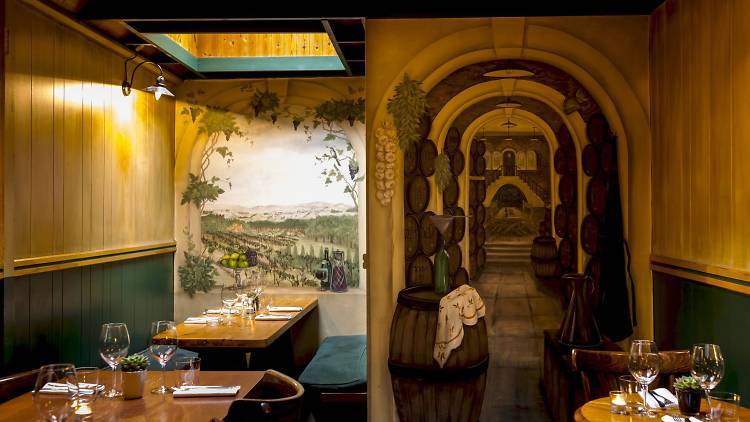 © Ming Tang-Evans
Eating and drinking
Noble Rot, Bloomsbury. A restaurant and wine bar from the people behind Noble Rot magazine.
Il Cudega, South Hackney. A crowd-funded deli-restaurant and wine bar that serves Lombardian dishes featuring produce made by followers of Italy's 'slow food' movement.
Bellanger, Islington. A new café and brasserie from Corbin and King, the team behind The Wolseley, The Delaunay and Brasserie Zedel.
…or check out all of the latest restaurant reviews.
© Edward Moore
Comedy
Simon Munnery's Fylm School, Soho Theatre, TONIGHT, £15. Simon Munnery is consistently one of the most innovative comedy talents out there. In this one-off reboot of his former monthly show at the Soho Theatre, he broadcasts his face and live cardboard-based sketches onto a screen on stage and introduces his comedy pals to have a play with his ingenious bit of kit.
Nish Kumar: Long Word… Long Word… Blah Blah Blah… I'm So Clever, Soho Theatre, Tue-Thu, £15, £12.50 concs. Time Out favourite Nish Kumar earned a Foster's Edinburgh Comedy Award nomination for his latest solo offering. The show – which has a title so long we won't bother typing it again here – is full of smart, thought-provoking, relevant comments on the post-election political landscape.
Robert Newman: The Brain Show, Soho Theatre, all week, £12.50-£15. Robert Newman – who, with David Baddiel, was the first comic to fill Wembley Arena back in 1993 – returned to stand-up a couple of years ago with a stand-up show/lecture 'New Theory of Evolution' – and it was rather excellent.
…or check out all the critics' choice comedy shows.
Live music and nightlife
Hinds, Rough Trade East, TONIGHT, free w/wristband. Formerly Deers, this incredibly fun indie quartet from Madrid are beholden to the Velvet Underground, the Phil Spector-produced girl bands of the '60s, riot grrrl and British indie-pop.
Oscar, The Lexington, Tue, £6. Lo-fi but very accomplished bedroom pop with shades of Damon Albarn and Beat Happening, produced and performed by young Londoner Oscar Scheller and his band.
Smoke Fairies, The Social, Wed, £5 adv. The Jack White-approved duo from Sussex headline, with their bewitching slide guitar-driven blues-folk and vocals that melt between earthy singalongs and twinkling balladeering.
Hip Hop Karaoke, The Social, Thu, £5. If you've ever fancied yourself as a Missy, Eminem, Beastie Boy/Girl or you think you could give Snoop a run for his dough, here's your chance to act out some rap fantasies.
The Line of Best Fit: Five Day Forecast, The Lexington, all week, £6-£9, £25 (five days). Online music mag TLOBF are tipping some ones-to-watch for 2016 with this five-day series at Islington indie pub The Lexington. Acts set to take to the stage throughout the week include Inheaven, Pumarosa, Haelos, Diet Cig, Oscar and Postiljonen.
…or take a look at all the live music events in London this week.
Film

'Land Without Bread' + 'Simon of the Desert', Deptford Cinema, Tue, £5, £3.50 concs. A double bill of films by the notorious Spanish surrealist Luis Buñuel, kicking off with his rarely screened 'Land Without Bread', a surrealist study of the trials of poverty.

Or at the cinema...
The Hateful Eight ★★★★☆ Quentin Tarantino's 168-minute whodunnit western mixes Agatha Christie with John Carpenter.
Le Mépris ★★★★★ Jean-Luc Godard's bruising tale of marriage and the movies retains its freshness.
A War ★★★★☆ Echoes of 'Paths of Glory' in this tale of a Danish military commander suffering a crisis of conscience in Afghanistan.
…or see all of the latest releases.
© Richard Davenport
Theatre
Jane Wenham: The Witch of Walkern, Arcola Theatre, Tue-Thu, £17-£19, £14-£15 concs. Rebecca Lenkiewicz's powerful new play makes tipping old women in rivers or attributing magical powers to their pets feel real, and deadly serious.
Grey Gardens, Southwark Playhouse, all week, £25, £14-£20 concs. A Technicolor musical adaptation of the cult documentary.
Guys and Dolls, Savoy Theatre, all week, £25-£101.50. Three fabulous lead performances propel the high-rollin' musical classic back to town.
…or see our theatre critics' choices.
This week's best new art
Champagne Life, Saatchi Gallery, Wed-Thu, free. The Saatchi Gallery marks its thirtieth birthday with its first all-female show. A cast of emerging international artists including Mequitta Ahuja and Alice Anderson considers what it means to be a female artist working today.
…or see all London art reviews.
And finally
Win... the perfect weekend in Barcelona or a London experience with the National Maritime Museum
Grab... a £16 deal for four cocktails at Mews of Mayfair
Book… these gigs while you still can
Best of the blog
In GIFs: what to see at next week's free Winter Lights Festival
These guys just set a new record for the fastest journey around every single tube station
Some of London's listed buildings could be demolished to make way for Crossrail 2