Heads up! We're working hard to be accurate – but these are unusual times, so please always check before heading out.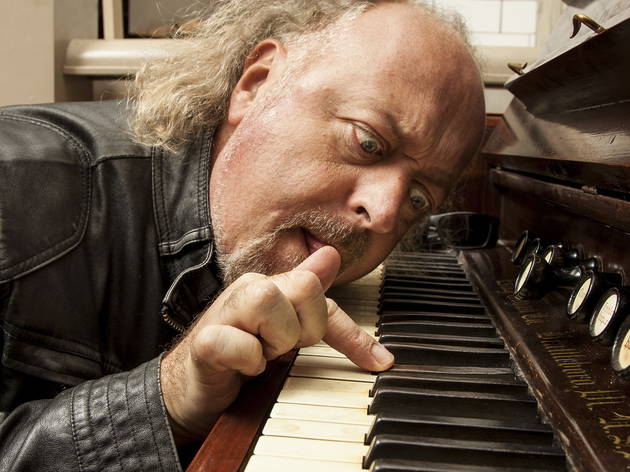 Bill Bailey: 'We're all just shuffling towards oblivion, so we might as well enjoy ourselves'
The bearded, bald and brilliant behemoth of stand-up comedy says that this tour is his last. For now. Time Out finds out what else is on Bill Bailey's to-do list

Bill Bailey settles into a seat in a Fitzrovia pub with a cheery West Country 'Ow do!' It's his thing: Middle Earth via the M4 corridor. You assume he lives in a remote tumbledown mill in Somerset, like a member of some '70s prog-rock band, or at least never sets foot in the capital.

In fact, he's come from his home in Hammersmith. There's something a bit weird about him living in London, but then there are a lot of things about 49-year-old Mark Bailey that are a bit weird. Like the fact that he can sell out a 47-night mega tour that winds up at Wembley Arena, but still get away with calling it 'Qualmpeddler' (following his smash-hit shows 'Part Troll', 'Bewilderness' and 'Tinselworm').

The winds of fashion clearly don't buffet Bailey, despite his flyaway tonsured mullet. He remains one of the country's most popular and recognisable comics, as happy, witty and inventive alone on a stadium stage as he is on a midweek TV panel show. If anything, in this era of 'Game of Thrones', 'Thor', 'The Hunger Games' and 'The Hobbit: The Desolation of Smaug', it seems like it's the world that has attuned itself to Bailey's eccentric vision, rather than the other way around. So what's weirdest of all, perhaps, is that he's announced that he's steering clear of the stadia for a while…

You've said you're taking a break from touring. Do you mean it?
'It's physically exhausting. The show's two hours 20 minutes, and that's a long time to be on stage and to just be you. So I get to a point where I've hit a wall, and after I've finished touring it takes me about two weeks to wind down and decompress and get back to normal. So I say, "I'm going to take a break from live comedy," which will probably mean two weeks in January, and then I'll start scribbling ideas down again and the next show will start to take shape… I think live performance is something that I'll always do.'

Are you going to be like the comedy world's equivalent of the Stones?
'Exactly, yeah! Finally I'll headline Glastonbury!'

Well, you're almost as big as them: you play stadiums and festivals. And you're playing Wembley Arena.
'It's the iconic venue. When you say "Hello Wembley!" you're not just saying hello to a large shed. You're saying, "Hello, I'm following all the greats that have played here before." It's like when I played [Sonisphere festival at] Knebworth two years ago. Suddenly I thought: Zeppelin played here!'

Isn't it risky doing comedy to a field full of metalheads?
'Yeah! I was on a music stage. Headlining! It was nuts. I thought: If I get this wrong, I'm going to be torn limb from limb, they'll chuck me in the moshpit and there'll be nothing left. Somehow it worked and it was great fun. We're all just shuffling towards oblivion, so we might as well enjoy ourselves.'

Where can you go from here? What's bigger than playing Wembley?
'I was asked to perform at the Olympics Opening Ceremony. But I was up a tree in Borneo filming a documentary about Alfred Russel Wallace! So it couldn't be done.'

So you missed out on Dizzee Rascal and the whole Industrial Revolution?
'Yeah! The chance to wear a stovepipe hat, in a public place, in a non-ironic way? Those opportunities don't come around that often. I watched it: I was in Indonesia or somewhere and we saw it at about four o'clock in the morning, and I thought it was fantastic.'

How does it feel to be one of the go-to people in the country to represent Britishness?
'I'm tremendously proud of it. I'm very patriotic; Britain – the patriotic bit of it – has been hijacked in recent times by a right-wing element. I'm very glad that the notion of Britishness is being wrested away from them. Really, for me, what it's about is much more a spirit of tolerance, in that we are very tolerant people. We're incredibly eccentric and diverse and we're passionate about so many different things, and for a small island we have a disproportionate amount of invention and creativity. I'm very proud to be part of that.'

That's a very noble sentiment.
'When the sun shines in Britain there's no finer place on Earth. There are things that I cherish about the country, about the people. The countryside!'

But you live in Hammersmith.
'I love it. I like cities, there's the energy about them. Also I like the neighbourhood. I've been in Hammersmith for a long time now; I was living on a houseboat there by the bridge for three years. You get to the know the flow of the river, and you get in tune with the tides, and you feel like you're part of it rather than the river just being this abstract thing that flows through the city: you live on it and you realise it's a living thing.'

What's the weirdest thing that's ever happened to you in London?
'I've had people get into my car while I'm at red lights. One time, I was in Notting Hill, and this rather well-to-do woman – she looked like she was in her eighties, she looked quite aristocratic – just got in the car and went, "Could you take me to Cricklewood, please?" I don't know if she thought I was a cab. So I did. I took her there, and she went, "Thanks very much."'

Is it a pain being recognised? You have a distinctive appearance.
'I think I have a sort of relaxed, mild eccentricity [laughs]. Which is true, I think, of most British people! Most British men, anyway. I have anti-establishment hair.'

But you are part of the comedy establishment. Why don't we see you on TV so much these days?
'When you're writing and touring, you're committed to a lot of dates. There's only a very narrow window of opportunity, particularly when you're collaborating. I stopped doing "Never Mind the Buzzcocks"; I stopped doing TV in general. Now I'm in a kind of limbo. But in a good way.'

What's in the pipeline?
'I've written a TV drama. A comedy drama. So we're just in the process of refining that. And then when the new year comes along I'll get back to working on a musical.'

Do you have ambitions you've not yet fulfilled?
'Obviously, I'd like to play a Bond villain. Well, no: maybe in the Bourne films or something; some vicious villain who's got some sort of skill with lasers in his eyes or fingers or something.'

Why?
'Because I always get to play the bumbling farmer in films. I get film scripts, and I look through them, and I get to a bit that says, "A man appears with a bewildered aspect," and I go: Oh, here we go, this is me then, surely? I'd rather play an ice-cold villain who's good with gadgets before I play another bewildered farmer. Or before I appear on "Strictly". If that happens, then you're entitled to take me out with a tranquiliser dart.'

'Qualmpeddler' is available now on DVD and Blu-ray.
Support Time Out
We see you're using an ad-blocker. Ad revenue is Time Out's main source of income. The content you're reading is made by independent, expert local journalists.
Support Time Out directly today and help us champion the people and places which make the city tick. Cheers!
Donate now