Heads up! We're working hard to be accurate – but these are unusual times, so please always check before heading out.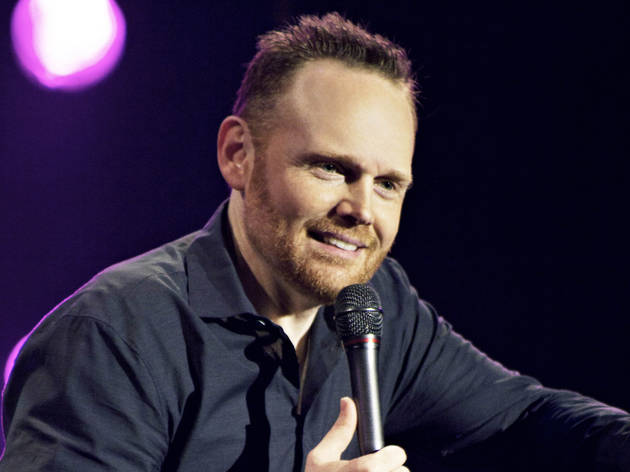 Bill Burr interview: 'People who get offended are really selfish'
The ranting US stand-up speaks to Time Out about being a 'Breaking Bad' megafan-turned-cast member

'Breaking Bad' fans are an enthusiastic bunch. They'll compete in Heisenberg pub quizzes and cheer through marathon screenings; it was recently reported that one Houston-based couple celebrated their engagement with a crystal meth-themed photo shoot.

Imagine this: you've been a 'Breaking Bad' nerd since Walter White first donned a gas mask. Then three years later, you're starring in the show.

That's exactly what happened to Massachusetts-born comic Bill Burr. The 45-year-old pops up as Kuby, one of Saul Goodman's henchmen, in the fourth and fifth seasons after begging his agent to get him an audition. 'I think I got in there early, before all the other actors realised what an awesome show it was,' Burr tells me, in his thick Boston accent, over the phone from his LA home. 'I was going, "I'll play a worker at the car wash, a meth-head, I'll drop by in the background with no lines! I'll do anything!"'

But despite the burgeoning acting career, live comedy remains Burr's main focus. Watching his stand-up is like witnessing a grown man losing his shit in a supermarket aisle. On stage, he spews out vitriolic rants about the most trivial of annoyances with the rage of the Hulk on a particularly bad day. Thankfully, in our interview, he managed to restrain himself to a mild tourist grumble.

This is your third time performing in London. Do you like the city?
'Oh yeah. It still blows my mind to see Big Ben, Parliament, Tower Bridge and all that type of stuff. And like most Americans, I thought Tower Bridge was the London Bridge.'

It is more impressive, I guess.
'London Bridge looks like something I could have designed. You think: There's no way they wrote a friggin' song about that awful bridge, it's got to be that big one, with the two skyscrapers in the middle of it. But no, it's the little, shit one! I guess the other one was real nice before it burned down, huh?'

Is there a notable difference between playing the UK and the States?
'Well, thank God there isn't a language barrier! There's definitely an accent barrier. But through doing these tours in Europe I've learnt that the less I think about how far away I am, the better the show goes. So I just act like I'm in the States and I do my show the exact same way, until a joke doesn't work, and then I just make fun of myself.

'The first time I came over I felt I was a little too much on my heels, and it can really get in your head. "Oh, this joke is about toothpaste: what kind of toothpaste do they have here? Do they have fluoride toothpaste?" You can back yourself into a corner, thinking: I'm going to talk about shirts. Do they have shirts in England? While you're looking at an audience full of people wearing shirts. I kept thinking: Man, do I need to read up more? And then finally I decided: Fuck this, I'm just going to talk about it like everybody knows what I'm talking about.'

There are long articles online analysing your comedy in minute detail. How do you describe it?
'I'm an idiot, basically. I don't think that I'm a dumb guy, but I also realise that I have access to about 0.1 percent of the information that I need to have a truly informed opinion about half the stuff I talk about. I'm like that loud guy in the bar, who kind of makes sense for about ten minutes, and then you realise he flunked everything at high school so you just laugh at him.'

You were recently dubbed 'the new Louis CK' by Rolling Stone. How does that feel, having been a comic for more than 20 years?
'Well, it's an honour to be compared to somebody as great as him. I don't believe that it's true. All I do is stand-up. Louis does stand-up, puts out twice as many specials as I do, and also writes, directs and edits one of the greatest, funniest TV shows in America. I'm nowhere near him! I took it as a compliment. He should probably take it as an insult.'

You've said that when you started comedy you were totally clean, and quite wholesome. What made you switch to being angry on stage?
'I've always been angry, even when I was this wholesome person on stage, I just wasn't letting it out and wasn't in touch with it. There was a major part of me that just wanted to work clean because I didn't want to offend anybody. I was worried about getting heckled, and there was a part of me that wanted to be a people-pleaser.

'That's another myth, I feel, that working clean is harder. You can definitely use curse words as a crutch, but a lot of times working clean doesn't just mean not saying bad words, it means not having opinions about certain topics that the mainstream might disagree with. So they both have their limitations, and I totally respect both styles. But I could probably curse less, to be honest with you.'

Well, no matter what you talk about, something's always going to offend someone.
'That's true, and I think those people who get offended are really selfish. They'll sit in the crowd as a hundred subjects go by, they're finding it all funny and they know it's all jokes. Then all of a sudden it comes around to their world and they go, "Wait a minute, everything else was funny until you started making fun of what I do or who I am." I don't have time for that, man. It's really childish.'

Do you enjoy being totally in control doing stand-up: no censors, no networks, no one telling you what to do?
'It's tremendous. I love the fact that I don't have a boss, I don't really have a job, I work when I want to work. In showbusiness, that's a great thing to have. I don't know how actors do it, because so many of them are at the mercy of this business. You do a movie or a TV show and you're just praying that you're working with some talented people who gave you good stuff to say. The actor gets all the glory, but all the hell if it goes bad.'

But your acting CV is getting longer, with parts in 'Breaking Bad', 'The Heat', 'Date Night'… There are a quite few stand-ups in 'Breaking Bad': Bob Odenkirk plays Saul Goodman and Lavell Crawford plays Huell…
'I remember, when we did this quick little scene with me, Lavell and Bob. I was sitting there thinking: Wow, this is the best drama on American television right now, and in this one moment we've got three stand-up comics carrying the ball. Of course Bryan Cranston burst into the scene two seconds later to save us, but it was still pretty cool.'

Are there other TV shows you'd like to be a part of?
'I'd love to play a zombie on "Walking Dead". I like roles where you get killed, riddled with bullets or the shit beaten out of you. I don't have any desire to put on a powdered wig or learn an accent. But, basically, I act when they let me.'

A Saul Goodman spin-off show has been announced. Do you know if you'll be in it?
'I don't. I know as much about that as you do. All I know is, when it comes out, I'm watching every episode.'
Support Time Out
We see you're using an ad-blocker. Ad revenue is Time Out's main source of income. The content you're reading is made by independent, expert local journalists.
Support Time Out directly today and help us champion the people and places which make the city tick. Cheers!
Donate now