Heads up! We're working hard to be accurate – but these are unusual times, so please always check before heading out.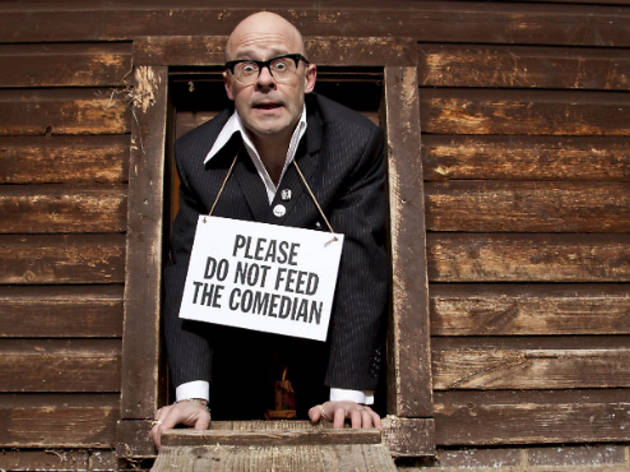 1/11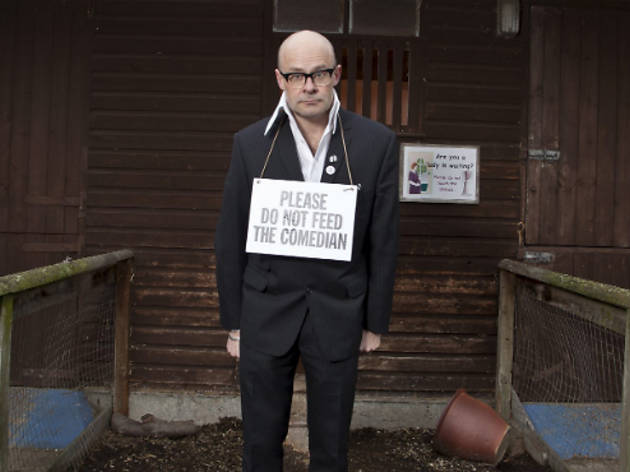 2/11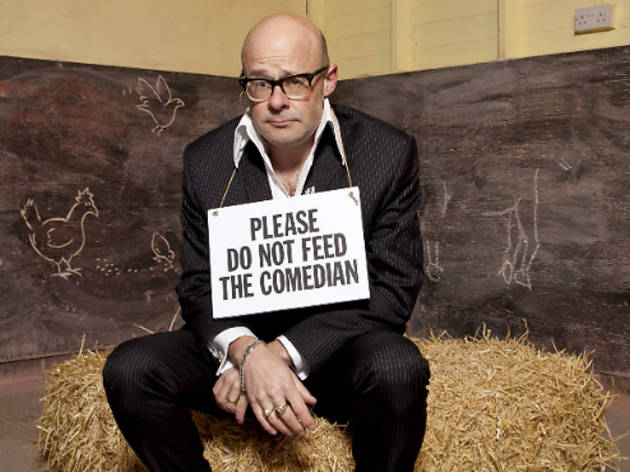 3/11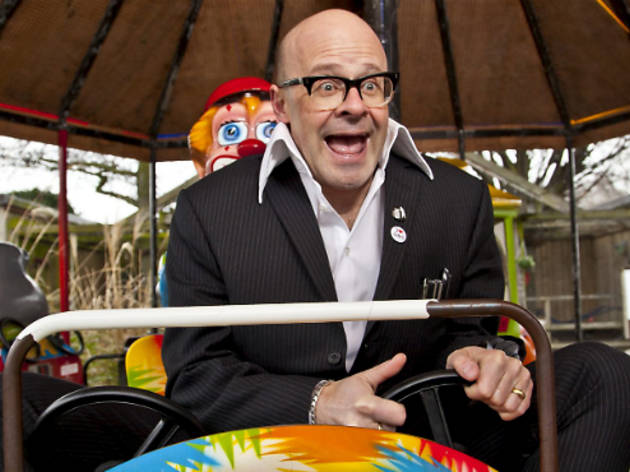 4/11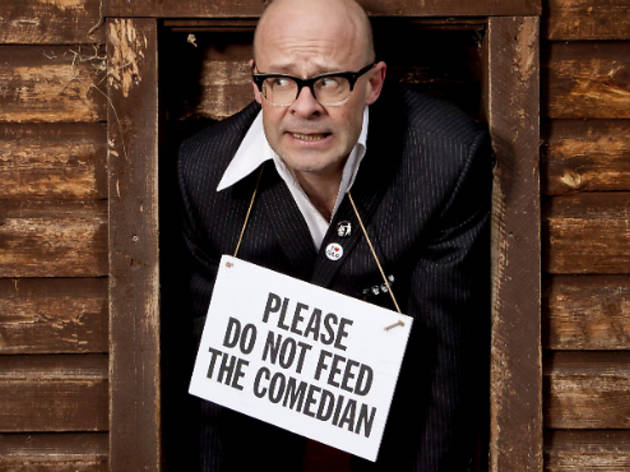 5/11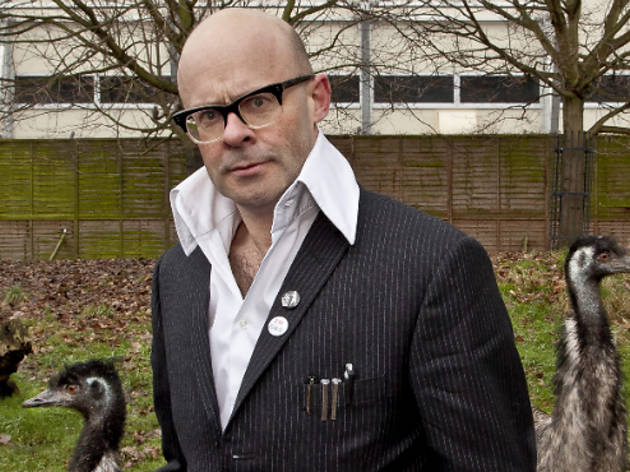 6/11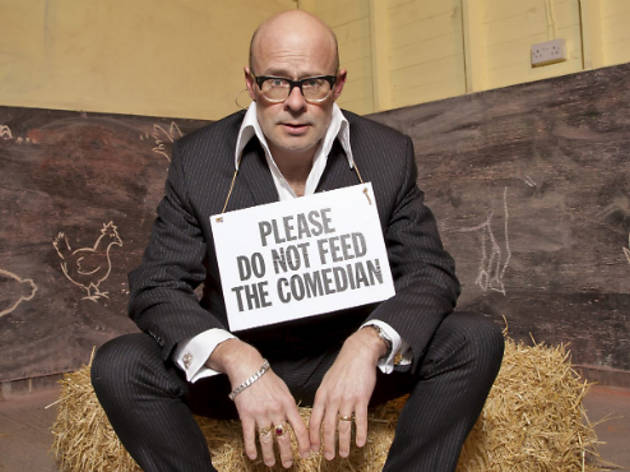 7/11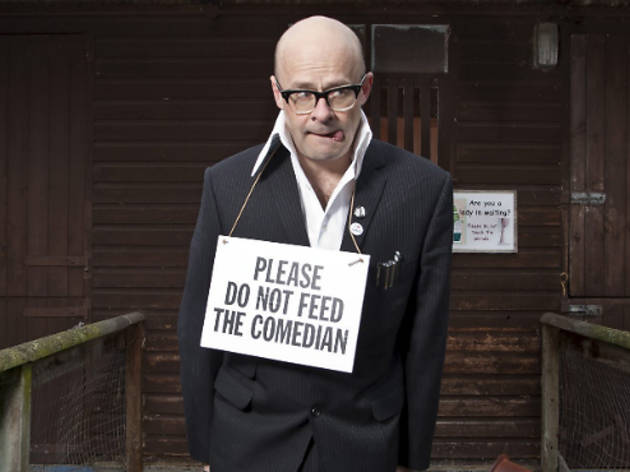 8/11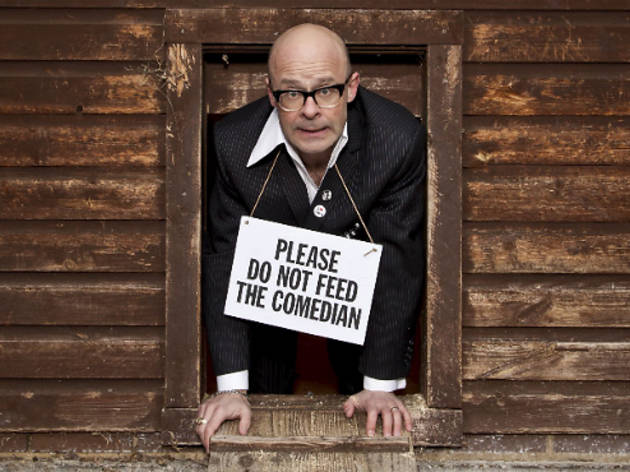 9/11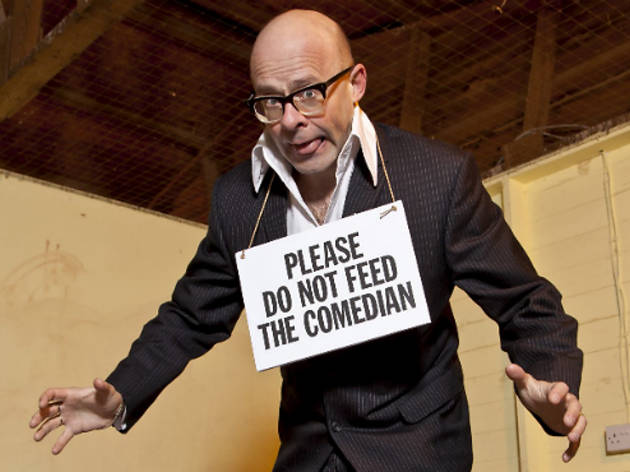 10/11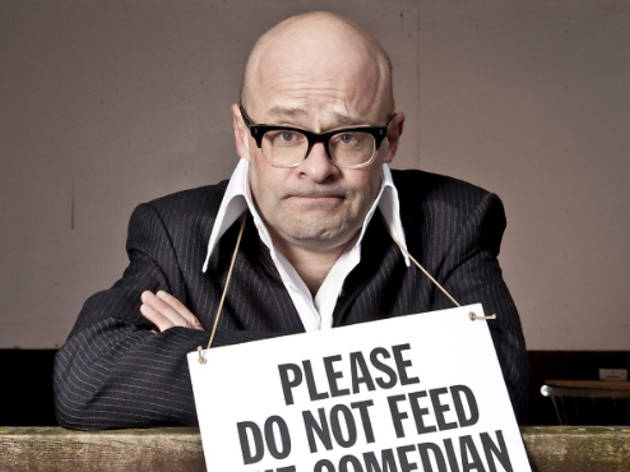 11/11
Horsing around with Harry Hill
The comic tells Time Out how it feels to leave the cushy couch of teatime telly for the merciless jaws of the stand-up world
In the distance, a man in a fur-lined coat appears from behind a cage of lemurs. Even with the winterwear hiding his oversized collar and a flat cap covering his bald head, those thick-rimmed glasses are unmistakeable. It's Harry Hill, the former GP turned nonsensical comedian who became king of primetime ITV.
He walks determinedly past the sheep and donkeys, meets me at the emus and offers his hand. 'Have you come far?' I ask. He grins. 'Well, I'm originally from Surrey.' I've been wrongfooted already.
He hasn't had far to travel today, though. We're meeting at Battersea Park Children's Zoo, close to his home in south London. It's no secret that Hill has a fondness for animals. Creatures have been an integral part of the 48-year-old comic's work since he won the very first Perrier Best Newcomer award at the Edinburgh Fringe back in 1992.
He started small: the show was called 'Flies'. From that point, Hill's career raced ahead. Radio 4 quickly saw his potential and commissioned stand-up/sketch show 'Fruit Corner' in '93. Channel 4 adapted the programme for the small screen as 'The Harry Hill Show'. Finally, ITV got wind of the whimsical wonder and in 2001 'Harry Hill's TV Burp' was born. What started as a late-night pisstake of the week's telly grew into one of its most popular programmes, watched by millions every Saturday.
But, last year, Hill turned his back on 'TV Burp', and we're meeting today to talk 'Sausage Time', his first live tour in seven years. Oh, and to look at some otters.
He knows the zoo well. 'When the kids were little we used to come,' he says. 'They were going to close it down, so I did sign a petition. I think Battersea's a lovely park.'
In fact, he seems to surprise himself with how well he knows the place. 'There used to be some red squirrels in there, but they don't look like red squirrels,' he says, as he walks up to a cage. 'Oh, it's the prevost squirrel,' he reads. 'Even the red squirrels in the zoo have died out.' And there's that squinty grin again.
Despite the cold, he's in a chirpy and distinctly silly mood, and although Matthew Hall (as he was born, in Woking in 1964) isn't nearly as cartoonish as Harry Hill, his daftness clearly isn't wholly an act.
Each stop on our walk around the enclosures serves to illustrate just how long and varied Hill's career has been. The emus remind him of doing a benefit with Rod Hull, the monkeys conjure up memories of finding a band of musical automaton apes in a junkshop (and snapping them up for a song), while at the farm animals section he remembers filming spoof ITV idents involving a pig walking down a yellow carpet.
'There are some really funny outtakes where it did a shit on the runway and people were trying to stop it from running off,' he laughs. 'But it was a bit scary, it had quite big teeth, and it was really angry. You couldn't control it. I used to use a lot of animals, but you do learn that they slow things down and never do what you want them to do.'
The problematic porker wasn't the scariest animal he encountered. We approach another monkey cage (where one of the little fellas won't stop howling) and he relates an idea he had for his Channel 4 series 'The Harry Hill Show', which ran from 1997 to 2000. He wanted to have a monkey dressed up as him, but even after getting a miniature big-collared suit stitched up, the animal's handler wouldn't allow it.
'She said, "Oh no, you can't dress it in a suit, these are wild animals." So she put it on my shoulder. "It is a wild animal, and it could attack you," she said and she showed me this big bite mark on her arm. We filmed it, and it's just funny watching my face, because I'm obviously really nervous about it. Yeah, animals… You're better off with puppets.'
So puppets are funnier than real animals? 'I don't know, it's kind of an aesthetic isn't it, really?' he asks, looking puzzled. 'I mean, that's what I learned from "TV Burp": how to do slapstick and how to do stuff with props, which I didn't really know about before.'
Besides being wildly successful, 'TV Burp' also helped transform Hill from cultish, oddball comedian to massively popular and adored family entertainer. When he started stand-up back in 1990, throwing out leftfield gags at Jongleurs comedy clubs, did he ever envisage his career taking that path?
'I did, I did,' he remembers. 'I thought – naively – that my act was mainstream. I thought it was a Saturday teatime, Morecambe and Wise-y type thing. Then when I started meeting TV executives I thought there was no way I was ever going to get to that because they just don't buy it. I got sort of pigeonholed as the "cult" thing. My belief is that there's no such thing as mainstream or cult. It's either funny or it's not. People aren't stupid; people can enjoy silly things.'
Even with such a large fanbase Hill is often seen as an opinion-splitting comedian. 'It's not true any more,' he insists. Is that because he's found his audience, and only people who like him are buying tickets for this tour? 'Well, there's an element of that, but also I think I've got better at it. I used to have a lot of wilfully obscure stuff which only really appealed to me, and you can't really do that,' he says, laughing. 'You have to meet them halfway.'
Arguably 'TV Burp' was just such a step, but it was also Hill fulfilling his dream of becoming a teatime TV treasure. Then, after 11 years and 161 episodes, Hill retired the show in 2012.
'Yes!' he exclaims as I mention this, and punches the air. He's pleased, then. 'I'm glad I gave it up,' he says. 'It was only ever a means to an end, it wasn't what I wanted to do for ever.'
But he must have enjoyed it? Why else would he keep doing it for over a decade? 'I don't know if I enjoyed doing it, really,' he considers, suddenly despondent. 'It was exciting. But it was always really scary. It was completely frantic, and six months of the year would go like that. I was very well paid, and obviously it's given me a lot of profile, but…' he tails off.
'It was a challenge, but it became work. I started to feel like I did when I was a doctor and I was thinking: Why am I doing this? They'd sign me up for another two years of "TV Burp", and I'd be thinking: Oh God, okay, once I've got those out of the way then I can… I was sort of living in the future a bit.'
The gloomy memory of 'TV Burp' passes and Hill's soon the cheerful chap I met by the emus again. By his own admission, he has much to be cheerful about. Free from the shackles of having to watch hours of 'I'm a Celebrity…' and 'Eddie Stobart: Trucks & Trailers', he's back doing what he does best: stand-up.
Perhaps he's just pleased to have escaped the idiot box, but he seems genuinely excited and tells me, in enthusiastic detail, about ideas he's working on, gags he's testing and props he's having built: a stepladder which collapses at the pull of a lever; an ambitious gag which requires learning a huge list of song names; a human-sized tap-dancing version of Gary, his ventriloquist's dummy…
But since Hill last went on the road, he's gained a whole new fanbase: entire families watched 'TV Burp'. 'I was wary about it,' he admits, on writing the new show. 'The fact is, my stand-up is much more extreme than "TV Burp".'
But he hasn't tailored his material for his new audience. 'I've never done that,' he claims. 'I remember being on at Jongleurs in Battersea one night and it was really going badly. I thought: Any minute now someone's going to heckle me. I looked at the back of the room and all the comics are there, kind of enjoying it, and I said, "It's at times like this I wish I had a knob joke." But I didn't have one. I mean, I've got some jokes that are more accessible than others. But the audience still has to hear the ones that aren't accessible.'
Hill's not just focusing on stand-up. He has plans for a film, and he's penning an 'X Factor' musical, which he hopes to bring to the West End in 2014. It has Simon Cowell's backing, but, in a similar vein to 'TV Burp', will be 'a celebration and a pisstake at the same time. We sort of over-praise Simon; he heals the sick and he's a messianic-type character.'
Hill's obviously not looking to retire on his ITV millions. It makes you wonder what other comedic gems he could have conjured up if he'd finished doing the show years ago.
With that thought, we meet Rob the Time Out photographer, who's waiting by a freshly vacated donkey enclosure, ready to take some shots.
Before Hill steps into the paddock he walks up to the donkey, who's kindly just given up his home, and thanks him politely. Then he spots a present that the donkey's left inside, squats over it and, in true Harry Hill style, mimes taking a massive dump.
'Harry Hill - Sausage Time' is at the Hammersmith Apollo, Mar 26 and Apr 11.