Heads up! We're working hard to be accurate – but these are unusual times, so please always check before heading out.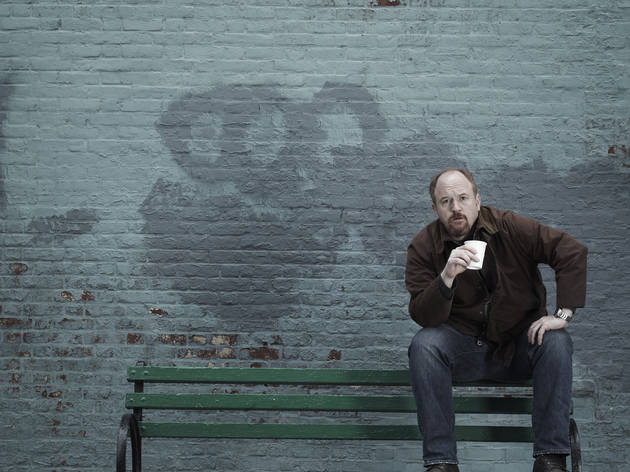 Louis CK interview: 'I'm definitely not a good guy'
In an exclusive interview, Time Out speaks to the superstar American comic
Earlier this year
Rolling Stone
named him as 'the funniest person in the world right now', Chris Rock's called him 'the greatest comic mind of the last quarter century', and Ricky Gervais hails him as 'the funniest stand-up working America'. The list of praise for US comic Louis CK is so long it could have been directed by Peter Jackson. Not that it's undeserved. In fact, I'm now going to add to the pile: Louis CK lives up the hype, he's one of the smartest, most blisteringly funny stand-ups currently taking the mic. Phew! Now I don't feel so left out...
When I first saw the 45-year-old comic at the Edinburgh Fringe in 2008, I was totally blown away. This was proper grown-up comedy, bleak and miserable and full of self-loathing but with a strangely positive outlook. In the years since, the Washington-born comic's profile has rocketed. Back home in the US, CK's Emmy Award-winning series 'Louie' has finished its third season, he's packed out massive national tours (selling every ticket through his own website), and his most recent stand-up special, 'Live at the Beacon Theatre' - which was also available through his site, as a restriction-free download for $5 a pop - made over $1 millon.
Now, with 'Louie' being broadcast on Fox in the UK, he's become the hottest comedian this side of the Atlantic too. His first Hammersmith Apollo show sold out in just a few hours, and the mad scramble for tickets crashed his website. I chatted to CK (a more easy-to-pronounce version of his real surname, Szekely) over the phone from New York ahead of his huge London shows later this month.
You're constantly being name-checked by critics and fellow comics as the funniest stand-up currently working. What's it like to be so lauded?
'I hate it, it's really insulting! [Laughs] Yeah, it's all right. You can certainly derive some pleasure out of getting complimented if you live on it, but you're also going to have to take the full brunt of the abuse when they don't like you. I've been doing this for 25 years, and 20 of those years were really, really hard, so you don't forget that. I think it's more dangerous for people who succeed very suddenly and quickly, and go: "Oh, this is just the way it is, and I'll always do well now!". When it takes you 20-plus years to get to any level of success, you're much smarter about keeping it. There's nothing special about me, I just stuck with it and worked hard.'
You've said: 'The more famous you get, the more people see you who didn't choose to see you, and that's when you start pissing people off.' Have you taken that into account with your stand-up these days?
'Oh yeah, definitely. And that doesn't change what I do, it's just a fact of life. Now, I'm aware that the stuff I say has further reach than it used to. But that's just the way it goes. A sport right now is, like, getting offended, and then getting rid of somebody who offended you. I think some people really need to grow up about the fact that you're not always going to hear what you want to hear from people. I think people think of themselves as customers to everything: they're a consumer, so when they hear something they're offended by they should be able to call a customer services line and have it shut off. I don't have any sympathy for somebody who's offended by words.'
Is it important for your comedy that you're not always the good guy? You don't seem to be afraid of casting yourself in a bad light.
'Well, I'm definitely not a good guy, anyway. I think everybody's a bit of an asshole; that's being human. If your goal on stage is to be seen as really cool and make everybody like you, or to seem wise or popular, then you should sing songs like Frank Sinatra or somebody like that. And even he was kind of a piece of shit. To me, it's fun to say how awful you are. It's cathartic.'
You can be very bleak on stage. What is it about finding humour in the most depressing subjects?
'Well, that's the best [thing] to do with a depressing topic: to laugh. When you say how awful something is, and it makes you laugh, that's such a great exercise: that's medicine. It's not even that it makes bleak things better; it's just that it's great how awful life can be. It's great! It's funny! It's amazing how blunt and dark and empty the world can feel.'

Your material often focuses on your frustration with your kids. Do they mind you talking about them?
'No, they know it's fictional. My kids and I have a good relationship. They've seen chunks of the last special I did, because it's actually a lot cleaner than the ones I've done in the past.'
What did they make of your stand-up material?
'They loved it. I don't say "fuck" as much as I used to. I still talk about a lot of the same topics, but a lot of them are new, so there is a lot of silly stuff they're able to enjoy.'
You've said: 'As you get older, you get funnier.' What's the link between the two?
'The further you are down the timeline, the more you've collected, as far as information, the more different perspectives you have and you've lived more moments; I just think you're more interesting to listen to. When I watch young, good-looking comics, I congratulate him or her for being in a great sweet spot in life, but I'm not that interested in what they have to say.'
You've revolutionalised ticketing in the US, giving fans a fair deal by selling seats through your own website without booking fees. Why didn't UK fans get the same treatment for these shows?
'I tried. I wanted to do the same thing in the UK, and I just couldn't do it. It took almost a year just to create the tour [in the US] and the ticketing system and all that stuff. The stranglehold on American ticketing is pretty phenomenal. We just found all these nooks and crannies and crevasses, and it was a lot of work, so trying to do it in England, where I don't have any associations, just didn't work. So we retreated to: well, let's just go to England and do some shows...'
You play large theatres in the States, and you're a pretty no-frills stand-up, but you're playing the O2 over here. How do you feel about playing such a massive venue?
'I wanted to try to get to as many people as I could, because I could only go for a short time. I talked to Chris Rock and Jerry Seinfeld, who have both played it, and they said they had a really great show there. They're used to playing shows my size also. Just to give an option to people who wanted to see me more intimately, I added the two shows at Hammersmith. But the O2 should be fun. The guys I talked to said it was a unique place to do a stand-up show and it was really fun for them.'
You've said that England is 'the hardest place to work'. What makes you want to keep coming back here to perform?
'I like playing England: I like the approach audiences have to stand-up there; people are thoughtful about comedy. They seem to approach it as a theatrical artform more than like a night out at a club.'
So it tests you? It challenges you to be the outsider again, not this idolised star?
'It's me out of my element, you know? Whenever you go to a different place where you feel it's just a little off-putting, that's good.'
Louis CK plays the
O2 on Mar 20
and two shows at the
Hammersmith Apollo on Mar 21
.
Support Time Out
We see you're using an ad-blocker. Ad revenue is Time Out's main source of income. The content you're reading is made by independent, expert local journalists.
Support Time Out directly today and help us champion the people and places which make the city tick. Cheers!
Donate now