Heads up! We're working hard to be accurate – but these are unusual times, so please always check before heading out.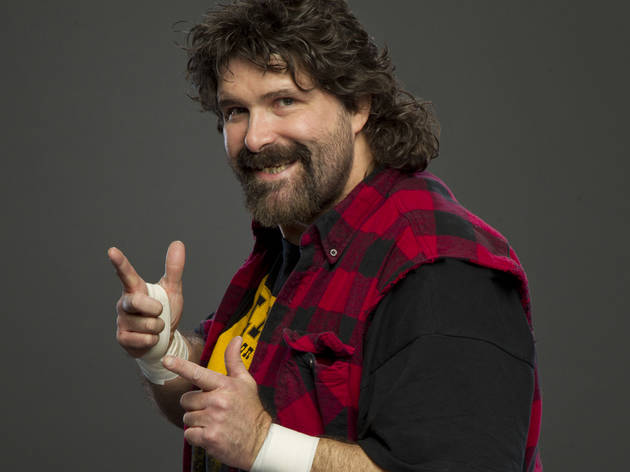 Mick Foley interview: 'You're out there as naked as can be'
The former WWE wrestler talks swapping punches for punchlines

He's played many a dirty heel in the wrestling ring (Cactus Jack and Mankind among them), but now former WWE star Mick Foley has swapped punches for punchlines and turned his hand to stand-up comedy. Time Out Melbourne's Jenny Valentish speaks to him.

What's more nervewracking for you: taking to the stage with no bells and whistles in front of a comedy audience, or a massive televised wrestling match?
'Oh wow, I like the fact you say no bells and whistles, because with comedy you're out there as naked as you can be. People give you the five-minute grace period because they like you, and after that you'd better be good! But I'm not quite sure if anything is on par with the feeling I used to get before a big match, because with comedy if something goes wrong you won't end up in the emergency room.'

Who are the comedy greats for you?
'I loved Steve Martin when I was younger, in the '70s. I loved George Carlin… I used to sit in front of the TV and watch the HBO comedy specials. I loved those comedy specials. But as I get further involved, I can really appreciate someone like Brendon Burns. Once I realised that Brendon and I were going to do a fully fledged show in Montreal I started seriously listening to his CDs. I realised I had to get much better if I was going to be in the same league as him. I give him a lot of credit for influencing me to work on my stuff, to make sure it's as good as it can be and not just barely good.'

Wrestling is one of those professions where you do get a lot of earnest people wanting to corner you and talk to you about it. How do you feel about that?
'Well, sometimes I feel like Bill Murray in a neverending showing of "Groundhog Day". I've been asked questions about the same match every day of my life for the past 14 years. I try to make light of it. I appreciate that it had such an impact on people.'

You've had a lot of comebacks in the wrestling ring. Do you think you'll ever retire? Or can we expect a resurgence when you're 85?
'I'll resurface occasionally but it's safe to say I've had my last match… Unless I get thrown in some old-timers' Battle Royale five to ten years from now!'

What would be your tip for a rookie?
'Be safe and be realistic. They're both equally important. I think one of only two legitimately wise things I've written in my life is that "you should never let anyone define for you what being a success is." It's something that we get to define for ourselves. If that is doing one independent show in a small gymnasium then that's enough of a success for me. I get to define for myself what being a success is.'

In WWE, how much control do wrestlers have over their storylines?
'I couldn't tell you because I'm not there that often. I know that I was a major contributor to my storylines. If a storyline is really good it's because the guys involved have really put themselves into it, and that generally means at certain points you will be perceived as being a pain in the neck to the WWE office personnel. No one does really well by just accepting what is given to them.'

What was your reasoning for taking on roles in the indie circuit back in the early 2000s?
'I liked seeing the talent that was out there. I had been in the WWE for a long time and left under less than ideal circumstances in 2001, as everyone does at some point. I wanted to see what else was out there. For example I got to see CM Punk when he was tearing up the independent circuit in 2004. He was a guy I specifically got in touch with Vince McMahon about taking a look at. So who knows! I'm not saying I discovered him, but I like the idea that I got a chance to see what was out there and who was doing what on the independent scene.'

You're a prolific writer, whether it's memoirs, stand-up comedy or novels. Are you the sort of guy who wakes up in the middle of the night and starts writing?
'I'm very impulsive when it comes to writing. I'll go for months, or in one case even a year, without writing. Usually I'll wake up with an idea that I can't seem to get rid of, and then I'll wake up with the idea that I'm going to do it no matter how long it takes. So when I write, it's usually in great bursts of energy and then I stop for long periods of time.'

Your book 'Tietam Brown' is unusually gritty for a young adult novel. Was it a really important one for you to write?
'It's funny, I never thought of it as a particular type of novel. If I had known it was going to be a good book for young adults, I would have toned down some of the more extreme behaviour in the book, because I do think I got the adolescent "first love" down pretty good. It was important for me to write because I had been thinking about the story for well over a year, and I thought if I didn't write it down I might lose it. It was sink or swim time for my life as a novelist.'

So, how far do you want to take you comedy career?
'You know what I love about it? I can set my own schedule. I can just book every other weekend; I am in total control of my appearances. At this point I'm not looking at it like a means to an end. I really enjoy being up there, and I look forward to working on new stories and making it as good as it can possibly be.'

Support Time Out
We see you're using an ad-blocker. Ad revenue is Time Out's main source of income. The content you're reading is made by independent, expert local journalists.
Support Time Out directly today and help us champion the people and places which make the city tick. Cheers!
Donate now