Heads up! We're working hard to be accurate – but these are unusual times, so please always check before heading out.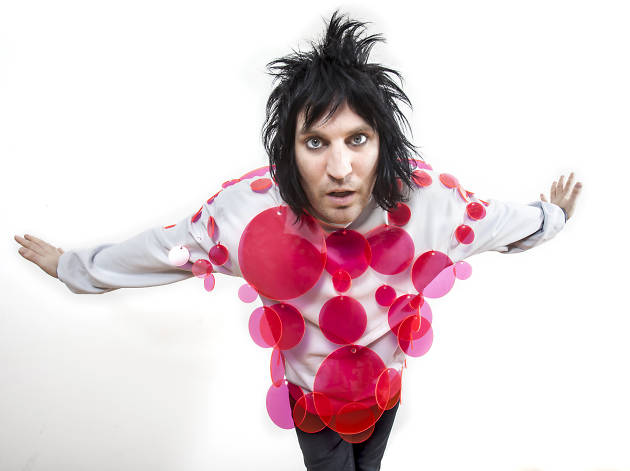 Noel Fielding interview: 'I live in the daytime now, and I meditate and play tennis'
The Mighty Boosh star has given up 'weird night-time shit' in favour of tennis and listening to audiobooks with Kasabian. We find Fielding revelling in the quiet life

Standing upright in the middle of Noel Fielding's north London art studio is a coffin. 'I don't really know what to do with it,' says the 41-year-old comic when he sees me staring at it. It was going to be a prop for his new live show, he explains, but the joke's been cut. 'I can't even fit in it,' he grumbles. 'Otherwise I was thinking of making it into a bed for my spare room.'

The line between comedian and artist is a wobbly one with Fielding. His comedy output has always included his jagged artwork, from the boggle-eyed skull logo of The Mighty Boosh (his absurdist double act with Julian Barratt which spawned a trio of BBC Three series) to the painted sets of his post-Boosh E4 series 'Noel Fielding's Luxury Comedy'.

Nosing around his studio, it's difficult to tell what's a prototype prop and what's pure art: there are portraits of Freddie Mercury, a flat plywood nun carrying a gun and what appears to be a cardboard rocket ship. It's only when I look more closely at some doodles Blu-Tacked to the wall that I notice they're actually the set list for 'An Evening with Noel Fielding', the pointy-faced funnyman's first ever solo tour, in which he'll take an amalgam of stand-up, sketches, animations and his trademark absurdism across the UK.

This tour is set to be a different experience to the booze-fuelled one the Mighty Boosh did in 2008, however. After years of fully enjoying the celebrity lifestyle, Fielding is hanging up his party hat. This is one tour he's planning to remember.

How have you found writing without your Boosh partner Julian Barratt?
'I walk around talking talking talking, and I need someone there to bounce off, otherwise it's like a form of madness. I've been writing the show with Nigel Coan, the director of "Luxury Comedy", and Tom Meeten. Three's good. With two, you can lock horns a bit. On your own, you're not sure whether what you've made is any good. I don't know how people write novels, I would go mad.'

Did you lock horns with Julian often?
'We were quite lucky – we could just write straight away together. I talk all the time when we're writing, which is quite annoying for people, but Julian quite liked it. I just spurt out 110 ideas when you only need three and he was very good at knowing which ideas we should concentrate on. I like to keep talking in one sentence that lasts eight hours. So far I haven't run dry.'

How do Nigel and Tom feel about the show going under your name?
'I don't think they mind. For the second series of "Luxury Comedy", I tried to drop the "Noel Fielding" from it. I thought that would make it less like a solo project and more like a show. Also, it would probably have been easier to take the reaction to the first series if it had been a project rather than my name and face!'

'Luxury Comedy' initially received some brutal reviews. Were you surprised by the reaction?
'Yeah! We thought it would go under the radar a bit. We were experimenting, so we didn't really know what we were doing. I suppose – because it followed the Boosh – that maybe a lot of the wrong people came to the party. I don't know.'

How do you feel about the first series now?
'In some ways I'm quite proud of it because it's so insane. It made people angry, though. Really angry. It's a killer when someone says, "'Noel Fielding's Luxury Comedy' is the second 9/11." Because that's your name, you go: "Fuck! My mum and dad gave me that name!"'

The second series of 'Luxury Comedy' got a much more positive reaction. What did you change?
'I needed to win some of the Boosh fans back. The plan was to use all the skills I'd learnt as a comedian and try to make the second one much more accessible and digestible. It's still quite a trippy show, but I think it's much easier to understand. Weirdly, the response to this one was great. I was really shocked. Now the irony is some people are going "I preferred the first one." You can never please everyone!'

Our TV editor gave it two stars and you tweeted that he was 'too thick to review my show but thanks for trying'.
'I know. It was Gabriel [Tate], wasn't it? I actually apologised to him once I got my mind back and had had a holiday. We were getting roasted by some people, and I was still making [the show]. 
I literally had a breakdown. For the second series, I was in a much better place.'

You've said that when the Boosh's profile rocketed, you partied a lot. Are you in a better place personally now too?
'I got on the merry-go-round for a bit, to see what it was all about, because I'm quite nosy. You do it for a year and then go: Oh my God, this is horrific, you've got to get out of here! But I did it, er… well! 
I gave Aerosmith a run for their money.'

Are your partying days over?
'They're never done as long as you live in London. But I don't really do that any more. I have a panic attack when I think about it. You go to all these parties and meet all these crazy people. But ultimately it just ends up with you in a club, and then you're in the VIP area of the club, and then you're in the special secret VIP bit, and then eventually it's just you, on your own, in a VIP box, going: "Is this fun? I'm not sure this is fun."'

You've also said that you 'became a bit of a dick for a while' at the peak of the Boosh's fame.
'The attention you get is phenomenal. You get a lot of people who want to drink with you and maybe they haven't got your best intentions at heart. Also, when you're living in the night-time, bad, weird things happen – especially if there's drink and drugs involved. If I had my chance to do it again, I probably would, because I think it's good to experience stuff. But I'm quite glad that it's over and I'm older, and I live in the daytime now, and I meditate and play tennis.'

You meditate and play tennis?
'Yeah! I think the more you party and the more you get drunk, the more your soul starts to evaporate and eventually you're just a husk. So you have to go to the gym and build your soul up again.'

With that level of fame comes a lot of fans. And Boosh fans are famously pretty crazy.
'They're quite mad, yeah. Lovely, but mad. Some weird shit happened. We got followed around; people got obsessed with us. But in general our fans are pretty nice. They're very young. Someone said hilariously on Twitter: "Who likes Noel Fielding other than teenage girls and art students?" And I thought: What are you talking about? That's the best demographic in the world! What do I want, 50-year-old butchers?'

You got the Boosh back together for a festival in America last year. How was that?
'It was really good fun. Me and Julian have never fallen out, and we wrote a song, we wrote some bits, and it was nice – we could still do it. We still talk about doing a film, but he's involved with trying to get another film made, one that he's written, and it's a lot of your time. You really have to write it for a year, and then make it for a year, and get the money for a year. That's a big commitment. It's not easy, it's not like "Let's just make a film, it'll take three weeks."'

You were meant to tour a solo show in 2010, but it was cancelled because you were working on the film and a Boosh album. Neither of those have come out. Was that the real reason?
'We made the album, it's just on the shelf. The problem is it cost a lot of money. We went to Jimi Hendrix's studio in New York and lived in New York for three months. So the people who paid for it wanted it to come out off the back of something so it would sell some copies, but then we didn't really have something for it to come off the back of, so it just got shelved. It's good as well, annoyingly.'

I'm sure people would like to hear it.
'Yeah. [Whispers] Leak it, leak it! And then I started writing with Nige, and I started doing "Buzzcocks" as well, and I realised I didn't really have time to do a tour. The Boosh finished and I panicked and went: What am I going to do!? I'll go on tour! And actually I thought: No, don't do that, you've just been on tour, you idiot. And that Boosh tour was the tour to end all tours. It was a hundred dates, six days a week – we were all husks by the end. I really don't know how we did it.'

The new tour is playing theatres, but you've already had a taste of big gigs this year – joining Kasabian on stage at Glastonbury.
'That was really good fun. Usually I'm drunk when I do that, because I'm like a medieval Bez character. But I was completely sober. We went up on the bus, and me and Serge [Pizzorno, Kasabian's guitarist] were listening to "Three Men in a Boat" read by Hugh Laurie and drinking peppermint tea. When I first got on stage, I felt like a dad at a wedding. But I got into it pretty quickly.'

Serge co-wrote the music for 'Luxury Comedy' with you. Do you enjoy working with him?
'He's great. We're now doing this band called Loose Tapestries. There's talk of a little stupid tour. I reckon we should do mazes or castles. Actually, I think we should tour garden centres. Performing in the daytime, at like 3pm – a tea-and-scones vibe. It would be amazing.'

You also joined Monty Python on stage at the O2 in July.
'Yeah! Mind-bending! I was at Wimbledon with Jonathan Ross and then my phone rang. It just kept buzzing and I was thinking: Oh shit, something really bad or something really good's happened. So I sneaked out, and they said "Python want you to go on stage with them tonight!" What a day! Fuck, those days don't come around very often. It was amazing, and they were lovely. I was very excited. Very scared, though. I didn't know what to say. On stage, Michael Palin had a sort of dig at me. He said: "Where did it all go wrong?" And I said: "Leaving Wimbledon to come here." He was really going for it, and I thought: This is great, riffing with Palin! I'm not going to get to do that again. So the tour can only be a disappointment.'

'An Evening with Noel Fielding' is at the Eventim Apollo Hammersmith on Nov 18, O2 Academy Brixton on Dec 8 and Dec 9, Croydon Fairfield Halls on Jan 31 2015, Bromley Churchill Theatre on Feb 1 2015 and the New Wimbledon Theatre on Feb 15 2015.