Heads up! We're working hard to be accurate – but these are unusual times, so please always check before heading out.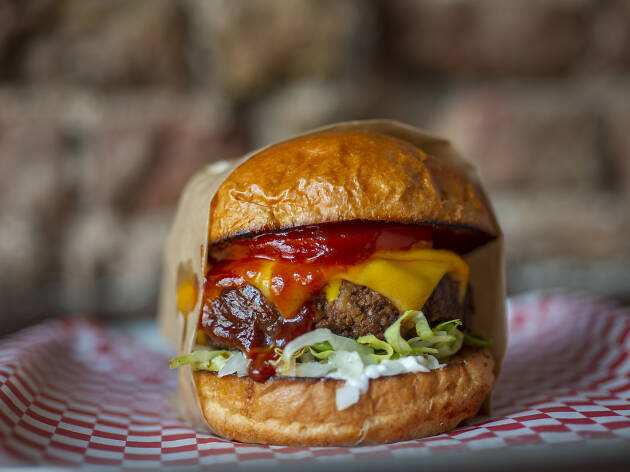 Best vegan burgers in London
From juicy barbecue jackfruit to decadent 'bleeding' beetroot patties, the best things in life come topped with pickles and sandwiched in a brioche bun
Let's rewind a few years to 2014. London was filled to the brim with hip burger restaurants. Places like Meatliquor and Dirty Burger were making their names by serving up as much meat and cheese as possible. Meat-eaters were satiated, vegans were offered mushrooms in fancy bread rolls. Things are a little different now. More and more Londoners are attempting to cut down on their meat and dairy intake because of environmental, animal welfare and health reasons. So, it's no surprise that a wave of vegan restaurants has opened up, offering us patties made of a whole host of plant-based delights (even ones that 'bleed'!). And it's not just specialist places doing it. Even meat-focused spots like Meatliquor and Dirty Bones have got in on the action (and they're making some of the best vegan burgers in town). Keep on reading to find out where to go to cure your next hangover.
Discover London's 71 best vegan-friendly restaurants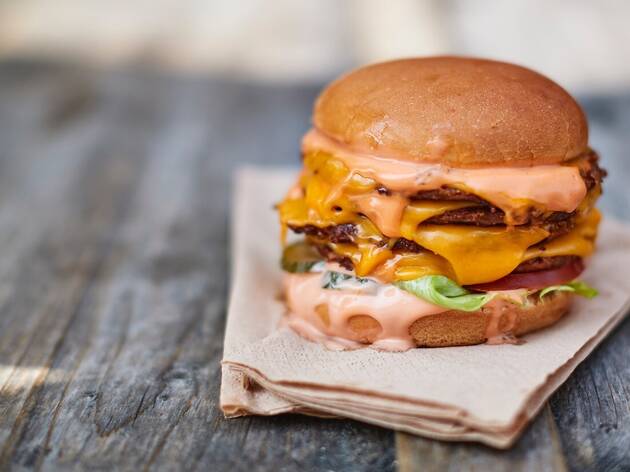 Proving that vegan burgers are more than a passing trend, the world's first dedicated 'bleeding' plant-based burger restaurant opened its doors at Pop Brixton last year. Specialising in Beyond Meat's 'bleeding' patties, it promises that its burgers look, cook, taste and 'bleed' like the real deal. The signature Halo Burger features two eighth-pounder patties served with all the classic fixings – onion, tomato, lettuce, homemade burger sauce and vegan American-style cheese. Think nostalgic junk food.
NYC-inspired comfort food joint Dirty Bones has made a vegan version of its original burger, The Classic. The Vegan Classic's patty is a Moving Mountains Burger made from plant proteins, mushrooms and 'bleeding' beetroot juice. It's so meaty it could make you freeze in horror thinking you've accidentally ordered the non-veggie option. £12.
Barbecue isn't all short ribs and pulled pork. Opt for the vegan version of The Full Nelson's Fonz burger and prepare yourself for a seitan patty loaded with lettuce, tomatoes, pickles, American-style smoked cheese and homemade barbecue sauce. It's gloriously messy and not one for Tinder dates. £8.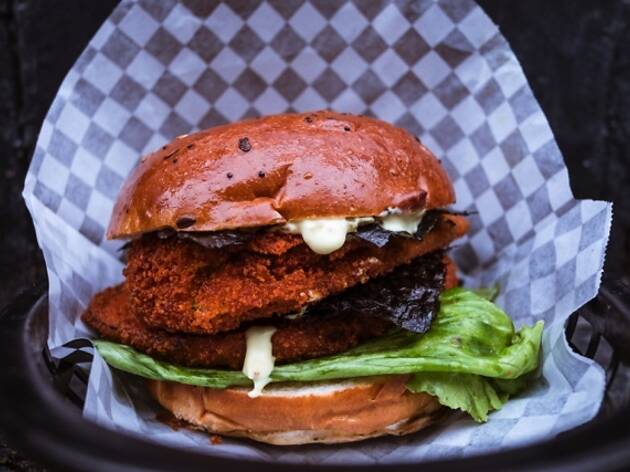 Shoreditch-based Mooshies has achieved the impossible. It's created a vegan version of the well-known Filet-O-Fish burger that actually sounds delish. The Fillet-Om-Phish features battered??breadcrumbed (panko) on Mooshies menu?? aubergine slices served with homemade tartare sauce, nori (seaweed), vegan cheese and lettuce. It has the crunchy texture of breaded fish and deep, complex flavours of the sea. Hot tip: bring a bib – things can get messy. £7.50.
Jacked-up jackfruit burger, the Wicked Jack, is a shining vegan beacon on Wicked Vegan's menu. Everything in it is made from scratch, starting with the golden, deep-fried patty. (It's braised first to give it a pulled-pork-like texture and smoky flavour.) It's topped with a whole heap of pickles, slaw and salad. Jackpot! £9.50.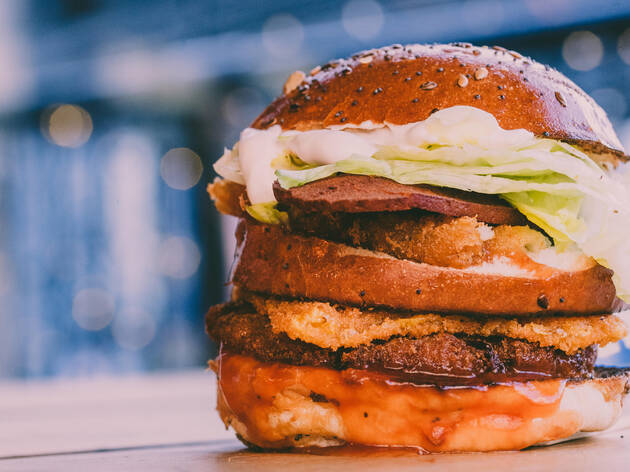 Kim Burrows
The one that's seriously stacked
Imagine the dirtiest burger. Now multiply that by ten. Then subtract the meat. What do you get? The Jack Bauer Tower of Power burger, courtesy of Biff's Jack Shack. As well as being a bit of a tongue-twister to say, it's stacked beyond your wildest vegan-junk-food dreams with 'cheeze', potato rosti, iceberg and 'bacun'. The patty is made from jackfruit that's been braised, dipped in panko (breadcrumbs) and fried – to create the ultimate meat-like texture. And hey, it's technically fruit, so still counts towards your five-a-day. Now that's #cleaneating, right? £11.
Surprisingly, Meatliquor does a mean vegan burger. The Burgaloo's patty is a mix of fiery potato, beetroot and beans that's deep-fried in breadcrumbs and topped with red onions, pickles, lettuce, ketchup and vegan garlic mayo. It's almost worth getting a hangover just to stave it off with this magnificent beast. £7.50.