London's best bakeries
Crumbs! There are a lot of good bread shops in London these days, and here's the upper crust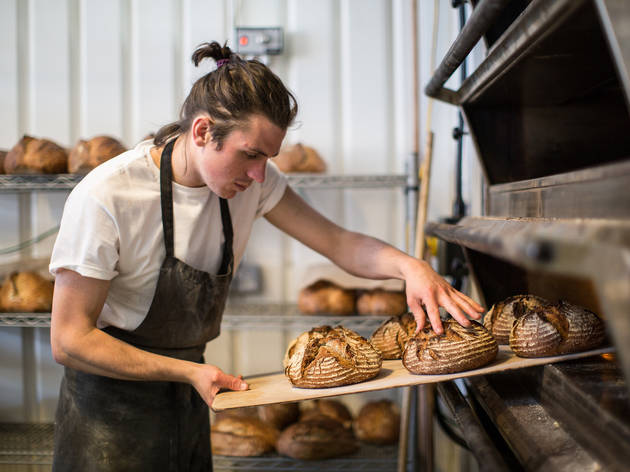 Sink your teeth into the finest loaves and pastries London has to offer with our guide to the best bakeries in the capital. Do you agree with our choices? Use the comments box below or
tweet
your suggestions.
Nice buns! This Covent Garden bakery might take its inspiration from the bakehouses of Paris (by way of New York) rather than London, but its bakers are not too proud to whip up the classic British Easter treat of hot cross buns (£1.75). As for the rest, there's flaky croissant (£1.75), well-crafted loaves, perfect patisserie and lunchtime salads or sandwiches to take away. Breads include large rounds of flavoursome rye-based pain de seigle (half loaf £2.50 / whole £5), perfect for toasting; pillowy olive ciabatta (£3.50); and multigrain bâtards (£4.50). This might not be the cheapest bakery around, but it's one of the best in the centre of town.
Book now
Read more
Tucked into the arches below London Fields rail station, E5 Bakehouse is a hive of bread-based activity. Each boule, baguette and country loaf is lovingly handmade and shaped by a team of passionate bakers – with a former neuroscientist at their helm. One of the most popular loaves is the round, slow-risen Hackney Wild (£3.50), made with white, wholemeal and rye flour. With a light, open texture and satisfyingly crunchy, chewy crust, it's perfect for sarnies. And if you get bitten by the bread baking bug, the team also do near-weekly bread-making master classes (£120 full-day course).
Read more
In the last year or so the arches around Hoxton station have become a destination for interesting eateries, and this Scandinavian bakery was one of the early colonisers. The first branch of the chain outside of Stockholm, it does all its baking on-site. While the back half of the vaulted space is taken up with sacks of flour and ovens, the front has a handful of tables for enjoying a cup of coffee and a filled baguette. In terms of the bread, it's all about high-class, stone-baked sourdough loaves made with traditional methods, plus excellent Swedish-style cinnamon and cardamom buns (£2.50).
Read more
Started in Hampstead in 2004 by some serious breadheads, Gail's has gone from strength to strength since then, opening branches in affluent pockets across the capital (South Kensington, Queen's Park, Dulwich Village, etc). The highlight of the spring season is light, fruity hot-cross buns glazed with glossy, spiced syrup (£1.20), while regulars include rectangles of seeded spelt dough (£3.20), German rye (£3.20) and white or sourdough baguettes (£1.60/1.70), each made with natural processes and ingredients. But, one of our all-time favourites is the mashed potato, rosemary and nigella seed round, which keeps for days (£3.20).
Read more
Old Post Office Bakery
Take one German psychotherapist, a disused Brixton post-office-turned-squat, and a secondhand oven, and what do you get? The Old Post Office Bakery. Started in 1982, this place was serving up organic sourdough loaves long before they became trendy. Thirty-odd years on, the Old Post Office may have moved site and upgraded its equipment, but this community-focused bread business still maintains its reputation for impressive handcrafted loaves. There's anything from Brixton Rye (£1.60) to classic tin loaves (90p-£1.90), Chelsea buns (£1.40 each, available weekends), French pastries, pizzas, and sausage or spinach rolls. The Old Post Office also sells its breads at various farmers' markets around London such as Herne Hill, Oval, Venn Street and Bloomsbury.
St John Bakery
'Bread is as vital as your knife and fork in the eating process,' according to Fergus Henderson, which goes some way to explaining why the slices in his restaurants have always been so nice. But you don't have to indulge in a slap-up meal to get your hands on Henderson's loaves. For a weekday dough fix, St John's baking is sold in the Selfridges food hall, while the St John Bermondsey bakery (72 Druid St, SE1 2HQ) opens its doors for trade on Saturday and Sunday mornings (9am until 2pm-ish). Along with tangy, brown sourdoughs (£2.79 per half loaf) and dense rye rounds (£4.99), cream and jam doughnuts are always a winner (available weekends at Druid Street).
Sponsored listing
Asiatique Restaurant
Serving up Thai, Lao and Vietnamese cuisine, this East Sheen restaurant has something to satisfy your cravings for all things Asian. Located on Upper Richmond Road, the vibe here is cosy and casual, the menu offers up classics such as Vietnamese pho to pad prik (meat of your choice stir-fired with chilli, onion and sweet basil and noodles).