London's best bakeries
Crumbs! There are a lot of good bread shops and pâtisseries in London these days – here's the upper crust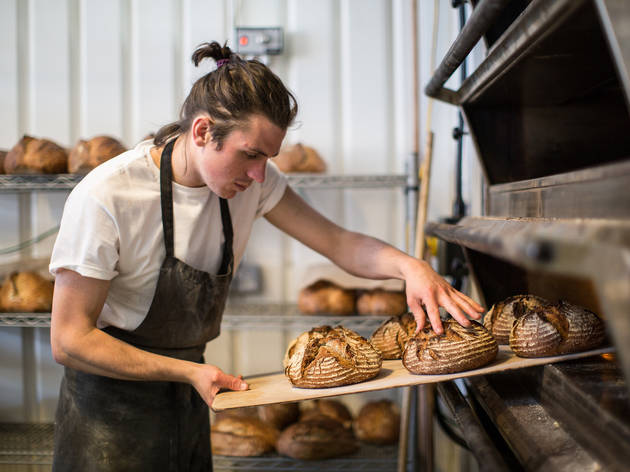 By

Nicole Trilivas and Time Out London Food & Drink
|
Feeling doughy? Us too – so we've rounded up the bakeries that have proved the best in the capital, rising to the occasion and supplying the finest loaves, pastries and cakes that London has to offer. From artisan sourdough stalls, to stylish shops, old classics and upmarket parlours, they're all below. Flour power is back.
Do you agree with our choices? Use the comments box below or tweet your suggestions.
In a nutshell: If you want a showstopper for any special occasion (including weddings), the clear choice is arty patissier Anges de Sucre, who supply Selfridges. Their cakes are insanely detailed and decorated with everything from lacy Swiss meringue buttercream and white chocolate pearls to multicoloured macarons and ombré-glazed buttermilk doughnuts.
Don't miss: Their watercolour-cake collection is a masterpiece designed to steal the show.
7 Minerva Rd, NW10 6HJ. 8068 0413. North Acton rail
Restaurants, Street vendors
In a nutshell: "Knowledge is to be shared." That's the simple, beautiful premise of the world-class, nearly faultless Bread Ahead bakeries, where recipes are written on chalkboards for all to see and secrets are openly shared at their extensive bakery school.
Don't miss: Try their award-winning doughnuts overfed with crème pât (Adele's rumored to be a fan), delicious, flaky kouign amann, or amaretti biscuits.
Borough Market, 8 Southwark St, SE1 1TL. Tube: London Bridge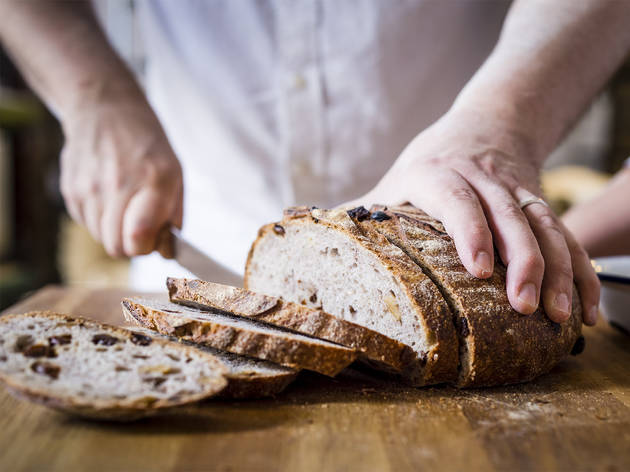 In a nutshell: The award-winning bread enthusiasts at Brick House produce and serve up San Francisco-style sourdough and season-specific menus in two trendy, airy cafés (in East Dulwich and Peckham Rye).
Don't miss: The naturally leavened sourdough (which you can learn to make at home at their 'Sourdough in a Day' bakery class) is always a winner, and when in season – so are the crumbly mince pies.
1 Zenoria St, SE22 8HP. 8693 2031. East Dulwich rail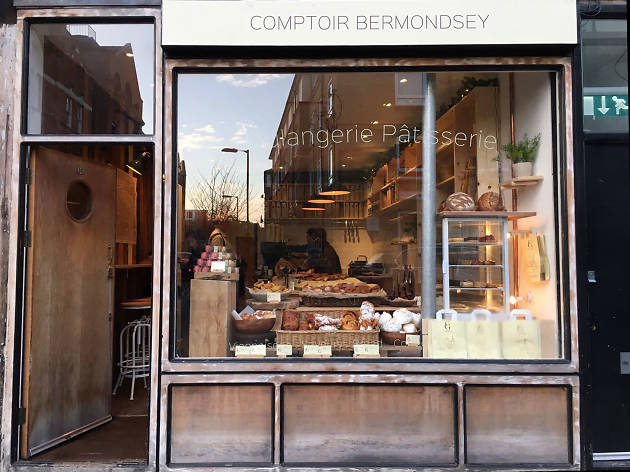 In a nutshell: This family-run, old-world French pâtisserie supplies charming viennoiseries to over 20 establishments, including Harvey Nichols. The open-plan café (by their stall at Maltby Street Market) is now open on Friday and Saturday nights for 'nighttime bakery' evenings.
Don't miss: Any of the viennoiseries, especially the pain au lait and chocolate twists – all made by hand in traditional French fashion.
98 Druid St, SE1 2HQ. 7231 8008. Tube: London Bridge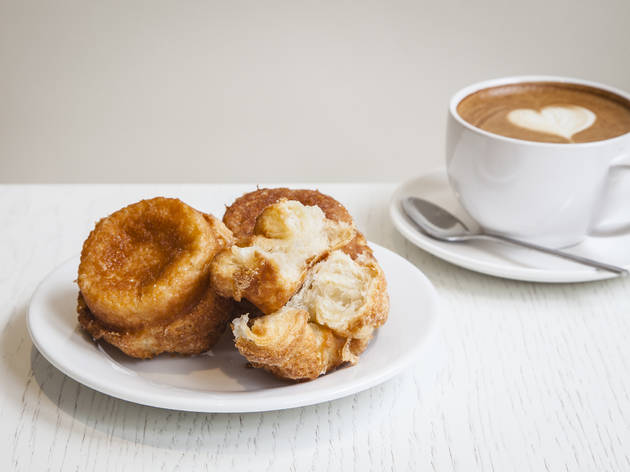 In a nutshell: Playful, innovative and wondrously delicious, Dominque Ansel is a French Willy Wonka who's worth the hype and accolades (including being named the World's Best Pastry Chef in 2017).
Don't miss: Everyone has a favourite: Start with the signature Cronut that takes three days to make. Don't miss the crispy caramelised DKA (short for "Dominique's kouign amann') or a slice of the creamy banoffee paella.
17-21 Elizabeth St, SW1W 9RP. 7324 7705. Tube: Victoria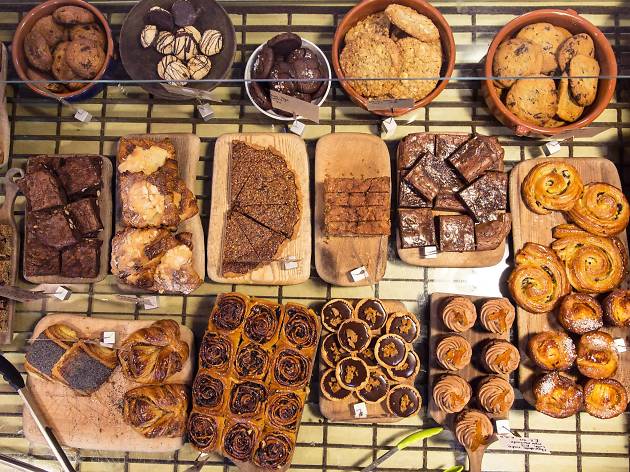 In a nutshell: This independent, organic bakery and café has its own stone mill and uses only local grains and the finest ingredients to craft fresh, nutrient-rich loaves, almost all of which are borne of 100% sourdough starters.
Don't miss: Sit at the wooden tables and order the multigrain toast with a range of tasty toppers including homemade peanut butter and preserves.
395 Mentmore Terrace, E8 3PH.
8525 2890. London Fields rail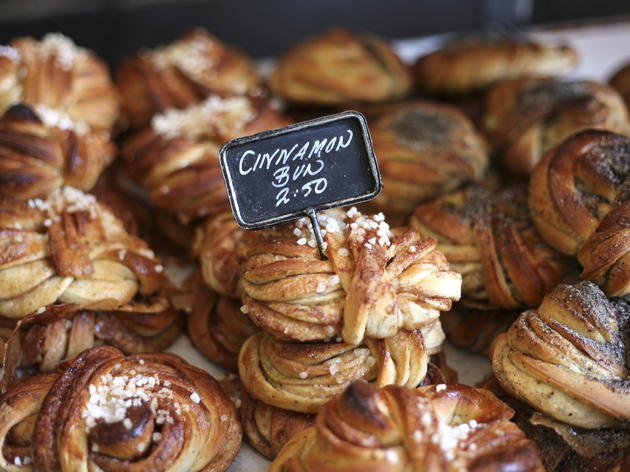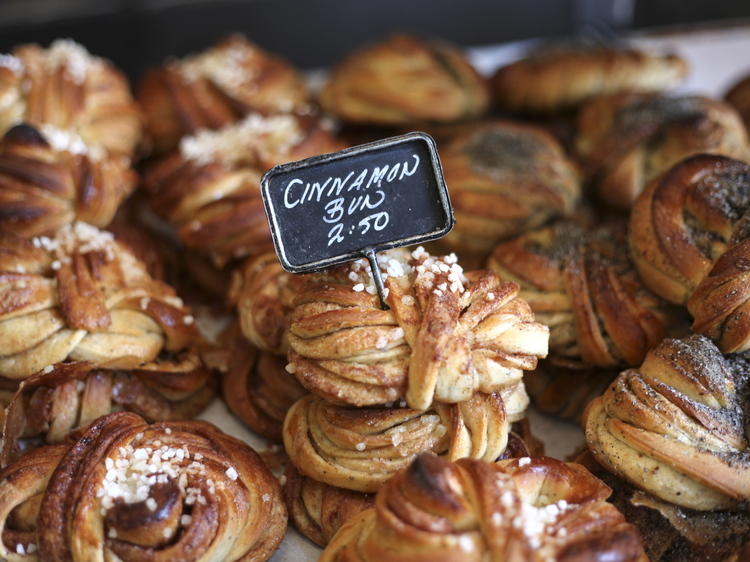 In a nutshell: This Stockholm-based bakery chain (with teeny-tiny seating areas) uses stone ovens to whip up old-fashioned Fika-favourites in minimalist, Scandi settings around London.
Don't miss: Sample the highly addictive Swedish buns (especially the sugar-sprinkled vanilla and the classic cinnamon). Also, don't skip out on the handmade, flour-dusted levain baguette, which is good enough to eat on its own.
8 Earlham St, WC2H 9RY. 7240 1392. Tube: Leicester Sq
In a nutshell: FairyPan serves bite-sized cupcakes in a fairy-like stall in Brick Lane's Backyard Market every weekend. Even though these cupcakes are itty-bitty (with three-centimetre diameters), the Italian sponge base packs a taste punch.
Don't miss: Lemon-lovers must try the tangy and tart lemon meringue cupcake with a lemon base filled with lemon curd, and then topped with a swirl of lemon buttercream and meringue crumbles.
Backyard Market, The Old Truman Brewery, 146 Brick Ln, E1 6QL. Shoreditch High Street Overground
In a nutshell: The Hummingbird Bakery is an American-style outfit with locations all over London, featuring brightly coloured, cutesy cupcakes in monthly flavours like gingerbread and sticky fig, as well as American mainstays like red velvet and Oreo.
Don't miss: Their Instagram-worthy, six-layer cakes have a respectable frosting-to-cake ratio and the mile high chocolate salted caramel cake will slake anyone's sweet tooth.
47 Old Brompton Rd, SW7 3JP. 7851 1795. Tube: South Kensington
In a nutshell: Hip east London bakery Lily Vannili serves an ever-changing selection of cool and creative works of art, bedecked in gems of fruit, delicate petals and fronds of foliage – with a gold-dusted or glittery cherry on top.
Don't miss: Brave the long lines for the burnt butter pecan brownies and autumnal pumpkin spice cake (made with the not-so-secret ingredient of Baileys).
6, The Courtyard, Ezra St, E2 7RH. Hoxton Overground
Venue says Friendly Sunday cafe with delicious coffee, cakes and pastries. We also offer a fully bespoke cake, canape and wedding cake service.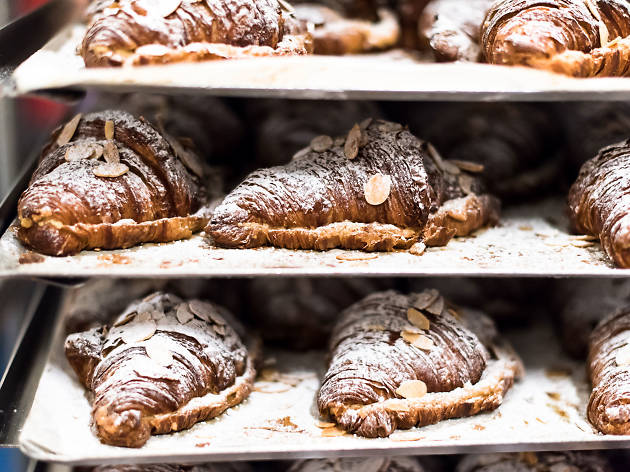 In a nutshell: On Saturdays, loyal customers queue up in all weather at this artisan bakery housed in a railway arch. The industrious owners, Martin, Nicola and Adam, work onsite, ensuring an unparalleled product.
Don't miss: The croissants live up to their reputation (Nicola insists on only using French butter), the Danishes are a close runner-up, and the naturally leavened sourdough is just wow.
Unit 4-6, Spa Business Park, Dockely Road, SE16 3FJ. Tube: Bermondsey
© Old Post Office Bakery
The Old Post Office Bakery
In a nutshell: Since the early '80s this organic-pioneering bakery with a DIY ethic has been knocking out hearty staples like tin bread and traditional British indulgences like massive sausage rolls, white bloomers and pasties.
Don't miss: Make a perfect sandwich with the basic white roll, or make it fancy with the rye sunflower loaf. On the sweet side, try the peanut butter biscuits.
76 Landor Rd, SW9 9PH. 7326 4408. Tube: North Clapham
In a nutshell: The prettiest, poshest cakes in all of London come from high-end boutique bakery and Instagram star, Peggy Porschen Parlour. The pastel pink, floral-festooned storefront serves a 'ready-to-eat' collection of haute couture sweets including darling cupcakes, biscuits and meringues – all ornamented with sugary flair.
Don't miss: Not just style over substance, the strawberry and champagne cupcake looks dear and tastes divine.
116 Ebury St, SW1W 9QQ. 7730 1316. Tube: Victoria
© St John Bakery
In a nutshell: Using natural, organic, British ingredients, the bakers at St John's take well-deserved pride in their granny-style bakes, which have evolved by fine-tuning 100-year-old recipes to best suit the times.
Don't miss: Fans of Eccles cakes will delight in the St John cake's dense filling. Doughnut connoisseurs will find the vanilla custard round marvels worth a weekend trip to Druid Street.
72 Druid St, SE1 2HQ. 7237 5999. Tube: London Bridge
In a nutshell: Violet bakery has a laid-back Californian vibe that can be seen in their twee, pretty cakes decorated with real flowers. They also sell gorgeous limited-edition cupcake flavourings and playful whoopie pies.
Don't miss: Sample one of the American-style buttercream cupcakes in whichever changing seasonal special flavour they're serving at the moment (the chocolate violet is floral and fun).
47 Wilton Way, E8 3ED. 7275 8360. Hackney Central Overground
Want something steamy to go with your buns?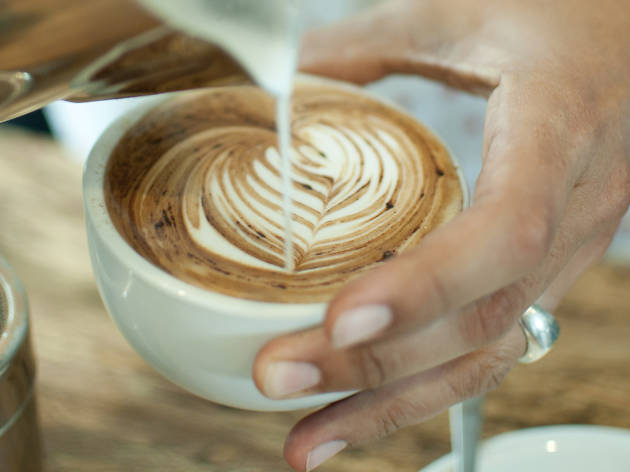 The capital is brimming with top notch coffee culture, and we've rounded up the best of it