London's best bakeries
Crumbs! There are a lot of good bread shops and pâtisseries in London these days – here's the upper crust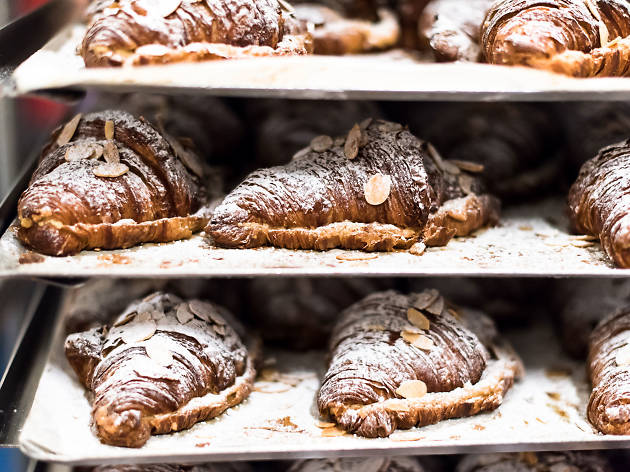 April 2019: London's bread makers and cake specialists are on a roll, and we've added (almost) a baker's dozen to our list of must-visit addresses, like the Dusty Knuckle (bread with a mission and a social conscience in Dalston) and Aux Pains du Papy near King's Cross (whose croissants are the best in town). Elsewhere, Jolene (from the folks behind Primeur and Westerns Laundry) is part brunch spot, part bakery, part small-plates eatery, while cult fave Ararat Bread deals in unbeatable Middle Eastern flatbreads (Baban's Naan does similar stuff from a hole-in-the wall spot in Highbury).
Whittling down the best dough in the city is no mean feat. From Asian patisseries to cronut auteurs and sourdough specialists – when it comes to bakeries, London is a goldmine. We've risen to the challenge and eaten our way through the lot to round up yeasty royalty. Quite literally, actually – because the boujie Hackney bakery that did Harry and Meghan's wedding cake has made the cut.
Tucked away in a labyrinthine cobbled courtyard between Clerkenwell Road and Great Sutton Street, this jolly outfit not only celebrates Irish family hospitality, but also picks up on the current trend for home-baking. Part café, part bar, J+A looks the part with its comfy unpretentious surrounds, big windows and exposed brickwork (the site was once a diamond-cutting factory), although it's all about wholesome flag-waving food these days: not surprisingly, their soda bread is excellent stuff, but look out for the Guinness and chocolate cake, Irish apple cake, scones, lemon curd biscuits and more dainty items such as rose and pistachio fancies. Also check out their gluten-free 'miracle loaf' made with dates, vanilla and rice flour.
Specialities: Wholesome breads and cakes with an Irish flavour
From the folks behind Primeur and Westerns Laundry, Jolene is a supremely beautiful warehouse-style space in a quiet spot opposite the park in Newington Green. During the day it runs as a low-key brunch spot and bakery: they stone-mill their own flour in-house using 100 percent unaltered grains grown sustainably on farms in Sussex and Norfolk. We're fans of their sweet raisin bread, but their bakery counter is regularly loaded with everything from loaves and pastries to sausage rolls, palmiers, madeleines, croissants, financiers, chocolate and Guinness cake, cinnamon buns, and much more besides. Come evening, the blackboards are wiped clean and replaced by a small-plates menu designed to show off the chef's baking skills.
Specialities: Home-baked breads and pastries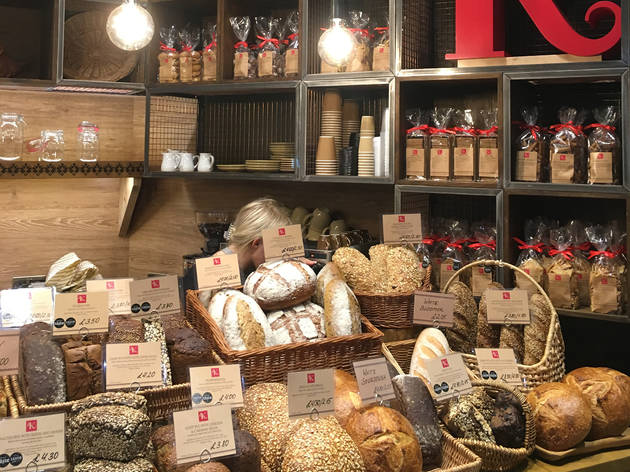 A staple of Borough Market and other sites across town, this cult Eastern European bakery has now staked its claim with a tiny café space outside Waitrose in Westfield's Great Eastern Market. That should be reason enough to brave the crowds, but Karaway also gives out heaps of samples and knowledgeable staff are on hand to guide you through the overwhelming choice of flavours. Multi-award-winning rye bread is the speciality (don't miss the traditional dark, dense Lithuanian 'scalded' version with its delicious caraway aftertaste), but make sure to bag a fat wedge of honey cake or a slice of cinnamon, walnut and apricot loaf too. Karaway also fleshes out its offer with various pastries, toasties and pretty packets of biscuits.
Specialities: East European rye breads and patisserie
Lily Jones (aka Lily Vanilli) carved out a solid, celebrity-packed fan base well before opening her own hip bakery in Bethnal Green, and her forays into sculptural, macabre cake creations (gingerbread gravestones, anyone?) set her far apart from the mainstream cupcake clan. These days, she still puts on an innovative show, although space is tight in her gorgeous little courtyard café if you fancy sampling wacky delights such as yuzu lemon tart or pomegranate and black-tea vegan cakes. Lily is only open on Sundays, but it's worth braving the long queues for her salted caramel and banana bundt cakes alone. This place is also a cosy teatime treat, especially after a trip to Columbia Road flower market (just a skip away).
Specialities: Weird and wacky cupcakes and other bizarre creations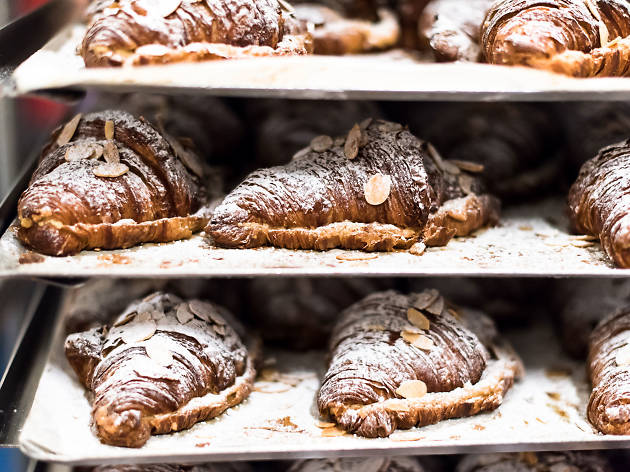 Okay, let's get the groaning puns out of the way first: LBP's founders started by pedalling around London on bikes, peddling their breads at various markets. Now they use electric vans and have a permanent home at Spa Terminus in Bermondsey, where loyal customers queue up in all weathers to buy their wares every Saturday. Their naturally leavened sourdough bread is 'wow', but that's just the start: also try out their soda bread, seeded loaves, ficelle and ring-shaped tortano. Elsewhere, pains au raisins, brownies and croissants live up to their reputation (LBP insists on using only French Lescure butter), while their Danishes range from fruity seasonal ideas to savoury creations (perhaps topped with candied beetroot and ricotta).
Specialities: Artisan breads and pastries
A visit to Broadway Market on Saturday isn't complete without a detour to the Pavilion Bakery at the south end of the street – you can't miss the beautiful wooden store front. There are no seats inside, but the shop functions as a grab-and-go for those wanting to pick up a loaf of bread, a sweet pastry and a cup of coffee from the machine tucked away at the side of the store. They do wheat-free rye loaves, baguettes and croissants, but sourdough is the bakery's forte – crusty on the outside, with a properly chewy texture and that unmistakable sour tang. There's another outlet on Columbia Road, and you can also do the sit-down version at the Pavilion Café in Victoria Park.
Specialities: Sourdough breads
Looking pretty in pink, this cute candy-floss emporium from patisserie queen and cake designer extraordinaire Peggy Porschen is an absolute wow – whether you're purchasing some of her outrageously elaborate confections from the posh boutique or sitting down for cake and a cuppa in her self-styled parlour. There aren't many tables, so be prepared to wait for your chosen treat – perhaps 'glorious Victoria' sponge, dark chocolate truffle cake or something seasonal such as the Easter-themed 'speckled nest vanilla cloud' topped with mini chocolate eggs. Best off all, try one of Peggy's sexy cupcakes (red velvet, cookies and cream, salted caramel, sweet carrot and lemon etc) with a glass of champers or one of PP's own-brand teas. There's a branch on King's Road, Chelsea too.
Specialities: Posh haute-couture cakes and sweets
Having done the pop-up rounds in various London markets, St John Bakery now has its first permanent shop/café in Neal's Yard, Seven Dials – and it's a perfect fit if you fancy a spot of food shopping. Pick out some of their famed Eccles cakes, then nip round to Neal's Yard Dairy for some crumbly Lancashire cheese. Do buy one of their excellent sourdough, rye or raisin loaves to take home with a bottle of wine from the shop, or simply pig out on their granny-style bakes, which have evolved by fine-tuning 100-year-old recipes to best suit the times (note their vegan muffins, breakfast buns and almond croissants). Doughnut connoisseurs will also delight in the sugary, vanilla custard marvels on offer here.
Specialities: Sourdough breads, cakes and pastries
Run by Californian-born cook/designer/stylist Claire Ptak, who made Harry and Meghan's lemon and elderflower wedding cake, this bakery/café on a Dalston backstreet has a laidback vibe that's topped off by their twee, pretty treats decorated with real flowers. As a sampler, try something from their seasonally changing line-up of US-style mini buttercream cupcakes (the chocolate violet is floral and fun, but we like the nicely sharp lemon version). They also sell gorgeous cinnamon buns, moist, swirly halva tahini brownies, 'whoopie pies' and a choice of creamy cakes such as salted caramel and chocolate – although these are only available in the afternoons. You can buy to take home or eat upstairs in a pretty space done out like a 1960s living room.
Specialities: Pretty, floral, Californian-style patisserie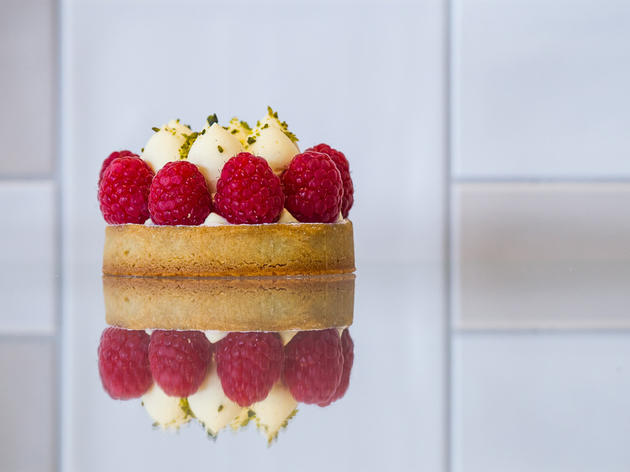 The Japanese have embraced the art of French patisserie and become seriously good at it – and now you can get your fix at this gleaming space on Ealing Broadway. Wa Cafe's light, minimalist interior is dominated by two gleaming counters packed with pristine rows of all things baked: spirals of dark-green matcha tea sponge filled with whipped cream; perfectly presented mini pastry tarts; sweet buns filled with red bean paste or custard and so on. There are savoury offerings too, from breads topped with ham and cheese to deep-fried savoury doughnuts filled with delicately spiced curry – they sound so wrong, but they're so right. Also don't miss the light, crisp French-inspired choux à la crème flavoured with vanilla, black sesame or green tea.
Specialities: Japanese patisserie
Harringay is London's 'Little Turkey' and Green Lanes is its main artery – a bustling thoroughfare stuffed with shops, cafés and restaurants, all peddling the native culture and cuisine. One of the unsung stars is Yasar Halim, a supermarket with a terrific bakery-cum-patisserie on site. Step inside and you'll find counters piled high with Middle Eastern breads, as well as Turkish lahmacun pizza, savoury 'koupes', coiled tahini buns and cream cakes. Oh, and there's also a long glass cabinet filled with row after row of sticky golden baklava, sold by the kilo. There are branches in East Finchley, Palmers Green and Fairbridge.
Specialities: Turkish/Middle Eastern breads and pastries
Located beneath the City branch of popular dim sum specialist Yauatcha, this standalone patisserie specialises in fiddly French sweets with an oriental twist. The line-up includes macarons, chocolates, petits gateaux and other confections that marry Gallic technique with native Chinese ingredients – from a take on Paris-Brest involving zingy yuzu gel and toasted hazelnut mousseline to matcha macarons or mango and lime marshmallow with vanilla caramel compote, coconut sponge and candied ginger. Also don't miss the chocolate pebble – a wonderfully dense, textured globe of mousse, brownie, chocolate liquid and crunchy cocoa nibs. For the full experience, dip into the delectable selection of fragrant and rare teas. Similar sweet delights are also available at Yauatcha's original branch in Soho.
Specialities: East-meets-west patisserie and gateaux
Want something steamy to go with your buns?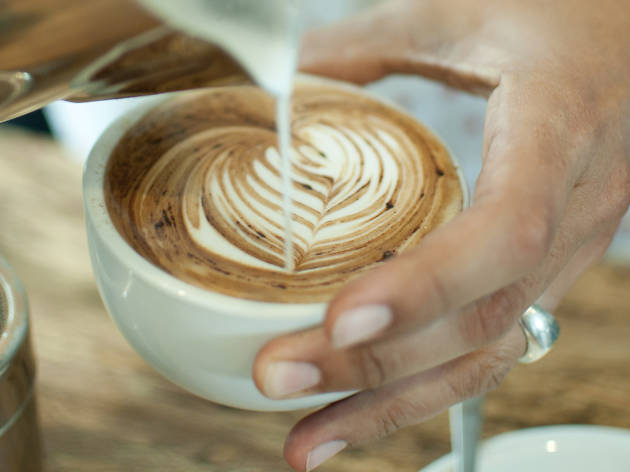 The capital is brimming with top notch coffee culture, and we've rounded up the best of it
Snap up exclusive discounts in London
Time Out's handpicked deals — hurry, they won't be around for long...