London's best sushi restaurants
Love Japanese cuisine but worried about getting a raw deal? Try these great restaurants for the best sushi and sashimi in London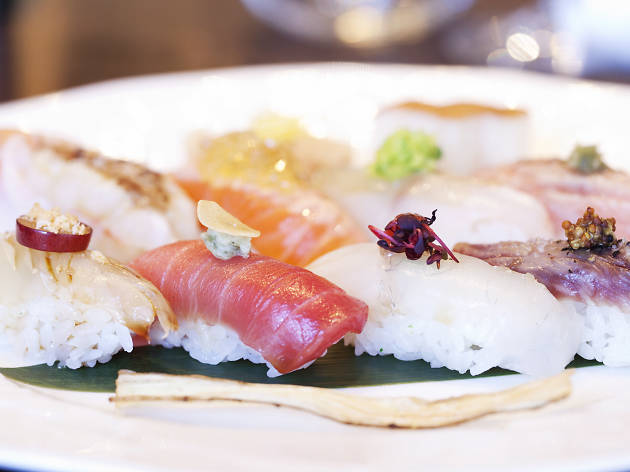 Don't settle for bullet-hard nigiri on a black plastic tray – we've chopsticked our way through the best sushi restaurants London has to offer. So whether you're looking for a healthy restaurant option or a bit of a splurge, you'll find it here, Japanese-style. Do you agree with our list? Tell us your favourite sushi bars in the comments below, or tweet us your suggestions.
Find more amazing Japanese food in London
From Kyushu-style tonkotsu made with long-simmered pork bone broth, to simple soy sauce based soup, you can now get your ramen fix in all sorts of forms in London.
Read more
Whether it's a steaming bowls of ramen noodles, super-fresh sushi or an up-market kaiseki meal you're after, you'll find them on our list.
Read more
Sponsored listing
Deraliye
If you're going to open a Turkish restaurant in Cockfosters, it had better be good – the north London 'burbs around here are rich with second and third generation Turkish families. The food at Deraliye certainly looks authentic enough to keep them satisfied. The look, a little less so. Expect a fusion of Moorish, Baroque and contemporary, with a bit of Georgian styling thrown in too. Aromas from a long ocakbasi grill should keep diners in mind of the food on offer – Turkish all the way. That means meze such as cacik, kisir, sucik, lahmacun and kofte alongside shish kebabs, lamb ribs, chicken beyti, kulbasti, pide, iskender, imam bayildi and ayva domasi – a dish of oven-baked quince stuffed with lamb, rice, pine nuts and currants. Baklava features to finish, too.
Venue says: "Deraliye, the most beautiful Turkish restaurant."