London's best takeaways
Forget tired pizzas and clumpy chow mein – let Time Out's food critics guide you through the finest takeaway meals the capital has to offer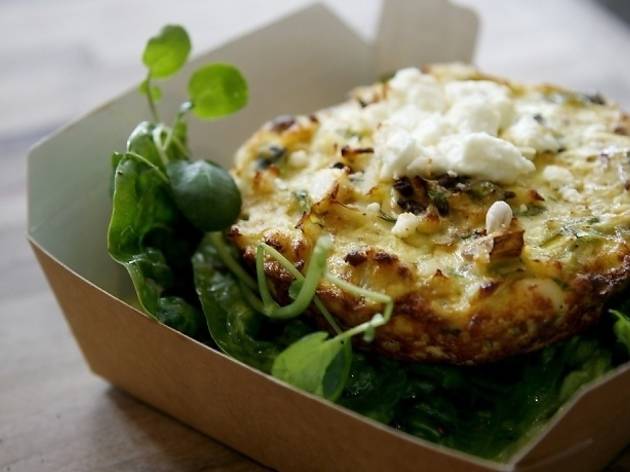 Whether you're in a bit of a rush or just prefer the breezy ambiance of a local park to a stuffy dining room, sometimes grabbing a bite to take away beats the full sit-down meal experience.
If the picks below don't float your boat, check out our guides to London's best pizza and London's best burgers.
Best takeaways in central London
Best takeaways in north London
This is the sparkling new branch of the long-established Primrose Hill deli is located a pleasant ten-minute stroll from Hampstead Heath. Going with the philosophy of simple, well-cooked food made with quality fresh ingredients, the deli (and its small kitchen) changes its menu daily. There's always a verdant array of colourful salads, with ingredients such as kohlrabi, asparagus, radish and peas; a limited number of main dishes could include crab cakes with lime aioli, roasted salmon with garlic mayonnaise or chicken escalopes with salsa verde, all packed up in plain white takeaway boxes. A well-stocked fridge has a good range of heat-up-at-home tucker, with plenty of tempting pies and a daily changing soup to choose from. Pop in to see what's available, or log on to their website to have a gander at the day's specials.
Read more
If you're nuts for Georgian food, this St John's Wood restaurant offers an impressive roster of traditional stews, dumplings and plenty of walnut-based dishes – a signature of the cuisine. Badrijani is a scrumptious – if not very sexy looking – starter of sliced aubergines layered with a tasty paste of walnuts, onions and herbs; lamb chaqapuli might not be served in its piping hot oven-proof dish, but its aroma (heightened by its coriander-laced sauce) and flavour (a sharpness attributed to plum and wine) still shines thanks to confident cooking. By getting the food as takeaway, you might miss out on the warm hospitality and all-Georgian wine list, but the food will transport you somewhere a lot more interesting than your living room. Where else can you get heart-stopping kuchmachi (braised pork lungs, livers and hearts with onion and Georgian spices) in a plastic takeaway container? Just make sure you phone in your order in advance; we didn't, and so had to wait wait 40 long minutes while our order was prepared.
Book now
Read more
You won't be able to get the hot food served in the restaurant to take away, but with the vibrant range of filling salads, quiches and other ambient treats, you'll find something delicious for a summer's supper. All takeaways are packaged in stylish white cardboard boxes with wooden cutlery and napkins provided if you're planning on an impromptu picnic.
Book now
Read more
Pacific Plaza
The loss of the Oriental City shopping centre in 2008 – and with it, its excellent pan-Asian supermarket, massive food court, bakery and various family-run shops – left a gaping hole in Colindale. To add insult to injury, the planned works for the eventually vacated building never came into fruition. But a former tenant has brought the OC back to life as Pacific Plaza, which is slowly developing after opening at the end of 2009. Located in the Wembley Retail Park, flanked by a Joysleep furniture centre, it's not the nicest place to drive up to. But inside, the modest food court currently boasts a handful of excellent purveyors of Asian and Oriental cuisine, including excellent Malaysian food from Selemaru (nasi lemak is a highlight), Korean food from the boastfully named Hot Korean stall, or unusually, Tibetan momo (dumplings) from Darjeeling Momo (currently only open on weekends). Japanese food is well represented too, with NP Star Snack Bar selling takoyaki (savoury grilled balls filled with chopped octopus) among other nibbles, and Nambu Donburi-Ya selling traditional Japanese rice bowls with various toppings ('donburi'). There are more kiosks planned to open up in the near future, so expect more cuisines such as Vietnamese and South Indian making an appearance. An excellent place to consider takeaway, as a pick-and-mix style of ordering is entirely possible. You can also head down to the ground floor where a Japanese bakery, Tetote, rustles up freshly baked breads (plain, filled and in all shapes imaginable) daily.
Trojka
Handy for Primrose Hill, this is where you can collect blinis for starters, 'Gypsy' latkes for mains. Or perhaps chilled Ukranian borscht topped with smetana (soured cream) followed by golonka (braised pork with sauerkraut and mash), though we'd like to see you try balancing that on your lap. Trojka's cakes are well-known, too – Hungarian chocolate torte, say – so take your pick. The cost is already low for diners eating in; for takeaway, they'll knock 20 per cent off the menu price.
Best takeaways in east London
Best takeaways in south London
New Malden, near Kingston, is the home of London's Korean community, and its many cafés with their bold, fiery flavours. If that's a trip too far, Cah Chi in Raynes Park – one of the best Korean restaurants in London, run by the Cho family – has a branch in Earlsfield, run by the daughter, Judy Cho, which caters almost entirely to non-Korean customers. As a consequence some of the more exotic dishes (such as the pigs' ears casseroles, pig's liver, blood pudding) are omitted from this branch's menu, but at least this way you're not in for any unwelcome surprises. In the style of true Korean home cooking, Cah Chi make their own fermented soy bean pastes, used in dishes such as ga-ji ku-l (grilled aubergine topped with sweet 'miso' paste, £5.50). They also make their own kimchi, the Chinese leaf stained red from chilli, the sour, salty taste also from fermentation. This hot condiment is used in dishes such as the kimchi, pork and tofu spicy stew (jji-gae, £6.70), which the staff put into a lidded bowl for takeaway – and double-seal the red liquid contents with cling film, just to be extra safe. Side dishes, called panch'an, also appear in little plastic tubs in your takeaway bag, like treats: kimchi of course, but maybe also sweet aduki beans, or potato salad. If you're not thinking or economising by not ordering steamed rice at £1.50, take into consideration that this is short-grained, slightly sticky oriental rice – the perfect foil to the spicy dishes.
Book now
Read more
Trinidadian food is hard to find in London, but fortunately you can find good roti, one of the staples dishes of Trinidad and Tobago. Roti is the Indian name for flatbreads made from unleavened wholewheat flour. The roti was brought to the West Indies from India by indentured labourers in the eighteenth century, and it remains a signature dish of Indo-Trinidadians. Since then, the flatbread has evolved into various forms,such as the 'dhalpoorie roti' – with a thin layer of dhal sandwiched in the middle, in this case slightly sweet ground lentils. The rotis themselves look like chamois leather, and have a similar elasticity. They're usually served with a filling like a wrap, but if you're doing a larger order or travelling far, owner Vash Mathura or his team pack them separately for you. Another, more paratha-like roti is called the 'bus-up-shot' (ie 'busted-up shirt') in Trini slang. To go with your roti you could try the tender chunks of meat in goat curry, spicy potato curry, channa aloo (chickpea and potato), or an orange pumpkin dish that's almost a purée but chili-hot. Although it's Caribbean customers who hold this place in most esteem, Roti Joupa's rotis also attract a lot of customers brought up in Sri Lankan and South Africa. Very cheap, too: dhalpoori £1.50, bus-up-shot £1.
Read more
Friends of pho travel from afar to get a taste of what could be the closest thing you'll find to the real aromatic soup back in Vietnam. Eating in is always a joy, but for takeaway orders, don't worry about soggy noodles, claggy bun (vermicelli) or overcooked meat by the time you get home – staff meticulously package all the components of their excellent pho (flavoursome broth, springy flat rice noodles, fresh herbs and toppings ranging from prawn to chicken and beef) and bun (rice noodles, grilled meats, salad, nuoc cham dressing) into separate containers for you to reassemble when you get home. Well worth a detour.
Read more
More
Theodore Kyriakou and Paloma Campbell's brasserie serves big flavoured, creative food. Everything on the menu (apart from, naturally, ice creams and sorbets) can be packed up for takeaway: roasted poussin with a radicchio, French bean and crispy bacon salad followed by sour cherry, rosewater and semolina cake and yoghurt cream, perhaps? Allow 20-30 minutes between the time of placing your order and collecting it, and make sure you don't confuse it with a similarly named venue opposite, where More is less.
Le Bouchon Bordelais
Sometimes the craving for roast chicken hits midweek, but who has the time to buy a chook, prep it, and wait the agonising 45-90 minutes for it to come to skin-crisp perfection – all after a long day at work? If you're not prepared to stoop to eating factory-farmed supermarket or dodgy takeaway chicken, LBB's 'poulet emporter' is a cut above. It's priced at £8.95 for a half chicken, and comes with garlic butter, green beans and gratin dauphinoise. If you don't feel like poultry, the classic French menu also offers the likes of braised ox cheeks, duck confit and fish soup with rouille and croûtons. You need to order before 6pm, though.
Masaledar
This East African Asian restaurant in Tooting reopened a few months ago after being spruced up by new owners. It's still the pick of local 'Indian' takeaways, with the bonus of surprising affordable East African options such as mogo (cassava) chips (£3.25), masala fish, or the Pakistani/North Indian Muslim dish called nihari – lamb, slow-simmered on the bone.
Recipease
It's takeaway with a twist at Jamie Oliver's aspirational Clapham food shop – you'll have to put a tiny bit of legwork in by way of cooking the assembled ingredients at home. Collect mains such as Italian-style sausage and bean stew, South Indian prawn curry or a 'fantastic' fish pie. For a tenner, you can choose a main plus a salad, side or pud for two people.
This self-proclaimed 'Little Eritrea' is a treat, serving an extensive Eritrean menu consisting of traditional injera bread (made in-house daily) and tsebhi (stew) combinations. Vegetarian dishes are excellent too, azifa (spicy lentil stew) and shiro (spicy ground chickpeas) making our hitlist. Ghemberi (succulent Red Sea prawns) served with a piquant tomato and onion sauce on a bed of rice is a good choice.
Book now
Read more
Best takeaways in west London
Sponsored listing
La Patagonia
It's all about traditional Argentine cuisine and culture at this Camden Town restaurant and bar. Much of the food comes hot from the parrilla charcoal grill and all of the wine is sourced from Mendoza, in the western Argentinean foothills of the Andes. And if you want even more Argentine bang for your buck? There's tango each month - music and dance.  Meat plays a lead role on the food menu. Dishes range from grilled sweetbreads, empanadas and morcilla (an Argentine black pudding) to loin of lamb served with a mint and coriander chimichurri, chicken escalope and brocheta de carne - a skewer of beef fillet with bacon, Spanish sausage and grilled vegetables. Steaks, unsurprisingly, are a particular strong point, with cuts such as lomo, sirloin, rib-eye and asado de tira - beef ribs cut across the ribcage - cooked on that charcoal grill. It's not all meat, though. Vegetarian options come courtesy of spinach and ricotta ravioli, Argentine salads and calabaza con humita - a dish of stuffed butternut squash with a corn and béchamel sauce filling.  Imported beers from Quilmes and Bolú Porteño feature alongside a wine list rich in quality reds - the selection of malbecs is especially extensive. Keep an eye out for additions from the province of Neuquén - a burgeoning wine region at the northern end of Patagonia.
Venue says: "Delicious grilled quality steak, great variety of Argentine dishes & wines, relaxed atmosphere, fair prices... Come & enjoy at La Patagonia!"