The best gluten-free restaurants in London
Whether you're a coeliac, intolerant or otherwise, If you're looking for gluten-free dining in London, these restaurants will look after you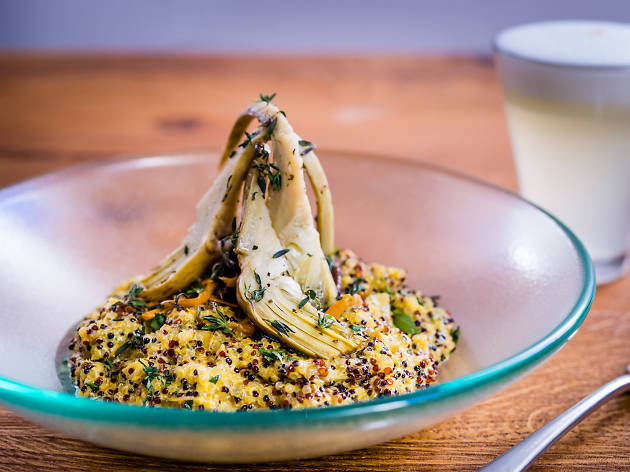 The reason why diners with gluten-free dietary requirements and other food intolerances seem kinda stressed when they eat out is that, until now, some chefs just haven't grasped the importance of issues such as cross-contamination, and the difference between being gluten-intolerant and coeliac. However, things are changing, with more and more restaurants introducing interesting and diverse gluten-free options – and even 100 percent gluten-free menus – to their repertoire. Here are some of the best gluten-free restaurants in London. If you know any we've missed off our list, let us know in the comments or tweet us.
Gluten-free dishes in London restaurants
Gluten-free restaurants in London
How about dairy-free restaurants in London?
When it comes to vegan-only restaurants, London has got herbivores covered. But what about when you're eating as a group, and only some of you are vegan? We've hand-picked mainstream restaurants, covering cuisines from Japanese and Thai, right through to Peruvian, which 'cater for all'. Because the only thing better than eating out, is eating out with all your friends.
Read more
Sponsored listing
Steam Restaurant
The name of this Chinese restaurant in Hammersmith gives a bit of a clue as to what it's all about: its speciality is dim sum, handmade each day by a chef with plenty of experience parcelling up parcels to be steamed (or baked). But it's not just about the dim sum. The menu also features crispy aromatic duck, salt and pepper squid, deep-fried soft shell crab, wonton soup, bok choi in garlic sauce and poached pork dumplings in chilli sauce soup.    But if you want dim sum? Expect dim sum filled with things like sea bass and fennel, shrimp, peas and carrot, chives and prawn, Chinese mushroom and pork, radish, peanuts, chives and coriander. Steamed bao also feature, filled with braised pork, barbecued pork, pan-fried duck and salted egg yolk custard.
Venue says: "Freshly handmade dim sum in our kitchen every day!"