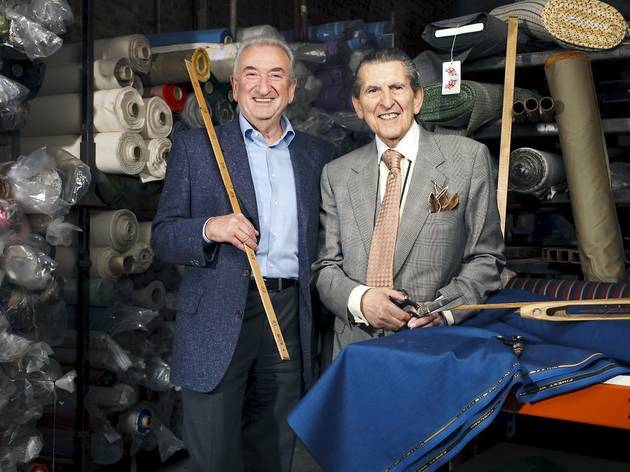 Men of the cloth: the last surviving Spitalfields clothiers
After a fire destroyed the entire stock of Crescent Trading last year, we see how its owners have bounced back
Two sharply dressed cockneys are talking about warm furry animals in an east London warehouse: sheep, goat, alpaca and guanaco. Guanaco? 'They're from the same family as camels and very rare,' says Philip Pittack, 70, co-owner of Crescent Trading, the last surviving cloth merchants in Spitalfields, which was built on the textiles trade in the seventeenth century.
Herded by nomads in the Andes, the guanaco produces incredibly soft cloth once used for the coronation robes of Inca royalty. Crescent Trading have a job lot of the stuff, and will do you a deal at £200 per metre. It's a snip. 'Anywhere else and it would be £1,200 a metre, if you can find it,' says Martin White, 82, Pittack's business partner. It's the most expensive cloth the boys sell, and it ripples across the skin like a cool breeze on a hot day.'
White and Pittack can tell you how a flat piece of cloth will perform once it's in three dimensions, and how slight characteristics of a fabric transform a finished garment. 'We're grafters and we just love what we do,' says Pittack. Last September, a fire destroyed their entire stock, but, astonishingly, by July the pair had managed to replenish a new warehouse on Quaker Street, which now brims with tweed, worsteds and silks, all woven in Britain. 'British mills are the best,' says Pittack. 'It's to do with the water, like with whisky.'
In another corner of the warehouse a bolt of bright pink silk catches the eye. Who on earth would wear such a hue? 'Mick Jagger!' says White, quick as a flash. 'Tim [Timothy Everest, Jagger's tailor] got it for him for a gig and for his daughter's wedding.'
It's not the celebrity clientele that gets the pair excited, but the new designers and students who make up the bulk of their business. They specialise in ends of runs and the surplus stock of Savile Row and couture-quality fabrics. It means anyone can buy a piece of some of the world's best cloths, including the rare ones, at wholesale prices. The pair proudly show photos of designs by Ada Zanditon, Christopher Raeburn and Georgia Hardinge fashioned from their wares.
A visit to Crescent Trading should be on the curriculum of every fashion course in London. 'We're passing on 120 years of knowledge to fashion students and young designers,' says Pittack. 'It keeps us young and it keeps the industry going.' A few minutes with them will change how you see and buy clothes for ever.
Visit Crescent Trading at Unit 2, 41 Quaker St, E1 6SN. www.crescenttrading.com