Where to buy a Christmas tree in London
Forget fake and buy real fir with our guide to buying a Christmas tree in the capital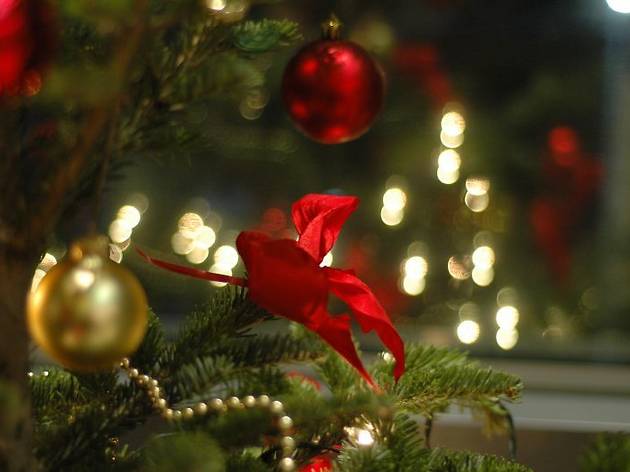 Unearthing the box of decorations is clearly the hard part, but choosing your Christmas tree is a crucial part of the season's festivities. Keep things simple with Time Out's tips on which type to get, where to buy, online delivery and how to get rid of your tree in the New Year.
RECOMMENDED: More Christmas fun in London
Buy a Christmas tree in London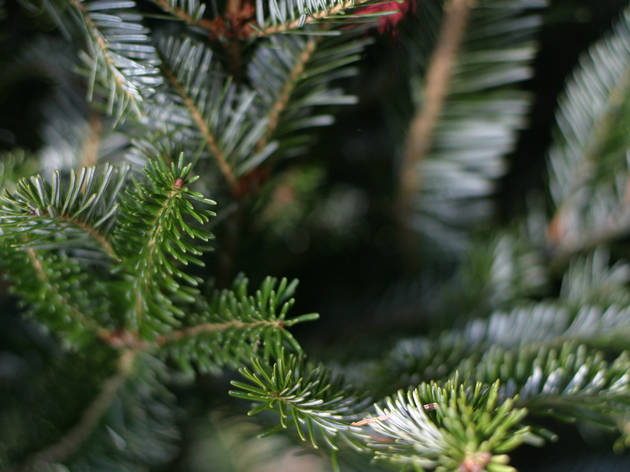 Know your Christmas trees
Think all Christmas trees look the same? What are you, some kind of tree-racist? Needly evergreens, as any botanist will tell you, belong to three different families: spruces, firs and pines. Firs are popular (and expensive) as they don't shed their needles. Ask your tree grocer which is which.
Calculate your dimensions
Do you know how high your ceiling is? Do not buy a tree until you do. Also, remember that a trussed-up spruce will expand once you get the netting off. You can always chop away unnecessary branches. A spindly six-footer can be trimmed to a classic teardrop-shaped four-footer without too much work (although remember that children under 12 should not handle chainsaws unsupervised).
Where to get your Christmas tree…
Christmas tree vendors are surely the original purveyors of the pop-up, and you'll spot them in various roadside nooks and crannies in December, but for quality and breadth of choice you might prefer to seek out a long-established tree professional.

Creekside Christmas sell Nordmann Firs and Norway Spruces of up to 7ft in their Greenwich and Woolwich markets and can deliver your chosen one anywhere within the M25 (and indeed beyond).

Pines & Needles (020 3384 9420) usually stocks five types of tree in sizes up to 9ft in various locations across London, with extra tall sizes available at selected areas in central London. Same-day delivery is available, and you can reserve a tree online before you visit, too.

The Christmas Forest (01865 427067) usually stocks a range of tree varieties, including Noble, Fraser Firs and the non-drop Nordmann Fir. You'll find 8 branches dotted across London, and can enjoy a mince pie as you browse. It's eco-friendly, too - for every Christmas tree sold, a tree is planted in the drylands of Africa.
For Christmas trees delivered – buy online
Creekside Christmas stock Norway Spruces and Nordmann Firs of up to 7ft (with bigger trees available on request), with daily deliveries from Dec 1-22. Tree stands are also available, and they promise the best prices in London, with a price match guarantee.

Pines & Needles deliver a range of trees, complete with decorations if you so wish, and you can even have them take it away when it's ready for the chipper.

Christmastreedelivered.london is a boutique tree delivery service for homes, hotels, restaurants, the lot, so if you're going big, go here. Along with trees, you can order lights, stands and decorations, plus the team also offer large tree installation (in case your eyes are bigger than your living room) and post-Christmas tree collection.

If you want deluxe Christmas lights for your tree, Xmas Direct has an impressive selection – from tiny fairy lights to huge glowing nets that you can drape over your entire house.

The Christmas Forest has an impressive online offering, too, with delivery and installation in preferred time slots. You'll also find stands and lights to dress up your tree.
And when Christmas is over...
If you've not arranged a tree pick-up online (see above), your local council should offer a tree recycling service. See www.recycleforlondon.com for details.
For more festive goods...
Looking for gift inspiration? Look no further than London's Christmas markets. Among a raft of events you'll find foodie gifts, hand-crafted pressies and usually a bit of glühwein to help you get into that merry spirit.
Read more