Where to buy a Christmas tree in London
Why fake it when you can have real fir? Here are the best places in London to buy a proper Christmas tree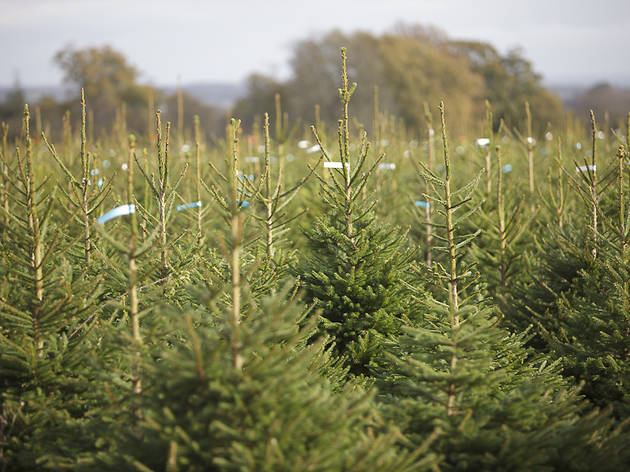 Before you've even thought about wrapping presents and prepping a turkey, choosing a Christmas tree is a crucial part of the season's festivities. Keep things simple with Time Out's tips on which type to get, where to buy, and how to get rid of your tree in the New Year.
Know your Christmas trees
Think all Christmas trees look the same? What are you, some kind of tree-racist? Needly evergreens, as any botanist will tell you, belong to three different families: spruces, firs and pines. Firs are popular (and expensive) as they don't shed their needles. Ask your tree grocer which is which.
Get to grips with dimensions
Do not buy a tree until you know how high your ceiling is. Also, remember that a trussed-up spruce will expand once you get the netting off. You can always chop away unnecessary branches (although remember children under 12 should not handle chainsaws unsupervised).
When Christmas is over...
If you've not arranged a tree pick-up, your local council should offer a tree recycling service. See www.recycleforlondon.com for details.
RECOMMENDED: More Christmas fun in London
Where to buy a Christmas tree in London
For more festive goods...
Looking for gift inspiration? Look no further than London's Christmas markets. Among a raft of events you'll find foodie gifts, hand-crafted pressies and usually a bit of glühwein to help you get into that merry spirit.
Read more
Need gift inspiration?
Our Christmas gift guide is packed with ideas sure to satisfy even the trickiest of friends and family members. Seriously, even the really picky ones. Gifts for dads? Gifts for girlfriends? Totally sorted. And the rest? Whether you're buying for those into food, fashion, furnishings or football, we've got Christmas gift ideas covered.
Read more