In the last of our special anniversary series, we celebrate 50 milestones in art, music, food, architecture, nightlife, theatre and more, from the 50 years that Time Out has been championing the capital. Here goes...
1960s
Time Out launched in 1968 against a backdrop of worldwide protests, from student riots in Paris to Civil Rights battles and anti-Vietnam War demos in the States. In London, the lustre was wearing thin on the swinging '60s. Although the decade had seen increased permissiveness, social liberalisation and the partial decriminalisation of homosexuality, much of the capital was still bleakly post-war. Conditions were ripe for some way for likeminded switched-on types to connect. It was time for a certain cultural listings magazine for London.
1. July 9 1968: The Hayward Gallery opens
The ambitious young architects who designed the Hayward Gallery probably couldn't have forseen how their brutalist South Bank marvel would lurch from state-of-the-art to outlier and all the way back to state-of-the-art again in the following 50 years. Since Queen Liz snipped the ribbon it has been host to the best of the contemporary art world – from seminal group shows (like landmark British conceptual art exhibition 'The New Art' in 1972) to iconic solo affairs (Tracey Emin's first major retrospective). Newly refurbished in 2018, it's still at the cutting edge.
Photograph: Hayward Gallery
2. July 26 1968: The Theatres Act is repealed
When US hippy musical 'Hair' opened in London on September 27 1968, not every theatre critic was wildly receptive to the bawdy anti-war messaging, nudity and drug-taking in its storyline. But like it or not, they had to acknowledge its significance as the first new production to be put on after the repeal of the Licensing Act of 1737 (renamed the Theatres Act in 1843). Redrawing the law abolished theatre censorship – meaning sex, drugs and politics could be portrayed on the stage. 'Nothing else remotely like it has yet struck the West End,' wrote one critic after watching 'Hair'. The London stage could finally provoke, anger and challenge as it wanted.
3. July 28 1968: Trojan Records launches
In 1968, Lee Gopthal and Chris Blackwell, aka Mr Musicland and Mr Island Records, teamed up to found Trojan Records. From signing a young Bob Marley and introducing skinheads to ska to producing records by Lee 'Scratch' Perry and Desmond Dekker, it brought Jamaican music to the UK. It's one of the most significant centres of Jamaican music that Britain has produced and is still going strong.
4. July 5 1969: The Stones play Hyde Park
Think Oasis had the bombastic mega-gig schtick sewn up with their 1996 Knebworth show? Nope. The Rolling Stones did it bigger, better and first. On July 5 1969, up to 500,000 revellers showed up at Hyde Park to scream along to the band's first live gig in two years. The Guardian called it 'epoch-making'; Keith Richards was less convinced. 'We played pretty badly towards the end,' he's since said. Oh, Keith.
Photograph: Getty Images
1970s
After the party, the comedown. The '70s were a sobering reality check, ushered in by Jimi Hendrix's death in 1970, aged just 27, in a Notting Hill hotel. It was a decade of huge change for London (again). There was growing unemployment and strikes, but it was also a great era for radical publishing, with pamphlets and zines thriving (in OZ's case, an issue guest-edited by 'school kids' earned them a landmark obscenity trial in 1971). The capital's stage was all set for punk. Then Thatcher.
5. March 25 1972: Andrew Logan starts Alternative Miss World
During the first years of the '70s, artist Andrew Logan had an idea that now seems simple but in the pinched London of its day must have felt like a revelation. From his flat in Hackney he launched Alternative Miss World: a pageant that anyone could enter, celebrating transformation rather than beauty. The criteria? Poise, personality and originality (the same categories as Crufts, you might have spotted). The event blossomed into a stage for some of this city's finest creative minds, from Divine to Grayson Perry and Zandra Rhodes, as well as a hotspot for ruffles, face paint, drag and stripping.
Photograph: Alan Le Garsmeur
6. June 19 1972: Spare Rib hits the shelves
Marsha Rowe and Rosie Boycott knew exactly what was missing from the male-dominated media landscape of the '70s: a publication that talked to women and skipped the traditional women's mag tropes. Out with articles about beauty and cooking, in with radical critiques of gender inequality. The first issue asked 'What is a liberated women?' with readers' letters printed in response. Feminist theory sat alongside fiction, plus an interview with George Best in the tongue-in-cheek 'Man's Corner'. Its launch chimed with London's thriving women's liberation movement.
7. July 1 1972: The UK's first Gay Pride Rally heads through London
Long before Pride became part of the national cultural calendar, it was a small, radical protest by a community used to a diet of prejudice, violence, exclusion and police harassment. July 1 1972 was chosen for the first march (an all-male affair with around 2,000 marchers) due to it falling on the nearest Saturday to the anniversary of NYC's 1969 Stonewall Riots. One of the most iconic images of the day? A young Peter Tatchell with a placard saying: 'Homosexuals Are Revolting'. The activist is still campaigning for LGBT+ rights now.
8. October 8 and 16 1973: LBC and Capital Radio hit the airwaves
Way back before James O'Brien's epic lunchtime rants, LBC had a very different kind of viral notoriety. The UK's first commercial radio station, it launched alongside Capital in London in October 1973 after the relaxation of radio licensing laws. The station had a stellar line-up: Jon Snow, Peter Allen and TV (and Time Out) ledge Jeremy Beadle (minus his hidden camera). The two stations would bring a commercial urgency to radio, broadening its appeal and listenership, not to mention ensuring that all minicab journeys have that special atmosphere. The biggest moment in commercial radio until Rinse got an FM license in 2010.
9. August 23-25 1975: Notting Hill Carnival becomes a big deal
Carnival started as a response to the race riots that scarred west London in the late 1950s. Here was a celebration of black British culture hemmed in by threats and violence. The first one was held indoors at St Pancras Town Hall in 1959 but by the '70s, the event had evolved into something less static and more celebratory – 1975 was arguably the year that Carnival went 'mainstream'. Booming sound systems, radio airtime and a record attendance all marked the birth of Europe's largest street festival.
Photograph: UIG via Getty Images
10. November 6 1975: The Sex Pistols play their first gig (it goes badly)
Fifteen minutes in a smelly Charing Cross Road venue on a night notable only for pissing rain: that was the setting for the Sex Pistols' first gig. Attendees barely remembered the band who performed at Saint Martin's School of Art – apart from the fact they were 'very loud'. They played Small Faces and Monkees covers and Johnny Rotten smashed the PA system. London's era-defining punk movement was off to a suitably shaky start.
11. October 25 1976: The National Theatre opens… finally
It wasn't a smooth process; grand London initiatives rarely are. After years of delays and spiralling costs, the new National Theatre opened in 1976 (with a Shakespeare-quoting Laurence Olivier on hand to wax rhapsodic). Architect Denys Lasdun designed the great South Bank concrete hulk, which continues to evolve, initiate and inspire.
Photograph: James Holmes
12. 1979-80: Blitz hits the club scene. Scene kids hit Blitz
As the '70s drew to a close, some of the decade's disaffected youth felt punk had become too, well, punky. Enter the Blitz Kids, whose Blitz club night in Covent Garden is often spoken of in hushed terms as the key harbinger of the New Romantic movement. Boy George, Alice Temple, Marilyn, Princess Julia and Philip Sallon all partied there. Think big frills, emotional yearning and high fashion, with Steve Strange and Kim Bowen as its royal couple.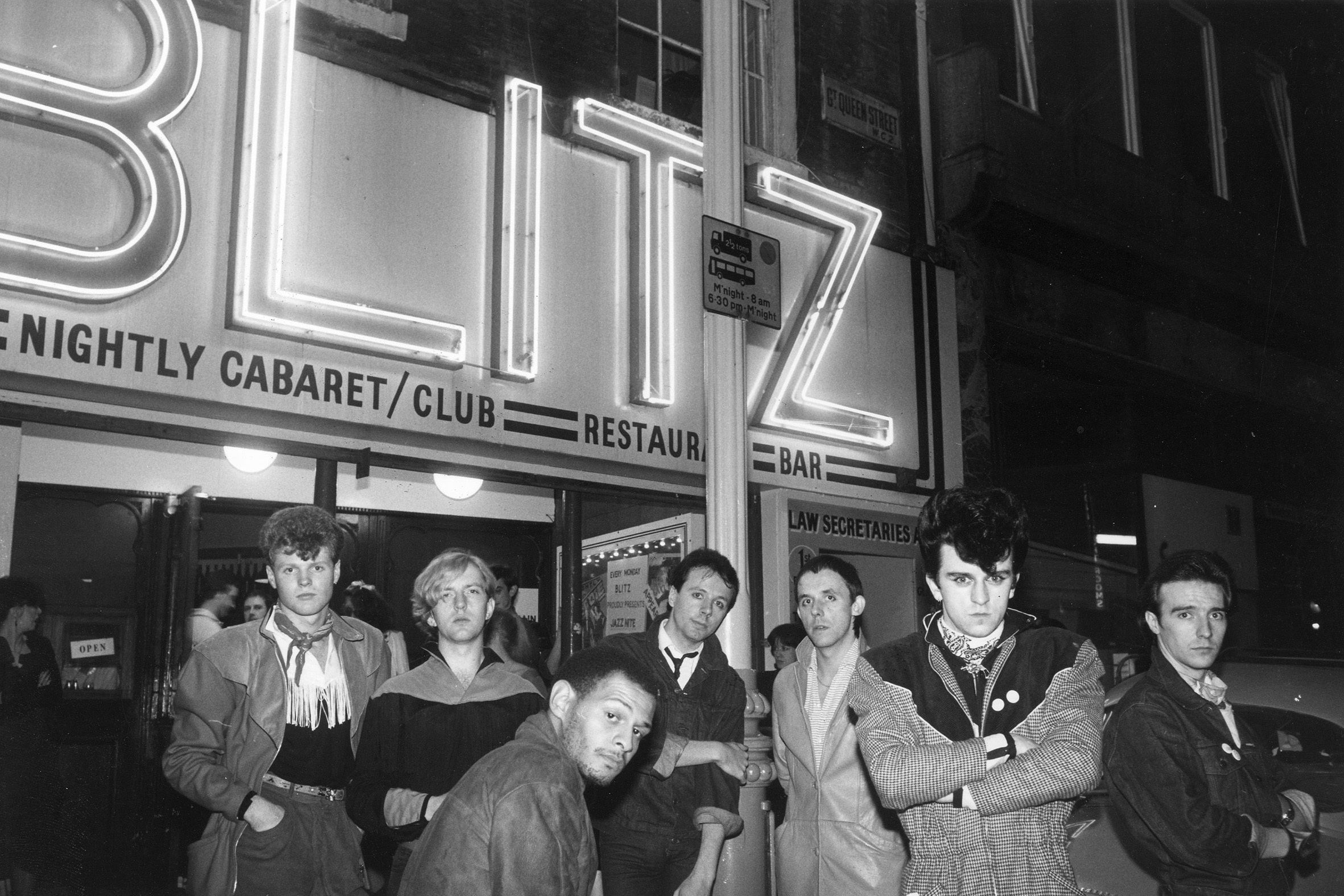 Photograph: Sheila Rock/REX/Shutterstock
1980s
In 1987, Margaret Thatcher notoriously bragged that there was 'no such thing as society'. Certainly in London it seemed to be fraying: 1981 witnessed the Brixton riots, the culmination of years of neglect and police aggression. The 1982 Hyde Park and Regent's Park bombings by the IRA killed 11 people. Having seen off the Argentinian army and the miners, Thatcher abolished the Greater London Council in 1986, devolving powers to local boroughs. The '80s weren't all yuppies and gloom, though: 1987 saw the election of the first three black British MPs, Paul Boateng, Diane Abbott and Bernie Grant, all of whom were elected for Labour in London.
13. March 29 1981: First London Marathon
All right, so it wasn't the very first long-distance running event held in the city. But its predecessor, the Polytechnic Marathon (held since 1909), had lost a bit of its buzz. So, when Olympian/journalist Chris Brasher and athlete John Disley got together to inaugurate the London Marathon in 1981 (with the help of £50,000 from Gillette), it felt significant: 20,000 applied to run that first race; nearly 400,000 wanted to take part in 2018's event.
Photograph: Popperfoto/Getty Images
14. March 19 1982: Mary Whitehouse takes 'The Romans in Britain' director to court
Mary Whitehouse never saw 'The Romans in Britain' at the National Theatre. It was an intrepid solicitor, employed for the purpose, who went to see the Howard Brenton play in December 1980. The moment that grabbed the puritanical morality campaigner's attention? An anal rape scene between a Celt and a Roman invader. Whitehouse said 'God would pay her [legal] costs' – divine intervention was unnecessary, thanks to an anonymous donor. She still lost, though, and it marked a new era of freedom on the London stage.
15. October 1982: Le Gavroche becomes the first UK restaurant to win three Michelin stars
It wasn't that long ago our Continental neighbours would look at London's attempts at fine dining with despair. If there was a particular milestone on the journey to changing that, it may well have been Le Gavroche hoovering up Michelin stars like Smarties in the early '80s. Michel Roux Jr's luxe French fare became a point of pride for sophisticated Londoners sick of gentle pisstaking about the state of the UK's restaurant scene. Slightly less so when it was revealed in 2016 that some kitchen staff got paid less than minimum wage.
16. A mysterious date in 1983: Dick Bradsell creates the espresso martini
Allegedly the espresso martini owes its formation to an A-list model and the cocktail skills of Dick Bradsell (booze maestro behind storied London bars Six Degrees, The Player and Match). The bleary-eyed woman asked for something to 'wake me up and fuck me up'. Bradsell duly obliged with the vodka, espresso, sugar and coffee liqueur concoction. It was the vodka and Red Bull of the '80s and now features on every happy hour menu from Nunhead to Neasden.
17. July 13 1985: Live Aid fills Wembley with mega-musicians
It didn't get much bigger than this (at least, until the 2005 reboot). The 'global jukebox', featuring U2, Elton John, Sade, Sting, David Bowie, Freddie Mercury and more, took over Wembley Stadium. It saw 72,000 people cram into the venue to help end poverty and lay the foundations for Bob Geldof's ascension to secular saint. Around £40 million was raised. Of all its London acts, only Adam And The Ants didn't see an increase in sales after the gig. Go back to holding up stagecoaches, Adam!
Photograph: Sports Illustrated/Getty Images
18. November 16 1985: 'My Beautiful Laundrette' is released
Director Stephen Frears hit gold with this perfectly poised tale of two London outsiders. Hanif Kureishi's screenplay was something viewers weren't used to seeing in 1985: a nuanced treatment of British Pakistani life in a city progressing towards multiculturalism alongside a depiction of a mixed-race gay romance in working-class Wandsworth. The film endures to this day as a stone-cold London classic.
19. December 4 1985: 'Les Mis' opens
It's fitting that the longest-running musical in the West End is based on an equally lengthy novel by Victor Hugo. 'Les Misérables' has been performed here for 30 years and counting. Its first airing at the Barbican in 1985 didn't draw hosannas from the critics. The Observer called it 'witless and synthetic' while Lyn Gardner of City Limits was blunter still ('a load of sentimental old tosh'). The public thought differently. 'Les Mis' became the epitome of the West End musical: the stuff of school trips, and many people's first experience of 'the arts'.
20. July 30 1987: The DLR opens
When it opened, the Docklands Light Railway didn't really feel like a cultural initiative. Sure, it was realiable, fast, clean and fun, but it was basically there to transport bankers from their old stomping ground (the City) to their future one (Canary Wharf). Over time, though, and as it was extended, the DLR helped to open up London's east and south-east, from Stratford to Deptford. It helped to culturally regenerate Docklands, but also offered a new view of London: one in which the east of the city was key to its growth and future.
21. 1989: Truman's brewery shuts
'A dark day for London's breweries' was the consensus when Truman's brewery was forced to shut after centuries as London's biggest.International competition and too-rapid growth were blamed. But the craft beer revival smiled kindly on the old brand, with a 2013 comeback proving hugely successful. Meanwhile, the Old Truman Brewery (formerly Black Eagle Brewery), just off Brick Lane, found new life as an arty hub.
1990s
When New Labour ended 20 years of Tory rule in May 1997, a fresh-faced Tony Blair and his cronies belted out 'Things Can Only Get Better' on the South Bank. Blair arrived at the fag-end of Britpop London, represented nationally by Blur, resuscitators of the Doc Marten boot and the Groucho Club. 'Cool Britannia' might have mainly been marketing, but it keyed into a new arty swagger in the capital, as seen in the RA's tabloid-baiting 'Sensation' show (which suggested that things in general really only could get better).
22. September 21 1991: Ministry of Sound makes raving legal
With DJ magazine launching and soundsystem Spiral Tribe throwing free parties, 1991 was the year that rave culture hit its peak. That glorious year witnessed the birth of Ministry of Sound, the UK's first real club dedicated to dance music – though it still took a while to get its alcohol licence. The hotspot brought the biggest names of the underground world – Paul Oakenfold and Jeremy Healy, among others – as well as equally massive queues to get in. It wasn't yet the superclub we know today, but it was well on its way towards becoming a compilation-CD-releasing superbrand. Not bad for a disused bus station in Elephant & Castle.
23. August 20 1995: Neasden gets a glorious new edifice
According to the 'Guinness World Records 2000', Neasden Temple was the largest Hindu temple built outside of India, as well as a wonderful addition to a famously unprepossessing chunk of Zone 3. It was made out of 2,000 tons of Italian marble and 2,828 tons of Bulgarian limestone by a team of 1,526 sculptors. The result was Europe's first purpose-built Hindu stone temple, and it was quite easily the best thing to happen to the area since the Jubilee Line.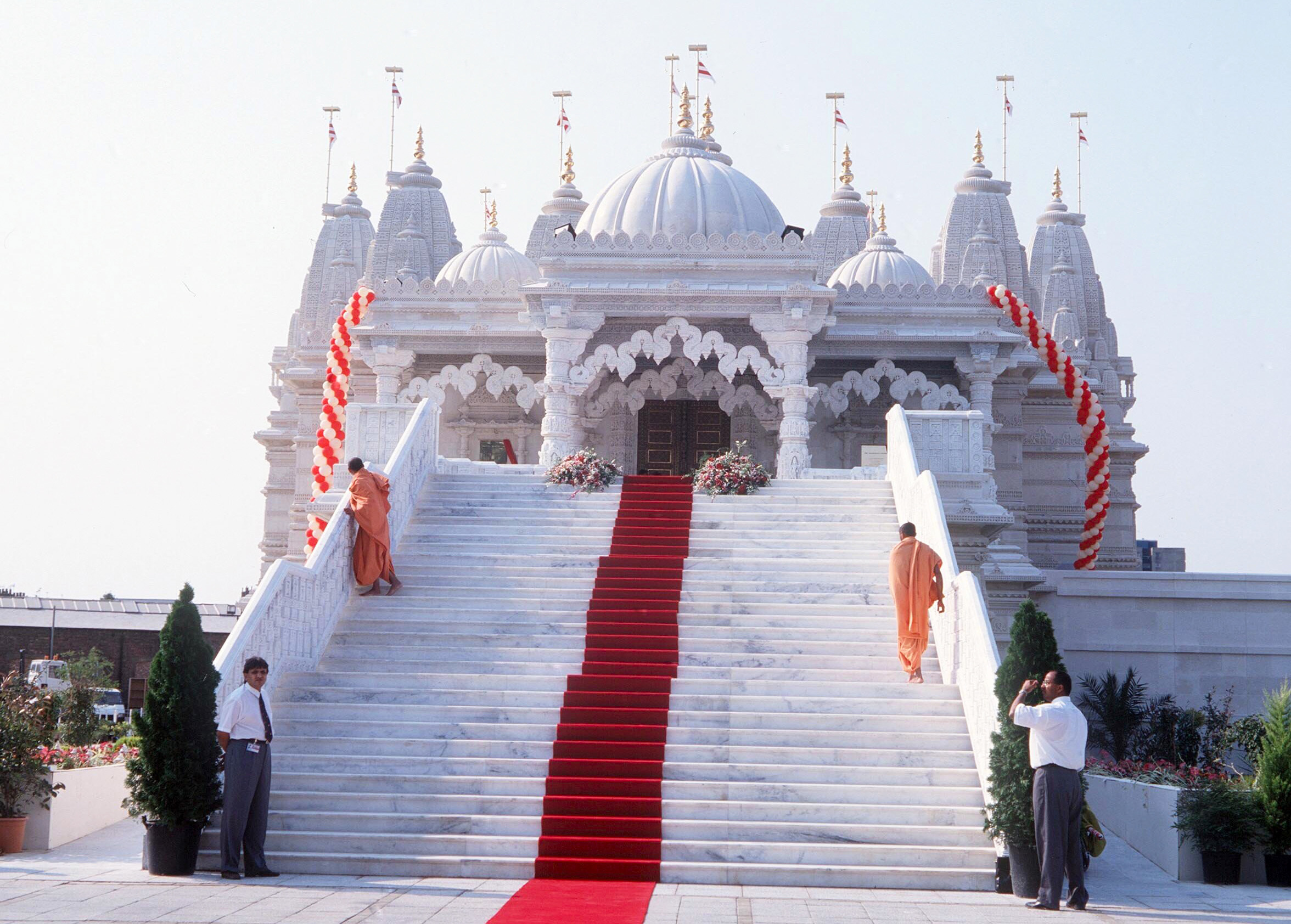 Photograph: David Barbaroux/REX/Shuttestock
24. February 19 1996: Jarvis stage-invades Jacko at the Brits
Ah, the weird cultural mystery known as Britpop. Aside from the 'Top of the Pops' arms race between Blur and Oasis, this was arguably the high point of the era. As Michael Jackson launched into an absurdly overblown rendition of 'Earth Song' at the 1996 Brit Awards at Earl's Court, Jarvis Cocker decided he'd had enough. Striding on stage mid-song, the Pulp frontman bent over and made fart-wafting motions in Jacko's direction. It was hardly up there with Janet's 'Nipplegate', but it definitely showed a bit of cheek.
25. June 12 1997: Shakespeare's Globe is completed
It only took 400 years and multiple lottery millions, but Shakespeare's Globe theatre reopened in June 1997. It was the culmination of a decades-long personal obsession of American actor and director Sam Wanamaker, who spent 23 years lobbying, cajoling and fundraising for the copy of the original Bankside venue. To keep things faithful to the Elizabethan original, no amplification or electric lighting is used in the summer months. Luckily, some things have changed: namely, the plumbing.
26. September 18-December 28 1997: 'Sensation' stirs up Middle England
In the mid-'90s, contemporary art suddenly became very cool. The YBAs (Young British Artists) – such as Damien Hirst, Tracey Emin and Marc Quinn – became household names, as people started asking whether an unmade bed was really art. 'Sensation' was the show that made the YBAs famous, and it comprised entirely Charles Saatchi-owned pieces, such as Hirst's formaldehyde shark and Marcus Harvey's Myra Hindley portrait, made of children's handprints. More than 300,000 visited during its three-month run, despite extensive protests at the subject matter, including a letter from Hindley herself requesting its removal.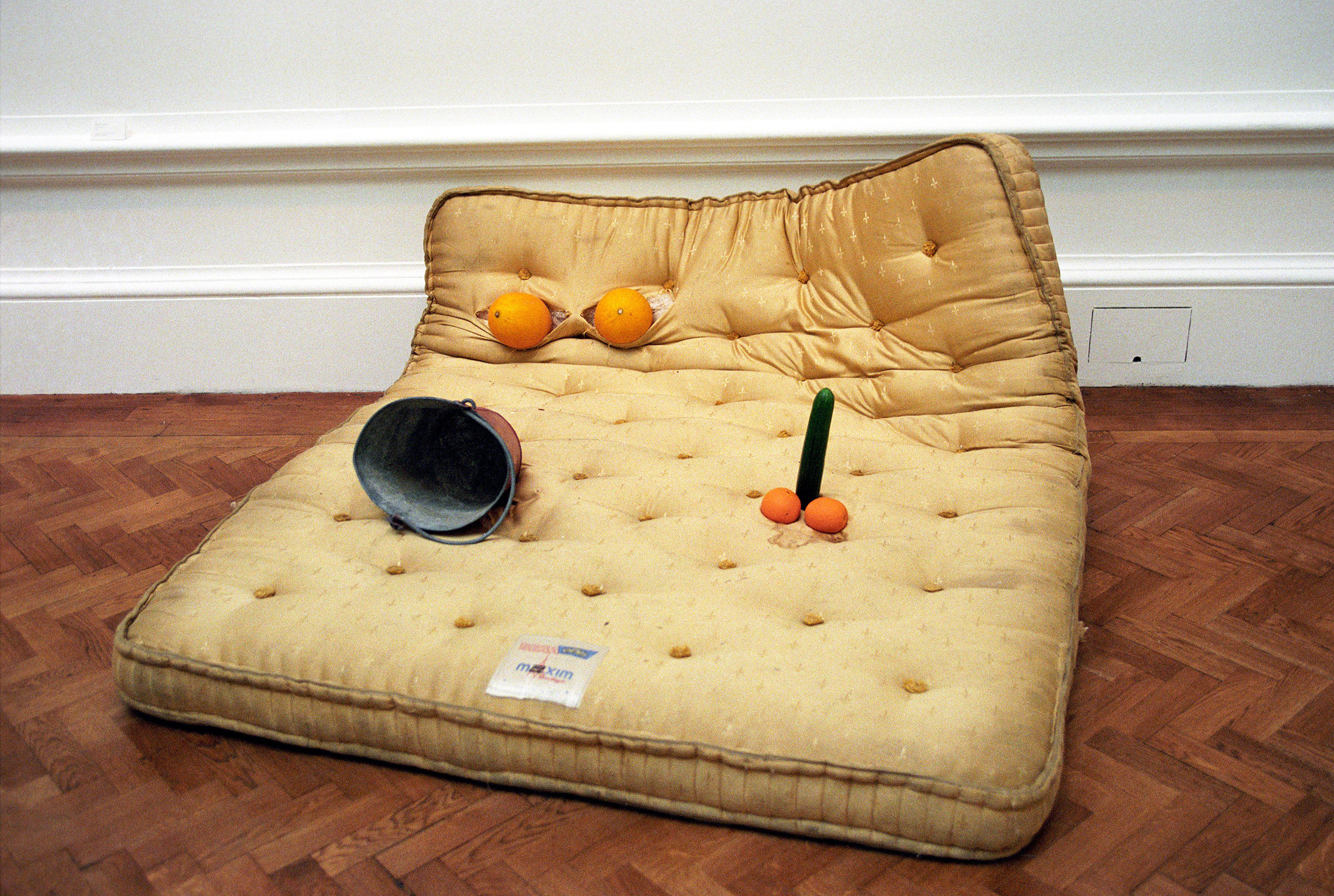 Photograph: REX/Shutterstock
27. October 10 1997: 'Nil by Mouth' paints a grim picture of New Cross
One of the hardest compass points in south-east London, New Cross wasn't known for its cuddliness or middle-class niceties. Gary Oldman's directorial debut gave a voice to its troubled world of high-rise estates, grinding poverty and pointless violence: a refutation of Richard Curtis's brand of posho London. Critics said 'Nil by Mouth' was too unrelentingly bleak. But the film's champions argued that it showed the realities of life in a London rarely depicted on screen.
28. May 1 1999: The BFI Imax brings 3D cinema to Waterloo
Aside from the sheer physical imposingness of the multi-award-winning Imax building, erupting from the gums of Waterloo roundabout like a wisdom tooth, there's a reason why the BFI Imax 3D cinema dominated the imaginations of kids in London when it opened in 1999. 'T-Rex: Back to the Cretaceous', one of the great forgotten night terrors of the 1990s, was shown with surround-sound and, of course, high-tech 3D visuals, leaving viewers even more scared than during 'Jurassic Park'.
29. July 1999: The Fourth Plinth Project is launched
The Fourth Plinth in the north-west of Trafalgar Square was originally intended to hold a statue of William IV, until the cash dried up. After a century in limbo, the space was repurposed as a public gallery, with a rolling array of temporary artworks. The original 'Fourth Plinth Project' morphed into the 'Fourth Plinth Commission' in 2005.Since then it's been occupied by works from Antony Gormley (who managed to convince members of the public to stand on it for an hour at a time for 100 days) and David Shrigley (who plonked a big blue thumb on it). It's really good!
Photograph: PA Archive/PA Images
30. August 31 1999: The Museum of the Moving Image shuts
The Museum of the Moving Image was cut down in its prime for a fairly simple reason: the cash ran out. Its closure in 1999 was supposed to be temporary, but the move was announced as permanent in 2002. A crying shame for a pleasingly dingy gallery on the South Bank that held wonders from throughout the history of cinema. These included a host of optical toys, an art deco Odeon, a heap of surrealist masterpieces and a room containing looping footage of Buñuel's and Dalí's 'Un Chien Andalou'.
2000s
The new millennium saw a political Lazarus act from former GLC leader Ken Livingstone, who defied New Labour to win the new Mayoralty of London in 2000. He served two terms before making way for Boris Johnson in 2008. In between, we had a million-plus people protesting against the Iraq War in 2003, the 7/7 bombings in 2005 and the global financial meltdown in 2008. Grime and nu-rave were born in very different settings (and, as it turned out, with very different durabilities) against this backdrop.
31. 2000: The Millennium Dome, London Eye, Millennium Bridge and Tate Modern open
What better way to celebrate surviving the Millennium Bug than with a load of futuristic buildings? Firstly, the Dome. One of the most enchanting white elephants in London's recent history: £789m worth of exhibition spaces, mostly derided for their lack of content, in a building that looked like a cake stand. Luckily, the London Eye's giant ferris wheel has aged better, and Tate Modern is bouncing from strength to strength, even if the nearby Millennium Bridge had to be shut just days after its opening due to structural defects (it wobbled).
Photograph: Getty Images
32. Late 2001: Cannon Cinema closes
When Catford's Cannon Cinema shut its doors in 2001, it left Lewisham as London's only borough without a single picturehouse. It was a sad milestone in a borough that once boasted 20 cinemas, including the great Lewisham Central and the rococo weirdness of The Eros. Lewisham remained big-screen-less until 2015, when a small Curzon cinema opened at Goldsmiths College in New Cross. A sliver of hope for the silver screen.
33. September 5-October 19 2003: David Blaine sits in a box
No one can quite remember why American magician/provocateur David Blaine decided to suspend himself in a transparent 3'x7'x7' box 30 feet above Tower Bridge. We do know that he lasted 44 days without any sustenance, aside from 4.5 litres of water a day, until admitting defeat. Whatever 'Above the Below' was intended to be, it quickly occupied a weird bit of a venn diagram where artwork, tourist attraction and pointable-at weirdo intersected. People went along to laugh, only to find that the reality was more troubling to process.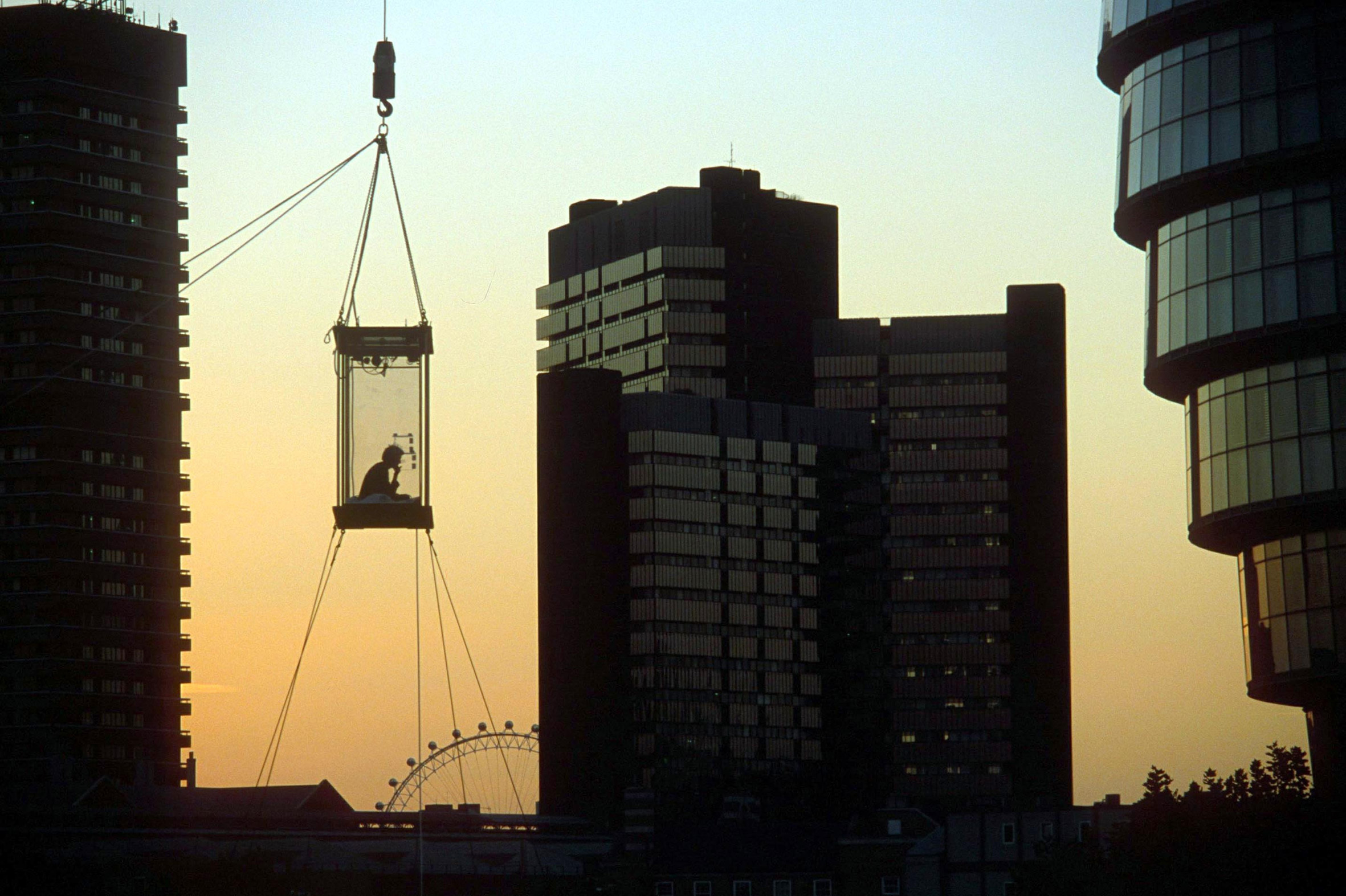 Photograph: Nicholas Bailey/REX/Shutterstock
34. September 9 2003: Dizzee Rascal wins the Mercury Prize for 'Boy in da Corner'
Grime's first wave was, in the truest sense, an underground movement. It was a loose, shifting constellation of MCs, producers and crews typically hailing from the estates of Tower Hamlets and Newham. Then 'Boy in da Corner' won the 2003 Mercury Prize, catapulting Bow's Dizzee Rascal to a mainstream that wasn't ready for a London music genre still in its first evolutionary pangs. His rivals on the shortlist? Athlete, Coldplay and The Darkness.
Photograph: Redferns
35. October 17-20 2003: Frieze art fair launches in Regent's Park
Amanda Sharp and Matthew Slotover had a straightforward idea: 'to put art in a park', as they told The Independent in 2011. From the first event, it became clear that Frieze was more than just a regular trade fair, with half of creative London pouring into Regent's Park to mill around the brightest and best the contemporary art world had to offer. It's since become a global phenomenon, with its New York event proving equally influential.
36. August 2005: UK Black Pride arrives
One day in 2005, a group of LGBT+ black women decided to go on a day out to Southend-on-Sea together. Since that first spontaneous gathering, the annual event has grown into the UK Black Pride organisation, designed for and by the BAME LGBT+ community. Now it's one of the big banner events in the London Pride calendar, featuring some of the city's best-known and best-loved musical acts.
37. October 6 2005: Arctic Monkeys play a sold-out show at the Astoria
You couldn't swing a trilby in the mid-2000s without bashing some poor indie teen in the head. There were a few pivotal moments – The Strokes' first UK tour in 2001 and 'Up the Bracket' by The Libertines the year after – but there was an overwhelming sense of occasion attached to a young, pre-first-album Arctic Monkeys playing at The Astoria. Tickets disappeared within minutes and the scale of things got to Andy Nicholson so much that the gig had to be paused for him to deal with a nosebleed caused by his own bass. The venue shut just four years later. It was the end of the indie age.
38. March 3 2006: 'Kidulthood' released
'Kidulthood', written by Noel Clarke, was something rare for its time. A depiction of working-class BAME London produced by people who knew about it first-hand. Slang used in context, characters who didn't feel miswritten and a plot about the everyday anxieties and strains of a harsh side of city life often only spoken about in hysterically generalised terms by the media who didn't – and didn't want to – engage with its realities.
39. 2006: Nu-rave kicks off
Neon. Lots and lots of neon. That's the main visual takeaway from the briefly burning flame of the nu-rave era. It was a scene that contained plenty of thriving regional hubs, but it really found its purest expression in the capital. This was the year of The Klaxons' 'Atlantis to Interzone', the cornerstone album of a heavily ironic London scene that swiftly collapsed under the weight of its own insincerity. Still, Test Icicles were fun, right?
40. August-September 2007: Prince plays 21 concerts at the O2 Arena
It turned out the Dome was good for something after all. After much agonising, and a few high-profile sackings, it was transformed into the O2 Arena in 2007 (after a fairly brief spell as the home of Winter Wonderland). However, very few of its numerous high-profile gigs over the past 11 years have matched Prince's '21 Nights' residency in scope and grandeur (if not price: all tickets cost £31.21). More than 350,000 people packed in to see the great man between August and September 2007. They remain the biggest shows the venue has held.
41. March 14 2009: Sipsmith gets a landmark licence to distil
It took the guys behind Sipsmith a couple of years to convince the government to change archaic legislation that prevented small-batch gin production, but by 2009 they managed it. London's first copper pot distillery in more than 200 years started producing gin in Hammersmith. It was the start of a craft gin craze that's gone so far we've got a gin-themed hotel now.
42. September 17 2007: Punchdrunk's 'The Masque of the Red Death'
Punchdrunk pretty much invented immersive theatre with 'The Masque of the Red Death'. It transformed every inch of the crumbling, gorgeous Battersea Arts Centre into a Victorian playground, where masked audience members sipped gin in opium dens, dicovered secret passageways lined with butterfly wings, or encountered a host of grotesque characters. It inspired a whole new generation of shows and reimagined London's theatre landscape for ever.
Photograph: Steven Dobbie
43. September 16 2009: The Kernel Brewery opens in Bermondsey
Perceptions of Bermondsey have changed radically in the past 30 years. And it's beer that has helped to do the shifting. Kernel Brewery remains perhaps the best known on the 'beer mile' that has since sprung up. Now based at Maltby Street, it was founded by Samuel Beckett scholar Evin O'Riordan and has grown to become one of London's very best craft breweries. Cheers to that.
2010s
Summer 2011 saw London's worst riots since the 1980s. The city was angry: about policing, neglect of its poorest communities and a balloon in living costs and house prices. A year later, we came together for Danny Boyle's Olympics Opening Ceremony to celebrate some of the best of the capital. It's been an inescapably political decade: London voted overwhelmingly to Remain in the EU referendum and anti-gentrification protests have flourished. But it was Grenfell Tower going up in flames in June 2017 that has been the defining tragedy of the decade, and the one that poses most questions for London's future…
44. July 27 2012: The London Olympics
Of all the potential pitfalls of embarrassment that an Olympics Opening Ceremony could find itself prey to, Danny Boyle's managed to avoid almost every one. There was plenty of angst in the lead up to the London games: security concerns (with the previous year's riots still fresh in the memory) and the ability of the newly revamped Stratford to cope with the influx of visitors. Yet most worries melted away during a buoyant few weeks where Team GB finished third in the medal rankings.
Photograph: Bloomberg via Getty Images
45. November 2012: The Shard is finished
It's a mark of London's capacity to take change in its stride that, just six years after completion, The Shard now feels like a natural part of our skyline. The tallest building in the UK (and the EU, no less), it stands for some as a monument to absurd capitalist profligacy; to others, it's just a really cool, enormous tower. Either way, it's part of our city.
46. November 28 2014: Madame Jojo's closes
If you were a late-teen/early twenty-something in the mid-'00s, then congratulations: you definitely vomited lager down your tweed jacket at White Heat, the Tuesday night indie disco at Madame Jojo's. The venue wasn't just a nightclub, it was one of our city's most vibrant cabaret spots. But the curtains closed on the 50-year-old venue in 2014 after it lost its licence. The official reason was a violent confrontation between a bouncer and a punter but, as ever there, the story is a bit blurry.
47. March 14-August 2 2015: 'Alexander McQueen: Savage Beauty' at the V&A
The V&A's recent history is peppered with retrospectives of twentieth-century creative icons, including its excellent David Bowie show in 2013. But 'Alexander McQueen: Savage Beauty' held even more poignancy. From his 1992 MA work to his last unfinished collection, this was the life of a working-class Londoner who became a global fashion titan before his tragic suicide aged just 40.
48. August 19 2016: The night tube opens
There had been rumblings for years. How could London call itself a 24-hour city when – apart from night bus services – its main transport system clocked off at midnight? The night tube was supposed to be the answer, yet it came into operation just as London's late-night culture was being sent to bed. Two years later, though, there's hope. With punters free to travel more easily at night, London's gaining new venues in industrial areas and outer zones. Long live London's nightlife…
Photograph: Dinendra Haria/REX/Shutterstock
49. September 6 2016: Fabric shuts. Then reopens
After two drug-related deaths, superclub Fabric lost its licence and closed in 2016. The reaction was huge. More than 150,000 people signed a petition asking Islington Council to reconsider a decision that seemed to sum up the perilous state of London's nightlife. It reopened in January 2017 with enough security to make a night out at Gatwick Airport seem less stressful. Worth it, though.
Photograph: AFP/Getty Images
50. September 2018: Time Out turns 50
Half a century after Time Out came into existence – made on the kitchen table of our founder Tony Elliott – the magazine continues to help Londoners find the best stuff to do in the city. To mark the occasion, we're throwing a party in Granary Square this weekend featuring our favourite London food stalls, bars, DJs and performers. We also have an exhibition of our iconic covers on now at the Museum of Brands. Here's to this ever-inspiring, ever-evolving city of ours. And to another 50 years of Time Out.