Heads up! We're working hard to be accurate – but these are unusual times, so please always check before heading out.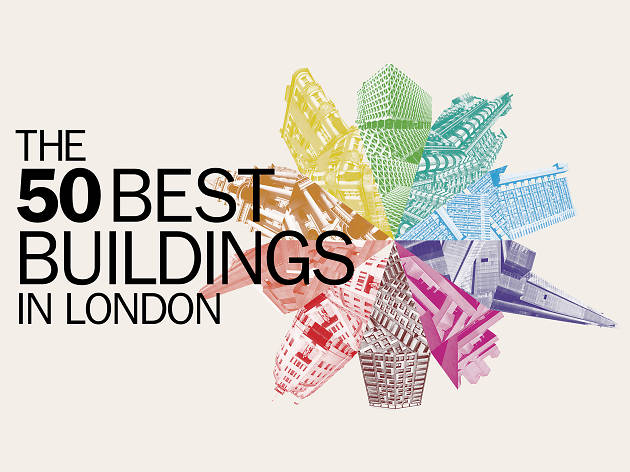 The 50 best buildings in London
Take a tour of our 50 favourite buildings in London as chosen by city architects, leading authors, Instagrammers and the Mayor of London himself
The Walkie Talkie. The Gherkin. The Shard. These striking structures (and their silly names) dominate our city's skyline. But while they might have a bit of a height advantage, they're not the only buildings worth shouting about. Our list of the city's best buildings showcases the city's unique mix – from the iconic to the unsung. We asked a group of experts to tell us about the London architecture that means most to them.
London's buildings aren't just slabs of concrete or bricks and mortar – they tell the stories of our city's history. Our top 50 list reflects that. There's the Jewel Tower – one of the few remaining parts of the medieval Palace of Westminster, the Brutalist beauty of the Hayward Gallery and an NCP car park that's surprisingly aesthetically pleasing. In fact, you'll find plenty of under-the-radar stuff in our top 50: council estates, pubs, tube stations. Everyone knows that London is filled with amazing buildings, but not everyone knows where to look beyond the architectural icons. Use our list to get out there and explore the city.
With thanks to: Sadiq Khan, Monica Ali, Camille Walala, Anna Eavis, Lucy Inglis, Olivia Laing, Zoe Timmers, Allan Hinton, Tamsie Thomson, Jane Duncan, Architects for Social Housing and Professor Alan Penn
Picked by Alan Penn
'I remember this building being built. It was the first time that a truly new piece of architecture had made its way into the heart of the City, which at the time was pretty fuddy-duddy. Richard Rogers, the architect, famously took the guts out of the building, the stairs, services and toilet blocks, and placed these around the edges of a rectangular block. Then he gave it a central atrium with grand, theatrical escalators linking the floors. It is a simple and thoroughly detailed building that respects its urban setting while challenging almost every preconception we might hold about buildings for seventeenth-century financial institutions.'
Nearest station Monument tube
© Daniel Wright, flickr

Picked by Allan Hinton
'I think this car park could be the most unsung bit of architecture in London. I find the facade of concrete diamonds beautiful and fascinating. Sadly, this building is at risk of being demolished and was denied listed status by the government.'
Nearest station
Oxford Circus tube
© Manhattan Research Inc
© Manhattan Research Inc, flickr

Picked by Lucy Inglis
'Founded in 1484, the current building dates from the Georgian period and the huge windows offer tantalising glimpses into the ancient and secretive art of the heralds. They're the people who design and protect coats of arms.'
Nearest station Mansion House tube
© Michelle Grant

Picked by Chris Waywell
'The department store's 1920s half-timbered, Tudor-style extension, is one of the West End's most eccentric buildings. Derided by architecture critics and loved by shoppers, this strange amalgam of styles and proportions looks like a gigantic pub (part of its appeal at Christmas, no doubt). The timbers used in its construction came from two broken up Royal Navy ships, and its small parlours with their fireplaces and echoing floorboards make shopping there a strange and other-worldly experience.'
Nearest station
Oxford Circus tube
© Mike Dixson, flickr
Picked by Eddy Frankel
'Imposing, stark, powerful – the Freemason building does absolutely naff all to dispel any rumours that the Freemasons are a secret cabal of world-controllers. It's mysterious, ludicrous and in its own way very beautiful. The best bit though is the museum, which is packed full of exhibits and trinkets, but totally lacking in any real clear explanations for what any of this stuff is. The building, and its contents, are a great example of yelling "look at me! I'm very important!" while also yelling "don't mind me! nothing to see here!".'
Nearest station Holborn tube
Picked by Lucy Inglis

'This is a building that's all about the view from the top. The bar is what draws the crowds, but it's a great place for a slow walk around the beautifully planted, stepped garden as you look out in all directions.'
Nearest station
Monument tube
© Chris Dorney, Shutterstock.com


Picked by
Eddy Frankel
'This massive hunk of brick by the river isn't just a building, it's a mission: the idea behind Tate Modern was to take a gorgeous, disused old power station and turn it into something that would make people care about modern art. And it worked! It's not just an incredible bit of architecture, filled with stunning spaces and beautiful art, it's a tool for converting non-believers, making art-lovers out of everyone who visits.'
Nearest station
Southwark tube
© Tony Baggett, Shutterstock.com

Picked by Anna Eavis
'The evocatively named Jewel Tower is one of my favourite buildings in London. It is one of the few remaining parts of the medieval Palace of Westminster, surviving the devastating fire of 1834. It has served as everything, from a store for royal treasure to the records office of the House of Lords and much later a testing facility for the Department for Weights and Measures – and it is still here.'
Nearest station
Westminster tube
Picked by Alan Penn
'I cycle to work down Archway Road in the mornings, and as you approach the bridge you see London's skyline laid out below; the dome of St Paul's and the Shard. The way the light falls on Renzo Piano's building makes it look different every day. It has an unfinished top that is very cunning, stopping it from becoming a plodding pyramid, always leaving something for the eye to fill in for itself.'
Nearest station
London Bridge tube
© Thinglass, Shutterstock.com

Picked by Eddy Frankel
'It's as if the South Bank was designed specifically to piss off my mum. And your mum, probably. It's a mum-pisser offer, that vast conflation of modernist concrete. But the people who have a problem with its brutal geometric aesthetics are the same people who think 'mock Tudor' is an acceptable style for a house to actually spend your life in. Shudder. But in their own bold, ambitious, unapologetic way, the South Bank's concrete buildings are really quite beautiful. And the Hayward is the gritty jewel in its angular crown, filled with endless juts and snips, unfathomable angles and edges. It's also home to one of this country's most ambitious art programs, and should be celebrated for everything that it is.'
Nearest station Waterloo tube
Show more
© Andy Parsons

Picked by Zoe Timmers
'A wonderful example of faded grandeur and a hidden treasure. My parents brought me to here as a child to explore the raised walkway with its overgrown vines and exotic flowers and mysterious gardens. I called it "the secret garden" and it may not be so secret anymore but it is still one of my favourite and most romantic places in London.'
Nearest station Hampstead Heath Overground
Picked by Chris Waywell
'There's some cracking Victorian gothic around the Euston Road, including the amazing X-shaped Cruciform Building at University College Hospital. But king of the spires has to be St Pancras Station. Its effect has been slightly reduced since it was restored and cleaned: it used to look like Castle Dracula, after the Count had been evicted, but Gilbert Scott's airy fantasy gives transport infrastructure a whole different flavour.'
Nearest station
St Pancras
© Songquan Deng, Shutterstock.com

Picked by Derelict London
'King's Cross is the perfect mix of old and new architecture. It was recently restored to its former glory, gaining an open-air plaza that shows off the original, bold 1851 building. It also has a stunning new departures concourse with a futuristic latticed roof.'
Nearest station
King's Cross
© Ewan Munro, flickr

Picked by Derelict London
'A great traditional boozer from the outside and not much has changed inside over the last few decades. The Dublin Castle was built for Irish navvies working on railways in London, but gained prominence as a venue in the late 1970s after Madness established a live reputation there. Subsequently, it has always been and still remains an important venue in the early stages of bands' careers.'
Nearest station
Camden Town Overground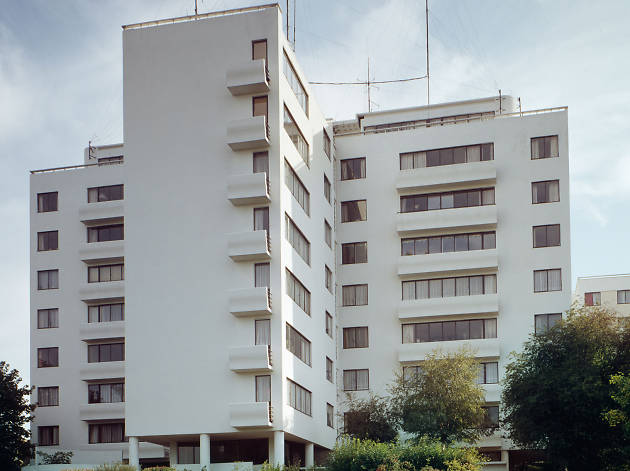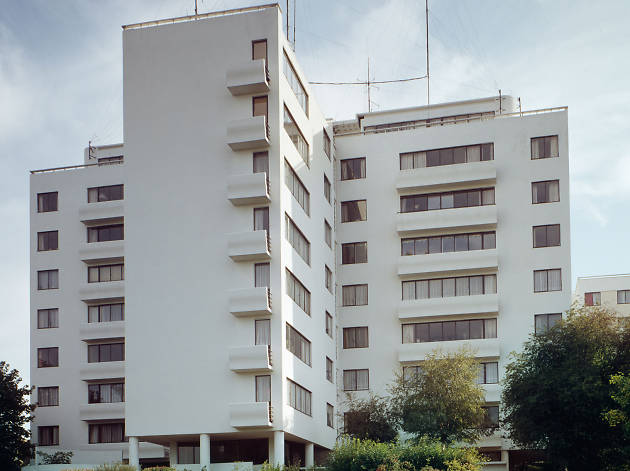 © Angelo Hornak
© Angelo Hornak, Alamy

Picked by Olivia Laing
'Given a few million, I'd like to live in the Berthold Lubetkin-designed Highpoint flats in Highgate. They're light-drenched pearls of modernist architecture and the outdoor pool's an added bonus.'
Nearest station
Highgate tube
© Steve Cadman, flickr

Picked by Jane Duncan
'This is the family home that transformed 1930s modernist house designs, and was incredibly influential, apart from being completely architecturally and contextually brilliant.'
Nearest station
Hampstead Heath Overground
© sheep"r"us
© sheep"r"us, flickr

Picked by Sadiq Khan
'You might think: "What? A bingo hall!?" but this place is a Grade I-listed former cinema. It's also where the Rolling Stones performed, the Beatles performed and Frank Sinatra performed. We've got some really great buildings in London.'
Nearest station
Tooting Broadway tube
© Nick Richards
© Nick Richards, flickr

Picked by Architects for Social Housing
'When describing the extraordinary hill-top council estate she began designing at the age of only 26, Kate Macintosh said: "Central to all housing design is the balance between the expression of the individual dwelling and the cohesion and integration of the entire group." This vision of architecture as social model rather than financial asset is more than ever relevant today, when architects have so readily yielded their agency to property developers, real estate investors and politicians.'
Nearest station North
Dulwich rail
Picked by Chris Waywell
'Inigo Jones's masterpiece reopens in October 2016 following a lengthy restoration, to celebrate its 400th anniversary. It doesn't look 400: its timeless classical proportions and serene location between Greenwich Park and the river give it an almost abstract simplicity and beauty. Its lack of ostentation is a more direct statement about the absolute power of monarchy than the most elaborate gilded palace. The 'Armada Portrait' of Elizabeth I – saved after an appeal and a huge lottery grant will be on public display for the first time in the Queen's House.'
Nearest station
Cutty Sark DLR
© Ron Ellis

Picked by Tamsie Thomson
'The NT was beautiful when it was first built and is even more beautiful after its recent refurbishment. It's full of wonderful hidden spaces and board-marked concrete with a wood effect so tactile you can't help stroking it!'
Nearest station Southwark tube, Shutterstock.com
© Simon Hoare, flickr


Picked by
Chris Waywell
'Architect Sir John Soane is best known for his eccentric house and collection in Lincoln's Inn Fields, but his real London gem is this rather unassuming looking one-storey gallery in sleepy Dulwich Village. Britain's first public art gallery is noteworthy just for that, but it is a brilliant building: modestly scaled and perfect for spending time with art. The rooms are lit from above and lead gently off one another: there's no showboating, no grand stairwell or statement entrance. The building is at the service of its collection and its visitors, and it has influenced gallery design ever since.'
Nearest station
West Dulwich rail
© Lars Ploughmann, flickr

Picked by Chris Waywell
'Most hospitals sprawl: you walk down endless corridors, across endless car parks. Guy's, though, goes up. Its tower at London Bridge has a chunky quality. It looks like Spike the Bulldog from 'Tom & Jerry' sitting on his haunches, pugnacious lower jaw stuck out. Whereas the neighbouring Shard is all show-off bling, Guy's is a sturdy grey servant. Plus it has an actual purpose and the views from the dentistry department are enough to take your mind off your aching wisdom teeth.'
Nearest station
London Bridge tube
© Adrian Prockter
© Adrian Prockter, knowyourlondon.wordpress.com

Picked by Derelict London
'This house represents a curious mix of the old and the new. Whilst it is firmly Victorian in date and style, it is actually built from rendered concrete. It was constructed by Charles Drake of the Patent Concrete Building Co. and is one of the very first surviving examples of a nineteenth-century concrete house in England.'
Nearest station
East Dulwich rail
© Tim Crocker

Picked by Chris Waywell
'Three years after their epochal reimagining of Tate Modern, Swiss architects Herzog & de Meuron were back in London in the slightly less grandiose surroundings of Deptford Creek. Their shimmering, poly-coloured box seems to have dropped from the sky into the green mud of the creek: it is truly one of London's great architectural interventions, without the aggressive dimension that those projects often seem to have. Don't miss Michael Craig Martin's mural in reception of everyday objects. Relationship to dance: unknown.'
Nearest station
Deptford rail
© Urbanimages
Walter Segal Self Build houses
© Urbanimages, Alamy

Picked by Tamsie Thomson
'This is one of the first and best loved examples of 'self build housing' in London. It was built by the future residents themselves on land owned by Lewisham in 1979. It offered people beautiful, adaptable and, crucially, affordable housing during the last housing boom. A lesson for current London boroughs?'
Nearest station
Honor Oak Park Overground
© Cedric Weber, Shutterstock.com

Picked by Derelict London
'Built in 1883 to the designs of Sir Horace Jones, the impressive general market buildings have been derelict for 20 years though will soon be restored to become the new home of the Museum of London.'
Nearest station Moorgate tube
© Martin Pettitt, flickr

Picked by Jane Duncan
'Possibly my favourite accessible building by Zaha Hadid. The Aquatics Centre is a clear demonstration of her art of making the impossible possible, with its huge swooping concrete roof sitting on tiny ground contact points, and making swimmers feel like they can fly.'
Nearest station
Stratford rail
© TECU Consulting, flickr

Picked by Allan Hinton
'I love the stunning colour of this building – which used to brighten up my daily commute along Regent's Canal – as well as the unique and geometric facade. Years ago when Instagram started to take off I became obsessed with this building and would take some really abstract shots of it. It was fun to share a building in London which is pretty unknown yet really quite visually special.'
Nearest station
Mile End tube
Picked by Tamsie Thomson
'This vast former flour mill opposite City Airport, derelict since 1992, is a testament to London's industrial past and a forgotten architectural gem popular with urban explorers. Its scale and history dwarf you. Standing next to it is a reminder of the scale of our lost industrial past.'
Nearest station
Pontoon Dock DLR
© Steve Parkinson, flickr

Picked by Alan Penn
'This is one of the simplest and most elegant of the buildings constructed for the 2012 Olympic Games. It was designed to help break records, and it did that, but it also seems to have done something more lasting. It has played a part in stimulating a real legacy of competitive cycling at the top level in the UK. A lot has been said about the innovations in the track itself, but no less impressive is the roof which uses a tension net structure to minimise weight and material use. It's one reason that the building has such a simple and elegant profile, and explains how a building of such scale and span was delivered for such a low price. It is a product of great design and engineering and wonderful collaboration between the team of designers and the cyclists who later put it to good use.'
Nearest station
Stratford rail
© Ewan Munro
© Ewan Munro, flickr

Picked by Camille Walala
'I can't remember when I first spotted Sivill House. I pass it almost every day and I'm always visiting Columbia Road flower market on Sundays so see it then too. It has an array of distinct shapes littered across the facade, so it would be a dream building to paint. I've even mocked up some designs for the facade in the hope that one day someone asks me to paint it.'
Nearest station
Shoreditch High Street Overground
© Tove K Breitstein

Picked by Eddy Frankel
'Modernist architecture promised so much. It was a utopian vision of a future society where everyone lived side by side, surrounded by culture and safety. The reality was pretty far from that truth, with so many modernist blocks falling into disrepair, squalor and crime. Maybe we just weren't ready. But the Barbican stands as a shining example of what modernism could be: beautiful apartments, communal high-rise living and an arts hub that to this day puts on some of the best concerts, plays and exhibitions in London. It's a little slice of modernist heaven.'
Nearest station Barbican tube
© Ewan Munro, flickr

Picked by Chris Waywell

'Of all London's buildings, this Hawksmoor church has the most profound effect on me: its mass, its scale, its terrible, alien self-assurance. It stands amid eighteenth-century townhouses and scorns their little aspirations. Even so, it was nearly demolished. It should remind us that we shouldn't take what we collectively own for granted.'

Nearest station Liverpool Street tube
© Claudio Divizia, Shutterstock.com

Picked by Architects for Social Housing

'Part of the Brownfield Estate, the Balfron Tower was the inspiration for JG Ballard's "High Rise". It provided 146 homes for working-class households. While it was saved from demolition by Historic England, all the previous residents have been forced out by the increased restoration costs for a listed building, and its original quota of 100 percent social housing has been reduced to zero. It's currently being marketed as retro-style luxury apartments for Canary Wharf bankers.'

Nearest station Langdon Park DLR
Picked by Monica Ali
'This is a truly magical building. It's a place where you can feel history at your fingertips and in your spine. It's Grade II listed and was a Huguenot master silk weaver's home, with a hidden Victorian synagogue. It's also so desperately in need of funding it can't afford to open to the public for more than a few days a year. Many aspects of Britain's past are written inside the walls, reflecting our past and (especially post-Brexit) raising questions about our future. It's on the Buildings at Risk Register, which is an absolute scandal. I hope our new mayor will take note and step in to save it.'
Nearest station
Aldgate East tube
Show more
© Claudio Divizia, Shutterstock.com

Picked by Olivia Laing
'Driving in on the Westway and seeing the Trellick Tower on the horizon always gives me a lift. Cities should be cities – tough, glamorous, adaptable – and I like a good blast of concrete.'
Nearest station
Westbourne Park tube
Picked by Jane Duncan
'With an eclectic architectural history as impressive and magnificent as its wonderful collections, this is my favourite gallery in London. Not only are the exhibitions amazing, but the building itself is "human" in scale, which means it's built to be the right size for people to feel comfortable in. It's beautifully detailed.'
Nearest station South Kensington tube
Picked by Anna Eavis
'Architecturally, Marble Hill House is elegant perfection on an intimate scale. Standing in its original parkland setting in Twickenham, it can still be reached by river or road. It is reminiscent of the remarkable life of the woman who built it: Henrietta Howard, mistress of King George II when he was Prince of Wales.'
Nearest station St Margarets rail
Support Time Out
We see you're using an ad-blocker. Ad revenue is Time Out's main source of income. The content you're reading is made by independent, expert local journalists.
Support Time Out directly today and help us champion the people and places which make the city tick. Cheers!
Donate now