Best London parks for autumn walks
We pick out the best places to stroll among the trees and recommend the cosiest places to warm up in afterwards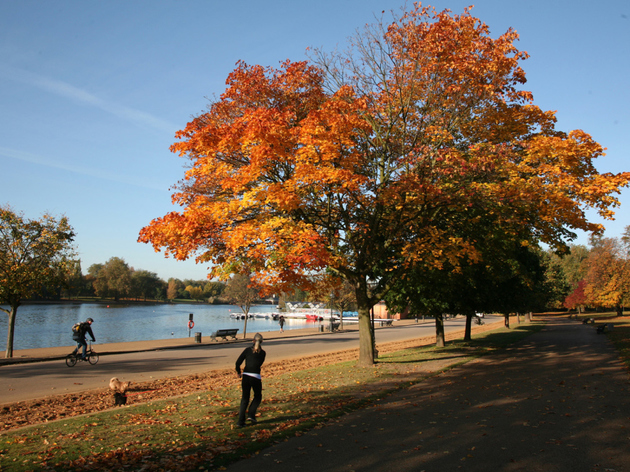 This 350 acre Royal Park is an oasis of arboreal beauty nestled between the tourist crush of Oxford Street and the Henries and Tabithas of Kensington. With over 4,000 trees, your eyes are in for an autumnal treat. Look out for the buttery yellows and firey oranges of the beeches, limes and chestnut trees that line the avenues along the Serpentine. And always remember the official Hyde Park motto: 'Life's a beech, so kiss my ash'.
Eat
London's neverending winter is just around the corner, but fortunately so is a taste of Lebanese sunshine on Edgware Road. There are countless restaurants to choose from, but Beirut Express, Fatoush and Valentino further up the road are good choices for fresh tabbouleh, shawarmas and warming fuul (a fava bean dish with spices and herbs).
Do
Ever tried to stroll calmly through Hyde Park but had your good times ruined by a ponytailed rollerblader in a tank top? Well, you could be that guy, merely by taking a skate class with the folks from www.skatefresh.com.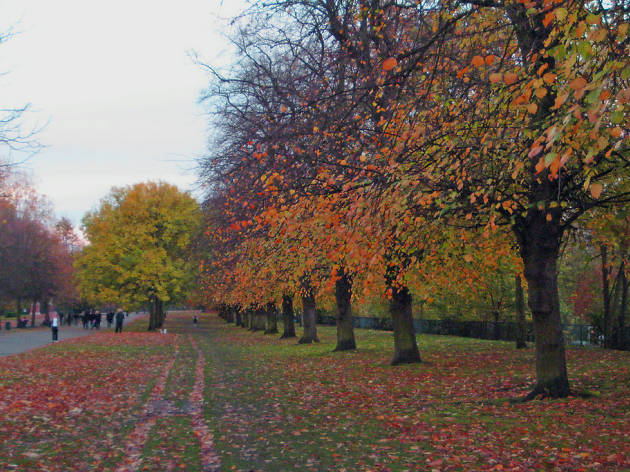 Old Vicky P is home to countless ravers throughout the summer festival season, but calm returns once the temperature starts to drop. The silver birches, planes, oaks and rare purpleleaved Norway maples are all sights to behold. The weeping beech by the pagoda, however, sounds like the worst seaside holiday ever.
The People's Park Tavern may sound like a meeting place for radical, turn-of-thecentury revolutionaries, but Karl Marx never drank here. Which is a shame, because it's a good pub, with its own onsite microbrewery, a selection of gastro-treats and a fine garden facing onto Victoria Park.
Read more
The swooping curves of the Olympic swimming pool finally opened to the public this year which means for a small fee you too can now narrowly miss winning a gold medal, just like Team GB.
Read more
More great activities for the chillier months
Sure, you might need to put a coat on, but there are loads of reasons to leave the house this autumn. Here are 19 events to trade the sofa for.
Read more