Heads up! We're working hard to be accurate – but these are unusual times, so please always check before heading out.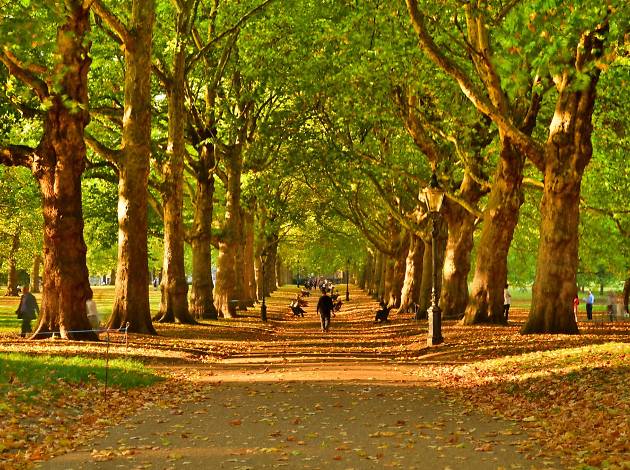 Unmissable events in London this autumn
Chilling out at home won't be an option this autumn when London's events, exhibitions and festivals are this good
Summer may be over, the days are getting shorter, the temperatures colder and rainy days in London are setting in. But London's cultural calendar is just hotting up for autumn. Embrace that back-to-school feeling and plan an awesome autumn in London when there's something to do every day. Hit up the city's brand new restaurants, exciting art shows, fab festivals and ace attractions.
Here's our pick of the best things to do in September, October and November 2019.
Recommended: 101 amazing things to do in London
The best things to do in London this autumn
The public are normally protected from Crystal Palace Park's fearsome concrete dinosaurs by a moat, but brave wannabe paleontologists can take a guided tour around their island for Heritage Open Day. If things get a bit 'Jurassic Park', there are also art workshops and talks held at a safe distance. Alice Saville
After 'Hamilton', this is the Broadway musical smash that we've been anticipating the most keenly. Winner of six 2017 Tony Awards and possessed of a Grammy award-winning pop-rock soundtrack, 'Dear Evan Hansen' follows the eponymous lonely letter-writing teen, who poses as a friend of Connor, a classmate who has committed suicide. It's heavy stuff, but by all accounts powerful and original. Andrzej Lukowski
Baking news: gluten dons Bread Ahead are opening their biggest site yet just a scone's throw away from Wembley Stadium. The space will be home to a massive all-day restaurant and two classrooms if you want to use your loaf and get in the mix. Score! Charlie Allenby
Curious about what goes on inside some of London's most iconic suit-makers? Find out at this new addition to Open House London, at which five of Savile Row's finest tailors will open their doors to the public for a weekend of made-to-measure discovery. Form a line outside Huntsman, Cad & The Dandy, Norton & Sons et al and prepare to be amazed at the creations crafted within. Bespeak when you're bespoken to. Charlie Allenby
I'm a big fan of big flavours, so I'm loving the ongoing trend for Middle Eastern food. I'm looking forward to Bafarat, which will bring Arabic-style coffee (so strong! so good!) to Soho, and the Israeli-influenced Haya in Notting Hill. But I'm most revved-up about Bubala, a veggie joint from a crew that used to work at The Palomar and Berber & Q. Fried aubergine with zhoug and date syrup? Sign me up! Tania Ballantine. Bubala opens September 12.
I reckon Kara Walker is going to be the first artist in a long while to fill the cavernous Tate Modern Turbine Hall and not leave you shrugging. She's known for her stark artworks that explore themes of slavery, race and gender, to mesmerising effect. But she does giant sculptures too, including a huge sphinx made of sugar back in 2014. If her new work comes even close, we'll be in for a serious treat. Eddy Frankel
Shine bright like a diamond at this dazzling immersive light installation. 'Void' is full of projections that seem to blow up the tiny natural patterns inside rubies and emeralds. The sparkler-centred visuals are soundtracked by cut-glass harmonies from NYX, a female-led drone choir. It's going to be a real gem. Alice Saville
Cannes, Toronto… Leytonstone? It might not seem a likely location, but this patch of east London is where Hitchcock was born, which is why it's hosting a weekend-long fest, Leytonstone Loves Film, in collaboration with the Barbican. Catch a showing of 'Grime Waltham Forest' – a documentary about the role of E17 (not the band) in the genre's formative years – or settle in for a screening of Buster Keaton's 'The General', complete with a live score and light show. Charlie Allenby
Faggamuffin Bloc Party, a soundsystem run by queer people of colour, is taking over Hackney's Bohemia Place for an all-day party with live performances and DJ sets from the likes of Karnage and Rhys' Pieces. Alice Saville
After masterfully blending cocktails, risqué acts and sex positivity in 'Divine Proportions', female-led performance collective Shotgun Carousel are back with a luxe new immersive show. 'Red Palace' is a masked ball whose dark corners are stalked by fairytale characters, circus stars and bartenders who'll mix you a stiff drink if your Prince Charming doesn't show up. Alice Saville
Show more
London at its autumnal best...
Grab a scarf and some sturdy leaf-crunching shoes.