Literary London: events and activities for book-lovers
Pull up a chair and get totally engrossed in our guide for London book worms, from beautiful libraries and landmarks to book-based events and literary talks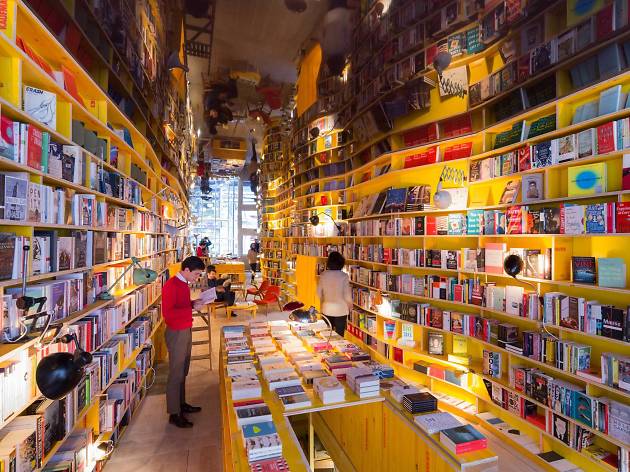 Are you sitting comfortably? Then let us begin our tale of literary London... Actually, it's not really a tale, it's more a one-stop shop for all our favourite book-based things to do in the city. No end, no beginning, just books. From literary landmarks and London's best bookshops, to talks, events and anything else you can shake a hardback at, rummage through our guide to London for book-lovers and go get story hunting.
The Crick Crack Club ressurects its storytelling evenings at The British Museum for a new season named 'Myths Retold', a journey into a world of legends, fairy tales and history designed for adults looking to learn and be entertained all at once. The series opens with 'Solomon & Sheba' hosted by Sally Pomme Clayton, who will offer a dreamy retelling of the union between the Queen of Sheba and King Solomon.
Read more
The London Literature Festival once again fills the Southbank Centre with acclaimed authors, poets, speakers and collaborators for a fortnight of wordy events. Celebrating its eleventh year in 2017, the festival will include live readings, talks and workshops.
Read more
Discover the loveliest libraries in London
These gorgeous libraries have a lot more to offer than just reading material. Come in and explore (quietly).
Read more
Sponsored listing
Tea & Crafting
Like tea? Like craft? You'll definitely like this creative joint in Camden. Since it was set up in 2009 Tea & Craft has been teaching Londoners to knit, sew, crochet, embroider and much more. The classes are offered as one-off, drop-in sessions for beginners, as well as courses for those who want to learn a lot more. All materials are included, so all you have to do is pay and turn up.  So successful are these tea-fuelled workshops, that Tea & Craft now run private sessions, too, for hen parties, baby showers and corporate events, as well as afternoon tea birthday parties.