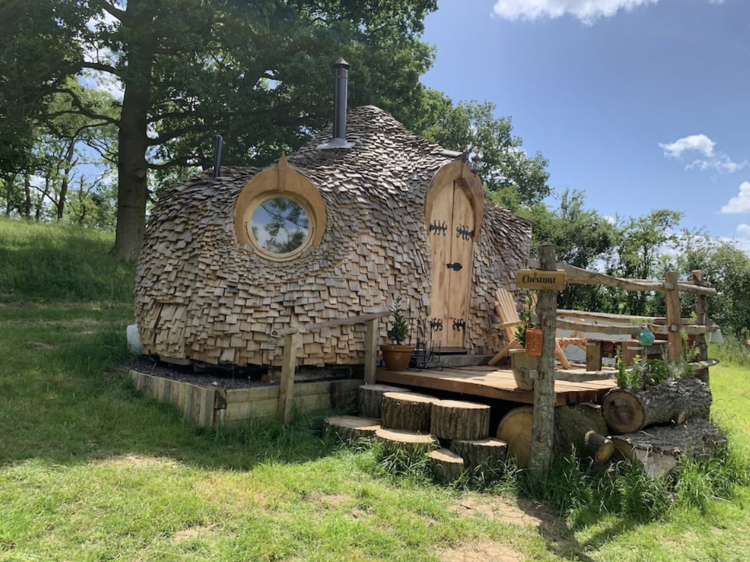 Courtesy: Airbnb
1.

The woodland retreat in Northamptonshire
City life driving you nutty? Go off-grid and detox from chaos in this Chestnut eco-lodge Airbnb retreat in Northamptonshire. Situated in a quiet, woody area of a working farm, the Airbnb is hand-built from sweet chestnut and aims to give you a place to escape and unwind. Small and quaint, it sleeps two people in a double bed and is a great alternative for a romantic trip away from London. It has an ensuite with a compost toilet and heated shower (so you don't have to pee in a bucket), and a gas stove for light cooking and lots of tea. The interior is rustic with a country charm, and the fairy lights strung up make it a very cosy little space. Plus, you'll have use of the log burner to make sure you don't freeze in the good ol' British weather. During the sunnier times of the year, you can make use of the outdoor kitchen, with a gin bar and fire pit BBQ. Bonus: you'll have access to a tiny shepherd's hut with extra lounge space and sofa bed for an additional guest, perfect for your third-wheeling friend.
Beds? One double bed. Sleeps two guests.
The space? A real-life hobbit home featuring an indoor fireplace, cosy amenities and stunning nature – perfect for a weekend getaway.
Location perks? Ideal for those looking to unplug for a weekend as the eco-lodge is off-grid and surrounded by forest and farm life.
Budget range? An affordable retreat for two.