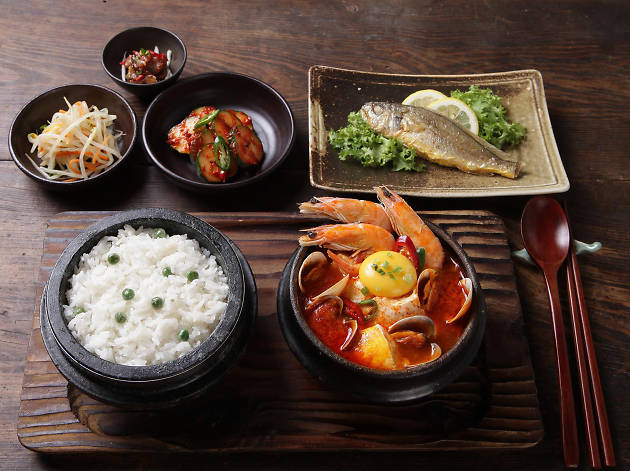 Where to find great late-night food in L.A.
Whether you're at your journey's end or fueling up to keep the party going, here's where you'll find the city's best bites at all hours
Long after most door signs flip to "closed," some of L.A.'s best restaurants are still slinging food for the night owls, stumblers, live-music revelers and insomniacs just looking for a bite or a place to keep the conversation going. Here are nine pro picks for far more than a late-night snack: here you'll find hangover stews, cult-classic breakfast burritos, 24-hour doughnuts and so much more, whether you're winding down your night or just starting it.
The best late-night breakfasts
The only thing better than a hangover breakfast burrito is the preventative one you consume the night before. At Lucky Boy, you can have it both ways with massive, griddled breakfasts in roll form. The famly-owned operation has been slinging these for roughly 40 years, packing each with bacon, chorizo or sausage and home fries and cheddar, served as early as 6am and as late as 2am. Pro tip: There are two Lucky Boy Burgers, but only the spot on Arroyo keeps the lights on this late.
Breakfast is an always food, at least according to Jeremy Fall and any of the breakfast-for-dinner evangelists hitting up Nighthawk for brunchy fare and cocktails. Westsiders and breakfast lovers descend on spiked cereal-milk cocktails, Bloody Mary slushies, honey-espresso sticky buns, duck hashes and Benedict fries until as late as 1am. It's all the best aspects of childhood breakfasts, but all grown up.
Offering old-school diner vibes and enormous breakfasts since 1924, this DTLA spot serves eggs, bacon, sausage, coffee and some of the city's best home fries, 24/7. The full breakfast menu lets you add a mug of coffee for only 85 cents—score!—but in the early afternoon it transitions to a more limited breakfast list, sans the coffee deal. But don't you worry, night owls: Fnd the full spread up and running again at 4am for early risers and all-night ragers. Note: This baby's cash-only, but there's an ATM up front.
Have a sweet tooth?
Sure, you can stop by until 2 or 3am for utilitarian, down-home classics like the country-fried steak swimming in a plate of gravy, but what you're really here for is the namesake: welcome to the house that pie built. Seasonal specials, meringues, custard creams, cheesecakes and Southern staples are all on order at this family-run throwback that's been serving slices and whole pies since 1969.
This cash-only confectionary is one of L.A.'s dessert originators, serving cookie-and-ice-cream sandwiches since before they were trendy. Don't be discouraged by the line, whether you're there at 11am or 1am; it moves quickly, and these treats are more than worth the wait—and at around $2 apiece, they're also one of the best cheap eats in Westwood.
These doughnuts are what Instagram dreams are made of, but make no mistake—they're just as tasty as they are rainbow, cereal-topped and unicorn-shaped. Grab stalwarts like Boston cream or raspberry-filled at this all-day/all-night sweets shop, but if you're here, why not go for a doughnut that's almost too cute to eat? (We said almost.)
24/7 eats
With a beloved bakery, cocktail lounge, full-service restaurant and some of the finest neon along Fairfax, Canter's is as iconic as they come. This classic Jewish deli has sold more than 24 million bowls of chicken soup, more than 10 million pounds of corned beef and more than 10 million matzo balls in its 85-plus years on Fairfax. The best part? It's open 24 hours a day with a full menu, for all your stacked-deli-sandwich or lox-n-bagel needs. Don't even think about leaving without a black-and-white cookie.
K-town is home to some choice 24-hour hideouts, but the definitive move after a long night of karaoke and soju is BCD, where you'll stumble in for enormous, bubbling bowls of spicy soon ("soft") tofu stew. Along with the top-notch people-watching at all times of night—especially at that location on Wilshire—it offers dumplings, whole fish and sizzling bulgogi. Can't decide? The combo plates help soak up tonight's booze—and ward off tomorrow's hangover.
One of DTLA's swankiest spots to sleep also houses a red-eyed food retreat. Visitors and locals dig the Standard hotel's mod decor and rooftop pool parties, but when even its own bars start stacking chairs on tables, they head to the 24/7 Restaurant for organic comfort food, be it steak and eggs; smothered nachos; hot wings; and ice cream sandwiches, or lighter bites like Maine lobster toast with citrus aioli.
Stayed up so late that it's morning?
Breakfast is the meal that launched a thousand trends: bacon, acai bowls, toast, brunch. If you're looking for a spot for a pre-work meeting, or just need a strong cup of coffee before you start a long day, here are our picks for the best breakfast restaurants in the city.
Best selling Time Out Offers