Heads up! We're working hard to be accurate – but these are unusual times, so please always check before heading out.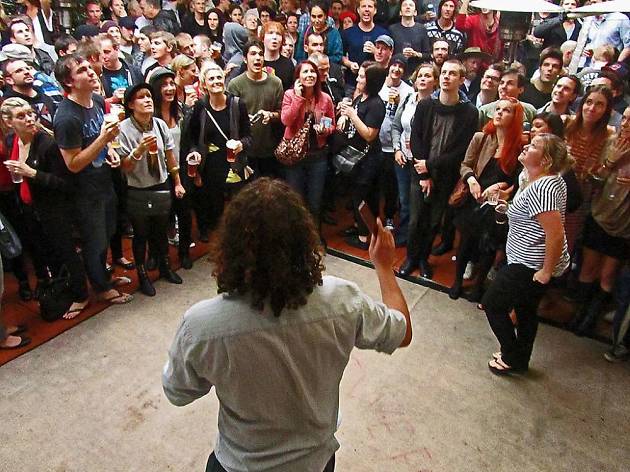 How and where to play two-up on ANZAC Day in Melbourne
After honouring the Diggers at an ANZAC Day service, head to the local ale-house for the fine Aussie tradition of two-up
A true-blue Aussie tradition, the gambling game of two-up is only legal in Melbourne on ANZAC Day. Brought over to Australia as 'pitch and toss' by the English and Irish, it was rife through the gold rush days and equally popular with soldiers during World War I. As a result, it's become synonymous with April 25, during which pubs and RSL clubs across the country host games.
How to play two-up, trad-style
1. Two coins are placed on a paddle (kip) by the 'spinner'. You and fellow punters will need to surround them and commence bellowing things like "tennahead!" (read: I want to bet $10 on both coins landing heads up).
2. Want to take that bet? Lock eyes and vigorously wave your ten dollars in the head-better's direction, then give them your cash if they accept (heads holds the money).
3. The boxer (referee) yells 'come in spinner', to cease bet-making whereupon the coins are flicked in the air. They have to reach higher than the spinner's head and fall within the circle to count as valid toss. If it's heads, you lost. Tails? You won! One of each? The spinner keeps tossing till there's a result.
4. Celebrate/console yourself with beer. Repeat.
Watch the footy here
Melbourne is a city that really knows how to do pubs. From beer halls with more than 50 craft beer taps to cozy locals with a great fireplace, there's a pub for every occasion.