Amex Eats: Curries that Melbourne spice fans need to try
Fiery hot or comfortingly creamy, doused over fried chicken or meat-free, there's a curry out there for you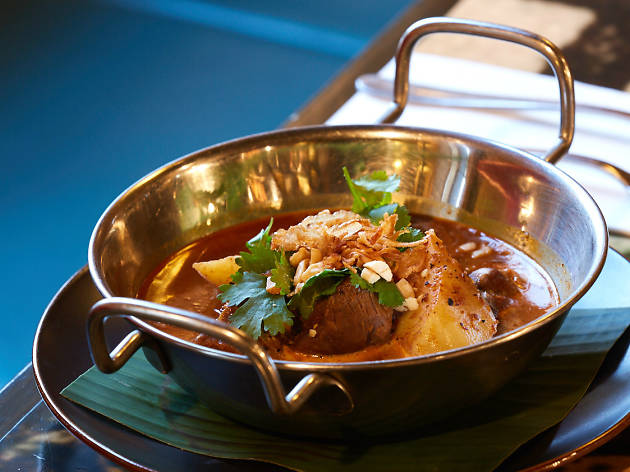 A dish born in the Indian subcontinent, curry has been adopted and adapted by many cuisines, from Thailand to Malaysia and Japan-via-Britain, with each culture applying their own configuration of herbs, spices and fresh ingredients to create something entirely new.
Next time you're hankering for a serving of saag aloo, massaman or goan barramundi curry, hit up one of these restaurants around town. And after you've used your naan to mop up every last drop, you can pay in confidence knowing these venues welcome American Express.
Grab your mates and book in for a boozy lunch at the cheap and (very) cheerful Mukka Indian in Fitzroy. The place is decorated like a Bollywood wedding scene, the food is hearty, and they practically insist on adding a shot of rum to your mango lassi. Whilst you can't go past their much-hyped butter chicken, we are actually pretty blown away by their bharta, their spicy eggplant curry. Charred eggplant is mashed into a rough paste, and then mixed through with peas, onion, and tomato. It's soft, gooey and smoky; the Indian answer to babaganoush. Dollop with raita, and wrap it all up in garlic naan.
Magic Mountain Saloon on Melbourne's Little Collins Street is a punchy Asian fusion restaurant that hates the term 'Asian fusion'. Despite their protestations, the sticky Chinese influence is brilliant – we loved the braised pork belly with dry red curry. With more paste than the standard soupy format, this curry throws in green beans, potato and peanuts for a creamy, nutty finish. Be warned, it's hefty – so share between two with a fresh orange, coriander and fennel salad to balance out the richness.
Head to Jerry Mai's mod-Viet diner at the top end of the city for a fragrant bowl of chicken curry – soft hunks of Milawa bird with baby corn, eggplant and chillies. Rice comes with every curry, but we'd recommend turning your visit into a meal with a serve of Hanoi school prawn fritters, where getting your hands dirty is just part of the fun.
Suburban restaurants really bring the goods when it comes to authentic, home-style Indian food. Marigold is Clifton Hill's worst-kept secret and is always busy with locals dragging their friends along for the best curries north of the river. Try the saag aloo – a chunky potato curry with spinach, cumin and cream. It might not be as jazzy as some of the spicier favourites, but it's a milder, more understated option that's addictive. The warm and creamy potatoes are begging for a cheese naan on the side ($4.20), and after that? You're going to need a little lie down.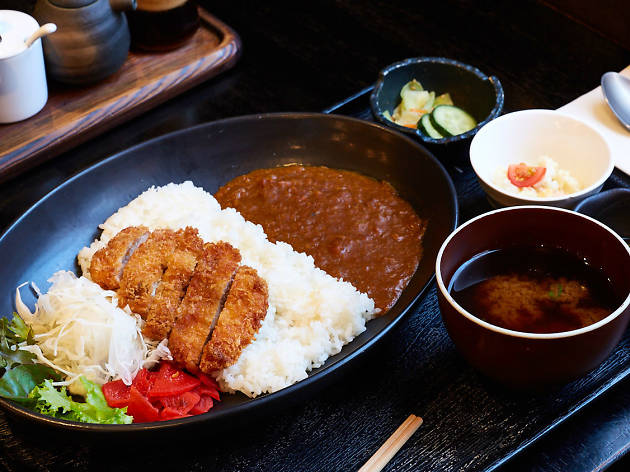 Photograph: Cameron Cooke
Chicken katsu curry set at Gypsy and Pig
If you've got an hour in the city for lunch, go get yourself a chicken katsu curry set at Gypsy and Pig on Little Lonsdale Street. The tiny Japanese eatery has one of the best sets in town: sliced golden panko-crumbed chicken breast, rice and a thick, traditional tonkatsu curry sauce. It's served with miso soup, salad and pickled vegetables, and is just the right amount to put you into a post-lunch food coma. It's Asian comfort food at its best.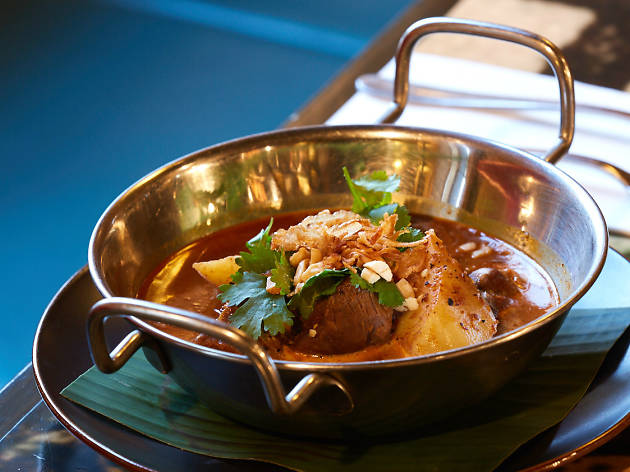 Photograph: Cameron Cooke
Massaman kae curry at Village People Hawker Food Hall
The cavernous building up the city end of Brunswick Street is home to a couple of spaces (Ichi Ni Nana, Upside Rooftop Bar) but for a zingy Asian feed, head to level two: Village People Hawker Food Hall. The spicy, Malaysian-influenced menu will blow your socks off, but their massaman kae curry is one of the milder exceptions. The coconut-braised lamb is fall-apart-on-your-fork soft, and the kipfler potatoes and baby onions give the dish a comforting, Mum's-casserole feel. Soak up the creamy curry sauce with some roti bread for maximum effect.
If you are seeking a curry that is less Sunday-night takeaway and more fancy anniversary dinner, look no further than restaurant Tonka on Duckboard Place, CBD. Their Goan barramundi curry is a rich red curry dish served with padron peppers, school prawns and dill, and is the freshest take on Indian food you may ever try. The sauce is thick and heavy with garam masala and coconut – you'll be licking your fork for more. And for goodness' sake, don't leave without trying their cheeky Indian mashup of charred roti with burrata and fresh coriander relish.
At French-Vietnamese restaurant Coda, you can have your half-dozen oysters with your cocktail, but you can also dig into some street-style rice paper rolls at the same time. Their yellow curry with roasted duck is one of the best examples: sections of crisp duck are served up with crisp taro chips to mop up the sauce. It's aromatic and nuanced with Asian spices, whilst still being smooth enough to match the softer flavours of the roasted duck. Cut through the saltiness with a side of Coda 'slaw – a fresh mix of wombok, carrot, hot mint and red cabbage.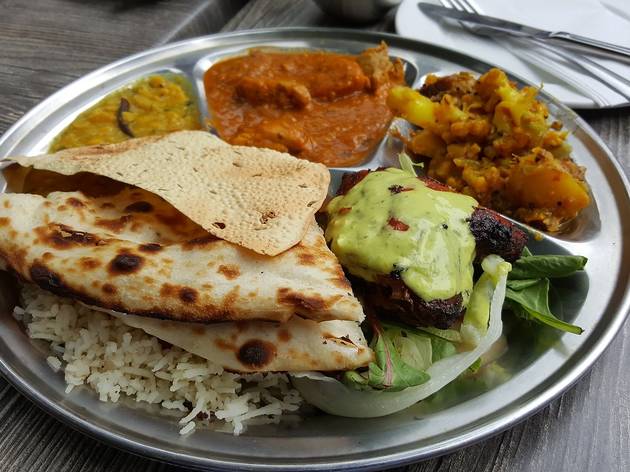 Photograph: Creative Commons
There's something about the medley of paneer cheese, potato, dried fruits and curry sauce that just works. Don't believe us? Then go to Bedi's Restaurant in South Melbourne and order the vegetarian malai kofta. You'll find that it's smooth, rich and perfectly mopped up with a side of garlic naan. And while we're here, Bedi's has the best garlic naan on this side of the equator. Don't believe that either? Then picture fluffy, buttery naan in servings the size of small hula hoops. And that's enough convincing. Just go to Bedi's and you'll have a good time.
To be fair, the waitress did warn us. Several times. The Portuguese Devil Chicken Curry may come with a fierce reputation, but it's hands down the best curry on the menu at Hawker Hall. Chicken thigh and potatoes are stewed with a mustard seed sauce, curry and coriander, and packed heavy with fresh and dried chilli. It's spicy, but nothing a cucumber, mint and coconut yogurt salad ($10.50) can't soothe. This is quite a small dish, so don't think you're going to share – but given it packs quite the punch, your date might not want to.
Explore the many ways American Express has your back