CBD lunch guide: Cheap eats
You want something cheap, fast and tasty to fuel you up for your arvo meetings? We've got you covered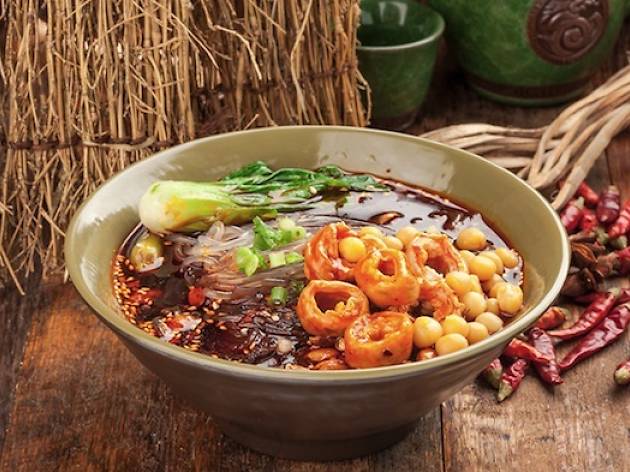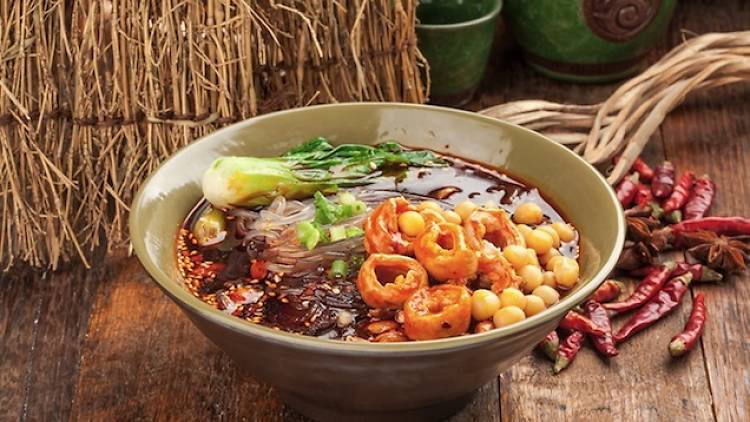 Sometimes a brown bag packed with last night's leftovers isn't what you're feeling at midday. But never fear, we've compiled a list of Melbourne's best cheap lunches you can swap out for your meal stashed in the communal fridge without going over schedule or breaking the bank.
If you're not in the CBD, check out our guide to Melbourne's best lunches, or make it easy with our round-up of Melbourne's best burgers.
Cheap eats in the CBD
3
The xiao long bao was a dumpling of mystery and perpetrator of many burnt tongues when this dumpling house first quietly opened up in 2010, but four venues later, it has secured its place as a leader in delivering perfect XLBs and other Shanghainese favourites. Don't overlook cold dishes to start for something different and refreshing. Large groups welcome.
Read more
4
Spice lovers, rejoice! Dainty Sichuan now comes in a neat and tidy (but just as spicy) format, specialising in rice noodles cooked in the clay pot the dish is served in. Choose from broths rich with pickled mustard greens, heavy with dried chillies or mild, double chicken stock accompanied by duck, beef, pork, chicken or offal. Just make sure you're not wearing a white shirt on your visit.
Read more
5
Craft is important to Japanese cuisine, so when Shimbashi started serving bowls of its soba back in 2012, it changed the soba game entirely. Tasmanian buckwheat groats are milled before service each day and hand cut to make every serving of cold, dipping soba or hot, soupy soba. Sides like gyoza, sliced ox tongue or sashimi are available to beef up your order, but at Shimbashi, simplicity is key.
Read more
6
Say goodbye to those dodgy dollar slices near the station – SPQR offers a slice and a tinnie for $10 any day of the week. The pizza itself is woodfired, and the dough is a true sourdough that has been fermenting for 24 hours. Toppings are as minimalist and perfect as a margherita or updated with 'nduja and stracciatella. If you have the time, sit down with a whole pizza and tuck into the salads.
Book now
Read more
7
Its ultimate claim is being open 24 hours, but the quality here doesn't slip at any hour. In fact, this is the perfect no-frills venue, where you can put away a burger made with cuts of aged beef, snack on skewers cooked yakitori style, cut into a leg of crisp, confit duck or chew on a falafel salad with your top button undone. The time-poor can even get any item takeaway or peruse Butchers Diner's all-vegan vending machine out front.
Read more
8
Melburnians are no strangers to dining in unusual places, so it's no wonder some of the best Thai noodles can be found in a car park off Bourke Street for just $10 a bowl. Pick your desired noodle, toppings and choice of a boat noodle or tom yum broth, and you're in business. Upgrade to a large bowl for an extra $5 and don't forget to adjust your seasonings with the condiment caddies on the table.
Read more
9
The Grossis aren't just about fine dining and wine bars; they've just opened up their new pezzo bar, designed for feeding people who need a delicious and cheap option while taking a short break from work. What is a pezzo, exactly? It's a baked pocket made of 48-hour fermented pizza dough stuffed with an array of Italian fillings. Coeliacs won't miss out, as gluten-free bread is available. Meatballs drenched in sugo are a standing favourite, but the eggplant parma is not to be overlooked. Snacks such as giardiniera (pickles) and sides like panzanella upgrade the sandwich to a meal.
Read more
10
There's a reason this CBD venue won the Bang for Buck category in our Food Awards in 2013 – top-notch dumplings and efficient service are definitely worth the visit. The boiled mackerel dumplings have become an unlikely signature, with their subtle flavour and mousse-like filling, but ShanDong MaMa's ability to churn out bowls of hand-pulled noodles, knots of spring onion pancakes and lightly tossed sweet-and-sour cabbage salads makes this a CBD must.
Read more
11
Good ramen is easy to find these days, but a good tsukemen isn't. Mugen's house-made ramen noodles have the best texture of all that we've tried, but it's the thick, umami-laden pork broth that you dip the cold noodles into that makes Mugen unbeatable. Chose from wafu (dashi and soy), curry or sesame flavour, or grab a bowl of ramen in soup. At lunch time, special dishes like a fried, panko-crusted pork cutlet with curry sauce or a teriyaki salmon fillet paired with rice, soup and salad make a meal for those who aren't in the mood to slurp.
Read more
More of Melbourne's best meals
It's lunch o'clock in Melbourne CBD and you need some food, stat. Make your midday meal a deadset winner every day of the working week with our handy guide.
Read more