Rooftop dining in Melbourne
Dine like you're king of the castle at Melbourne's best rooftop eateries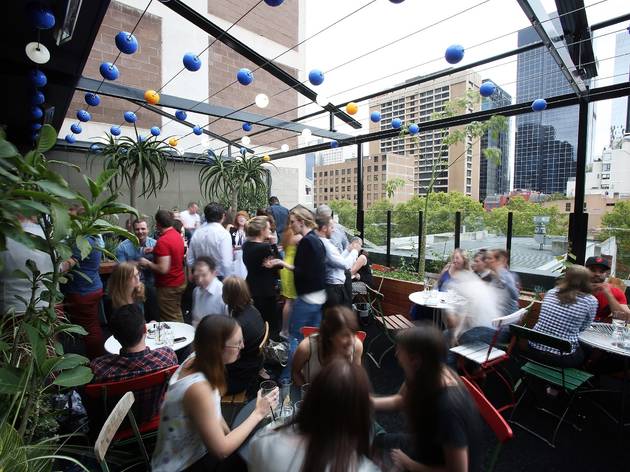 Rooftop bars are swell and all, but there's more than one way to lord it from lofty heights. We say round up a hungry squad, book a table and enjoy a heightened dining experience sans ceiling. The sky's your limit, so get out and under it. For more outdoors eating, check out our guide to Melbourne's best beer gardens.
Eat on a rooftop in Melbourne
The rooftop is open from 3pm til late seven days per week, which means it's game on for dinner on the open-air summit of this Spanish restaurant and bar. Choose from tapas such as chorizo sliders, duck liver parfait with housemade brioche, and lamb pinchos with yoghurt and paprika; or share a plate of Spanish cheese.
It's not all cocktails in the dark – ascend to the summit of Campari House on a clear day and enjoy a clear-headed lunch of salumi boards, pizza and antipasti. From Mon-Thu between noon-3pm they do an 'espresso lunch': choose from a selection of mains and they'll include a glass of house wine, beer or coffee with your meal – all for $18.
Not just a pretty face (and view), CB offers substance in its sustenance, with a neat menu of Asian-inspired eats: snacks like mussel popcorn or scallop and shiitake dumplings ; do-it-yourself buns, tacos and pancakes; and larger share plates with piles of roasted wagyu beef or sticky pork belly with brown rice. Got a crew of four or more? For $55 each you can try five of the chef's faves with the Baxter Banquet.
Tacos are the name of the game here and there's not much to confuse your choice: it's a succinct and straightforward menu of handmade soft corn tortilla tacos, done six ways, and for $23 you can choose four of them. If you're not feeling those spicy pockets of Mexi-joy, you can always dip into a bowl of fire-roasted salsa, made-to-order guacamole, or corn off the cob with lime, chipotle crema, queso and optional chicken.
The same menu is available across all three floors of this lovingly-restored old boozer. They've got English pub fare down pat: fish comes with leeks, peas, mint and garlic; scotch fillet with bread, butter and pickles; and chicken Kiev with green beans and mustard. There's even baked custard with rhubarb crumble to finish.
If you're looking for comfort food done well, you've come to the right place. You'll find pub staples like pie floaters, bangers and mash, and steak, eggs and chips, but it's all in the jazzed-up details: chips are handcut; ketchup is housemade; parmy is panko-crusted and bangers are a pork-fennel-rosemary number.
Their full a la carte menu is available on the rooftop level too, so you can enjoy dining room dishes like watercress risotto with ricotta, pea shoots and pecorino; and abbacchio of baby goat, sugo, Mt Zero olives, braised peppers and ricotta salata, in the open air beneath a giant umbrella on the sprawling sunny terrace.
More rooftop fun in Melbourne
Whether you're after beers and sun or moonlight and cocktails, these high altitude drinking spots are well worth the climb.