The best dumplings in Melbourne
Can't get enough dumplings, Melbourne? Steamed, boiled or fried, we don't discriminate.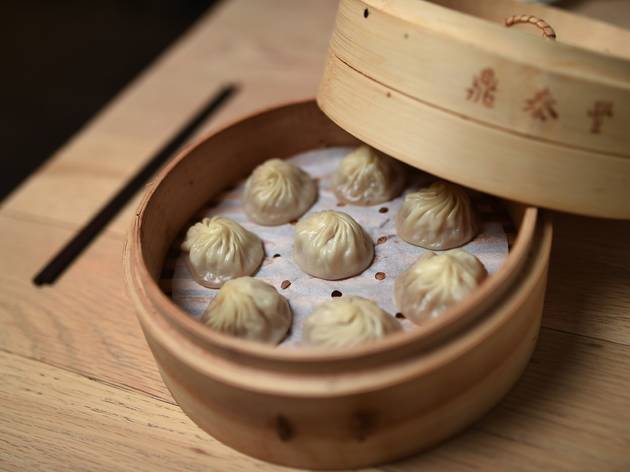 Whoever coined the phrase "the best things come in small packages" had definitely just eaten a plate of dumplings. Luckily for us, this city does a fine line in dim sum: here are the best dumpling houses in Melbourne.
While we're on a related topic, you may also want to check out our top picks for Melbourne's best Chinese restaurants or go for a digestif in one of Chinatown's best bars while your dim sum settles.
Get your dumplings here
Here it is all about the fish dumplings – they might not be the most beautiful dumplings you've ever eaten, but they have some serious Chinese pedigree behind them. These little, tasty parcels are all handmade, and the filling features plenty of fragrant ginger and coriander root.
The fight for parking is worse than Chadstone Shopping Centre on Christmas Eve, and hordes of multi-generational families can be seen streaming through the door of this popular yum cha joint. Join them for ha gow (prawn dumplings) and siu mai (pork dumplings) with spicy XO sauce. Just eat up quick on the weekends as seatings only run for 50 mintues long.
The fastest and slickest yum cha operation is definitely at Secret Kitchen. The staple yum cha is grounded in its roots, not messing with traditional flavours. But for the more adventurous, mushroom buns get an addition of truffle, some siu mai varieties are mixed with a house XO sauce, and rolled rice noodles also come stuffed with a fried prawn mixture. Just don't forget to book.
This is the affordable version of Flower Drum. Run by Gilbert Lau's experienced offspring, it serves Cantonese food in a small, sophisticated space. Sui mai come traditional or doctored in a seafood version that contain a springy, briney mousse of scallops. Do yourself a favour and order them.
Shanghai Street is the fifth branch of the group and it is bigger and fancier than all its predecessors. Don't expect a slap-dash serving of grease-filled dumplings and thick skins; the classic xiao long bao is expertly made with high-quality ingredients and is a must-order here. Even better are the fluffy shen jian bao, which are like the XLB's hotter, crispier, more put together cousin.
Expect Din Tai Fung's signature crowd-pleasers: the glass-enclosed dumpling kitchen, xiao long bao, rainbow-bright Dumpling Gems in seven flavours, and chefs who operate with a Heston-like fanaticism for detail.
The unwavering attention to detail at Flower Drum is a carefully choreographed dance, which some of its staff have been perfecting for 20-plus years. The seafood soup dumpling here is an exercise in luxury – one large dumpling loosely encasing a mixture of mud crab, scallop, prawn, woodear mushrooms and chopped bamboo suspended in a rich, superior chicken broth is likely to change your perception of what a dumpling is.
After all the Baz Luhrmann opening night hooplah died down, Emporium has proven to be a shopping centre, no more and no less. Save in one important respect: the schmick food court. Take a break from shopping and stop in for a plate of plump, sweet and nutty prawn wontons smothered in chilli oil. It might just give you enough energy to tackle Uniqlo.
David Zhou's formal Chinese restaurant has had a make-under. Gone are the plush banquettes and novelty lamps, replaced with distressed school chairs, share tables, and a pristine white-wash paint-job. Your placemat is the menu, and the restaurant is spruiking regional-style share dishes.
Until Tora Dumplings arrived on Brunswick Street, we didn't realise that Fitzroy had been missing a dedicated dumpling house for years. The menu at Tora is short by dumpling house standards, but those in the know head straight for the house specialities, signified by the tiger logo next to the menu item. Do yourself a favour and order the pork-and-prawn wonton dumplings with a peanut-and-sesame sauce. The sauce is more like a smooth, slightly spicy satay than tahini, and it coats the boiled wonton skins in a velvety nutty drizzle.
The Shanghai Dumpling House has been a part of the Chinatown culinary scene since, well, forever. Don't let the near-inevitable queue put you off – things move quickly. Within 10 or so minutes, you'll be presented with all the dumplings you can eat.
At OTH it's all about the cha (tea). The food selection is moderate, and except on weekends it's tray service, but the ha gow are sweet, the Peking duck is on the money, and the tea offering is the second to none. Try the rich duck dumplings countered by a fat-busting Irn Buddha oolong brew.
Tai Pan has an atmosphere that is part street market and part riot. Seating 250 at a time in three packed sittings, it's loud and fast. Every flavour of fried rice noodle, jellyfish salad and dumpling is on the trolleys; we recommend eavesdropping, or hell, just pointing to the larger range of off-menu dishes being ordered by the Cantonese locals.

If you're heading to Tim Ho Wan, go the traditional route. The old-school dumplings come in the form of the arrestingly translucent casings containing a wealth of garlicky spinach and some shyly hiding shrimp meat (we say nix the prawn and give it to the vegetarians). The star of the show is the signature baked barbecue pork buns. You can thank us later.
More of Melbourne's best meals
Nothing says long weekend lunches quite like a yum cha session. Pick through steaming baskets of xiao long bao, rice noodles and more at Melbourne's best yum cha joints.