The best dumplings in Melbourne
Can't get enough dumplings, Melbourne? Get a bamboo steamer full of happiness at these Melbourne dumpling dens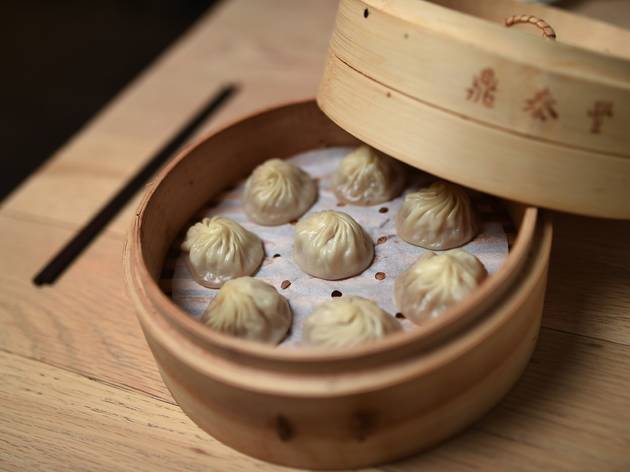 Whoever coined the phrase "the best things come in small packages" had definitely just eaten a bowl of dumplings. Luckily for us, this city does a fine line in dim sum: here are the best dumpling houses in Melbourne.
While we're on a related topic, you may also want to check out our top picks for Melbourne's best Chinese restaurants or go for an apperitif in one of Chinatown's best bars while your dim sum settles.
Get your dumplings here
1
Here it is all about the fish dumplings – they may not be the most beautiful dumpling you've ever eaten, but they have some serious Chinese pedigree behind them. These little, tasty parcels are all handmade and the filling features plenty of fragrant ginger and coriander root.
Read more
2
If you're heading to Tim Ho Wan, go the traditional route. The old-school dumplings come in the form of the arrestingly translucent casings containing a wealth of garlicky spinach and some shyly hiding shrimp meat (we say nix the prawn and give it to the vegetarians).
Read more
3
Expect Din Tai Fung's signature crowd-pleasers: the glass-enclosed dumpling kitchen, xiao long bao, rainbow-bright Dumpling Gems in seven flavours (pictured) and chefs who operate with a Heston-like fanaticism for detail.
Read more
4
This Sichuan kitchen from the Hutong Group doesn't stint on chilli or garlic. If you love your food on the hot side, you'll be in heaven; if you fear the chilli sweats, risk the waiters' scorn and ask for a more mild take on the signature dishes.
Read more
7
Until Tora Dumplings arrived on Brunswick Street, we didn't realise that Fitzroy had been missing a dedicated dumpling house for years. The menu at Tora is short by dumpling house standards but those in the know head straight for the house specialities, signified by the tiger logo next to the menu item. Do yourself a favour and order the pork and prawn wonton dumplings with a peanut and sesame sauce. The sauce is more like a smooth, slightly spicy satay than tahini, and coats the boiled wonton skins in a velvety nutty drizzle.
Read more
8
The Shanghai Dumpling House has been a part of the Chinatown culinary scene since, well, forever. Don't let the near-inevitable queue put you off – things move quickly. Within 10 or so minutes, you'll be presented with all the dumplings you can eat.
Read more
9
At OTH it's all about the cha (tea). The food selection is moderate, and except on weekends it's tray service, but the ha gow are sweet, the Peking duck is on the money, and the tea offering is the second to none. Try the rich duck dumplings countered by a fat-busting Irn Buddha oolong brew.
Read more
10
The fight for parking is worse than Chadstone Shopping Centre on Christmas Eve and hordes of multi-generational families can be seen streaming through the door of this popular yum cha joint. Join them for ha gow (prawn dumplings) and siu mai (pork dumplings) with spicy XO sauce.
Read more
Show more
More of Melbourne's best meals
Nothing says long weekend lunches quite like a yum cha session. Pick through steaming baskets of xiao long bao, rice noodles and more at Melbourne's best yum cha joints.
Read more