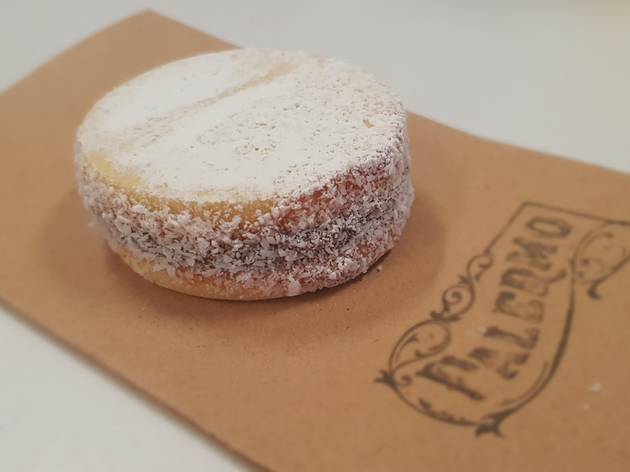 The best things we tasted this week
The Time Out team share their favourite dishes, snacks and drinks from the last seven days
This probably comes as no surprise, but we're unquestionably here for the snacks at Time Out HQ. The editorial team eats out near constantly in our quest to uncover the best dining in the city and add them to your to-do list. Melbourne is lucky to have some of the greatest dining options in the world, from cheap and cheerful lunch specials to the kind of high-end dining that requires black tie. For a snapshot of what's on our plates over the last seven days, from time-honoured favourites to new offerings on the block, here is our list of the best things we ate last week.
RECOMMENDED: Check out Melbourne's latest outdoor dining precincts.
The best things we tasted this week
Cass Knowlton, editorial director
Everyone knows you go to barbecue temple Fancy Hank's for the smoked pork, 14-hour smoked brisket or fiery chicken wings, right? Right. But I go to Fancy Hank's at least in large part for the cornbread, which is made with chicken schmaltz (fat, ie the flavourful bit) and just enough sweetness to balance the tart, slightly vinegary apple on top. It comes with smoked apple cream cheese, which melts slightly into the nooks and crannies of the cornbread. The cornbread is of course toasted, which means a textural contrast between crisp outer and crumby, fall-apart middle. The perfect bite, of course, includes a bit of both textures, a fair wallop of cream cheese and a slice of that acidic apple. It's the perfect accompaniment to the smoked brisket, but it also makes the perfect snack with a beer while you're deciding what meat to go with. Or order two – you won't regret it.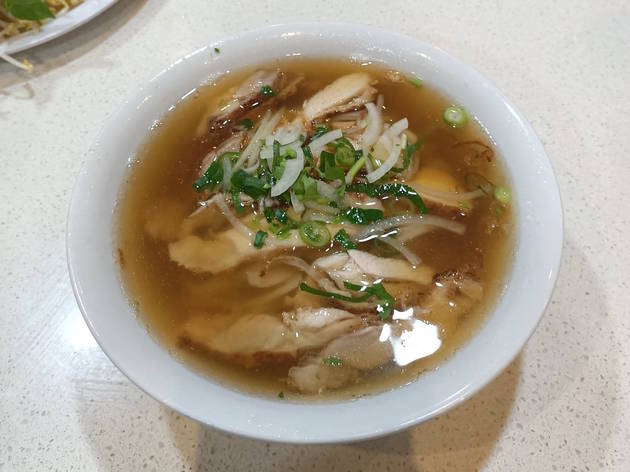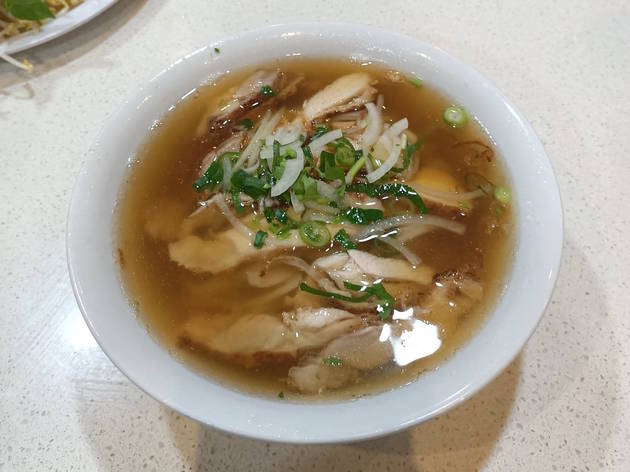 Photograph: Supplied/Rushani Epa
Chicken pho at Pho Hung Vuong Saigon Restaurant
Rushani Epa, Melbourne food and drink editor
I've had a hankering for a hot bowl of phở for the majority of lockdown, and my attempts to make it at home could never match the labour of love at Footscray's Pho Hung Vuong. A small bowl is always enough to satiate my interminable hunger and that's saying something. My go-to is the grilled chicken phở that arrives at the table swishing around with hearty chicken broth, layered with long and chewy rice noodles, tender slices of grilled chicken - its skin browned with a layer of crunch, topped with zingy pieces of white onion and spring onion. A plate of fresh bean shoots, Thai basil, quartered lime and sliced up chilli accompany the bowl and invite you to spruik it as you desire. I taste first and adjust accordingly, but a dash of hoisin can always go a long way. Not to mention throwing the entirety of the chilli into my bowl and experiencing a coughing fit as I bite into each and every one of them. It's worth it every time.
Rebecca Russo, Melbourne editor
Of the many things I missed while in lockdown I never thought it would be my occasional (OK weekly) banh mi. The Time Out office is located right in the CBD, so naturally, we're tempted to eat lunch out all the time. It's even more tempting when you have access to Jerry Mai's much-loved, Vietnamese street food restaurant Phở Nom within spitting distance. After months of working from home, I made the pilgrimage back to the city and worked from our office last week and got a tofu banh mi for lunch. It was exactly like I remembered: thick white roll, generous spread of pâté and butter, crisp tofu squares, pickled carrot, fresh cucumber, spring onion and sprigs of coriander. I loaded up on chilli and it rocked. Definitely needed like three more.
Nicola Dowse, Melbourne Arts Editor
If you're even dining at Palermo, it's hard not to fill up on the tender, smokey grilled meats from the parrilla. It's well worth leaving a smidgen of room, however, to end your meal with one of the restaurant's alfajores, a traditional South American sweet. The light and crumbly shortbread cookies aren't too sweet – which is important to balance the smooth dulce de leche that sandwiches them together. The dessert is finished by rolling the sides in coconut and dusting with icing sugar. Even if you're too full after your main, it's always worth asking if you can order some alfajores to take home.
Here's where to eat on Christmas Day
This year's Christmas on December 25 will mark a time for us to share our joy with loved ones after spending a chunk of the year in isolation. In this case that can also include cosying up to a roast turkey or steamed xiao long bao at one of our favourite restaurants. These city restaurants, bars and cafés are opening their doors to share in the Christmas spirit, and we've included information on how you can join them.
Still need to get a gift or two? These are some great last-minute Christmas present ideas. Need something to do this silly season? Melbourne has plenty of festive events to yule-tide you over.
Best selling Time Out Offers