The best things we tasted this week
The Time Out team share their favourite dishes, snacks and drinks from the last seven days
This probably comes as no surprise, but we're unquestionably here for the snacks at Time Out HQ. The editorial team eats out near constantly in our quest to uncover the best dining in the city and add them to your to-do list. Melbourne is lucky to have some of the greatest dining options in the world, from cheap and cheerful lunch specials to the kind of high-end dining that requires black tie. For a snapshot of what's on our plates over the last seven days, from time-honoured favourites to new offerings on the block, here is our list of the best things we ate last week.
RECOMMENDED: Check out Melbourne's latest outdoor dining precincts.
The best things we tasted this week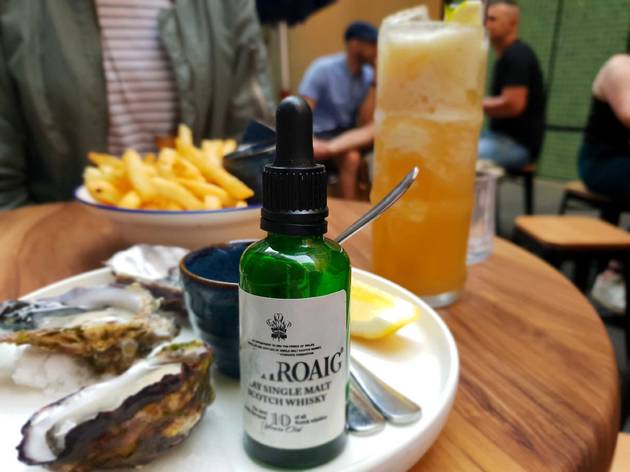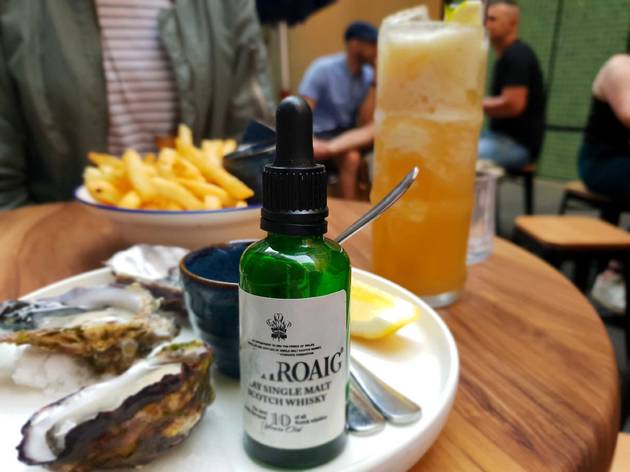 Photograph: Cassidy Knowlton
Sydney Rock oysters at Beneath Driver Lane
Cass Knowlton, editorial director
My favourite Melbourne Bar, Beneath Driver Lane, has emerged from its basement home to take over a large part of Driver Lane itself during the summer (so perhaps it should be called On Driver Lane?). The basement bar is still open for limited numbers, but the laneway is the perfect spot for summer alfresco dining and drinking. The upstairs menu is new and more limited, but luckily the freshly shucked Sydney Rock oysters are as fresh and delicious as ever. They come with a small pipette of Laphroaig, a lemon cheek and a housemade shallot vinaigrette. The smokiness of the whisky marries perfectly with the briny oysters, but the acid in the vinaigrette is also perfect for mixing with the creaminess of oysters in their prime. Luckily you can get three, six or a dozen to play alchemist with toppings. I washed it down with BDL's version of a grown-up Piña Colada, with the sweetness of pineapple and coconut married with a smoky whisky instead of the traditional rum for a slightly less sweet, beautifully balanced cocktail. Delicious.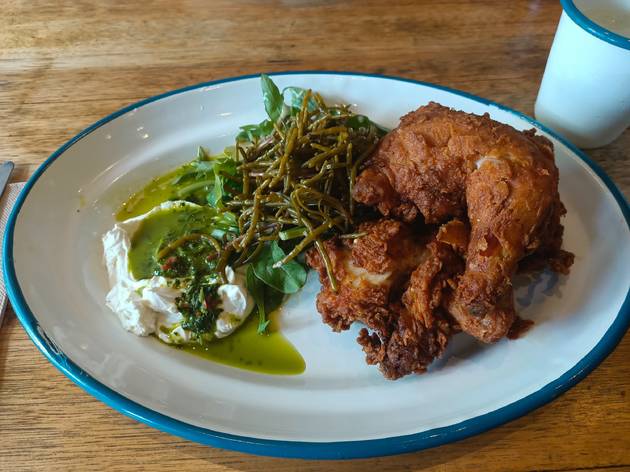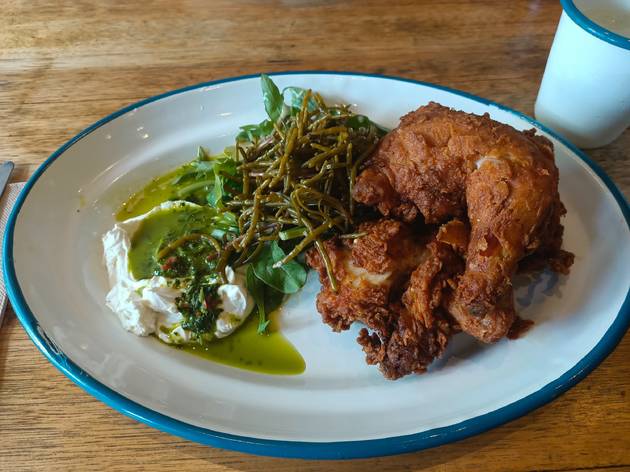 Photograph: Rushani Epa
Island fried poussin at Mabu Mabu
Rebecca Russo, Melbourne editor
The brunch menu at Mabu Mabu is incredible and choosing one good thing to highlight (let alone eat) was a struggle. But, it's my job, so here goes: get the fried poussin. Poussin is butcher speak for a young chicken so what we have here is basically fried chicken, but with a Torres Strait Islander twist. The bird is prepared with the café's signature marinade and served with pickled greens (karkalla and samphire) which balances against the green goddess dressing (made with native herbs) and yoghurt. We also tried the hearty kangaroo tail bourguignon which is served with the team's house-made damper. Both were terrific.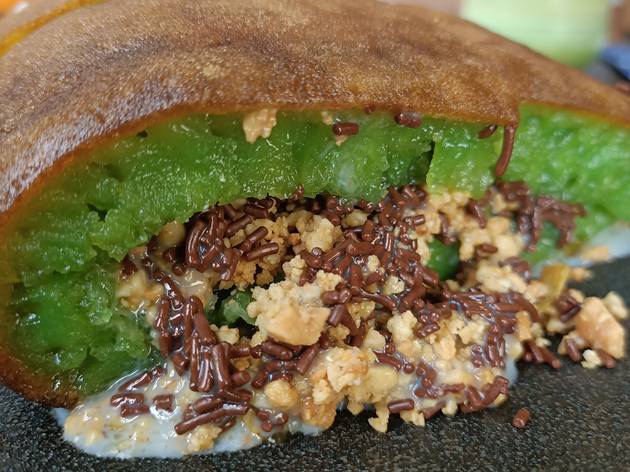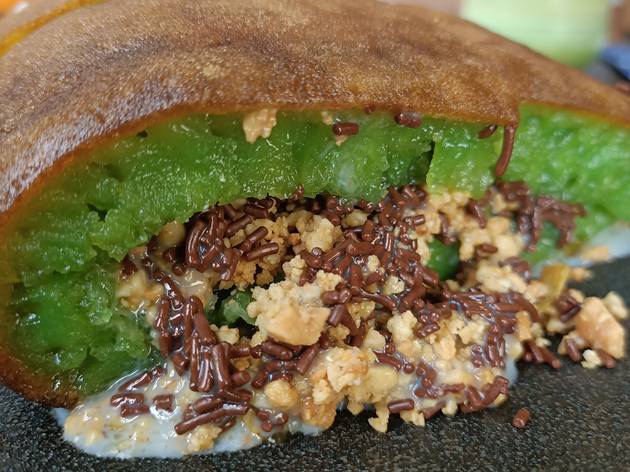 Photograph: Rushani Epa
Rushani Epa, Melbourne food and drink editor

Over the weekend I visited
Yoi
, a family-owned Indonesian venue. Nothing could have prepared me for meeting what is now the dessert of my dreams. It arrived onto our table warm and its sheen was owing to it being soaked in condensed milk and Wijsman. Wijsman is a slightly salted Dutch butter with a higher milk fat percentage than most butter that the family lugs over from Indonesia in their suitcases every time they visit.
Martabak itself is a stuffed pancake that's commonly eaten as a street food in Indonesia. You can choose your own toppings as you can at Yoi, with Nutella, cheese and nuts being the more common combinations. The martabak I ate was infused with pandan which gave it a light green hue, and it was stuffed with Nutella, chocolate sprinkles and crushed peanuts. The umami from the butter and nuts worked incredibly well with the sweetness of the Nutella and silkiness of the butter. The texture itself was like eating a crumpet/pancake hybrid and it was delicate and spongy. When cooking it the stove must be at the perfect temperature and even the slightest gust of wind could ruin the martabak. For something that looks so simple, the dish itself is incredibly intricate and the result is highly rewarding.
Have a look at some of Melbourne's best restaurants
Unless you have the metabolism of a nine-year-old, and the finances of a Kardashian, you never stand a chance against Melbourne's ferocious dining machine. The openings just don't stop and ain't nobody got time to keep on top of what's what. Except us, that is. So behold, our eat-and-destroy list – a guide to Melbourne's 50 best restaurants.