The five best parmas in Melbourne
Meet the pubs upholding the proud Australian tradition of the humble chicken parma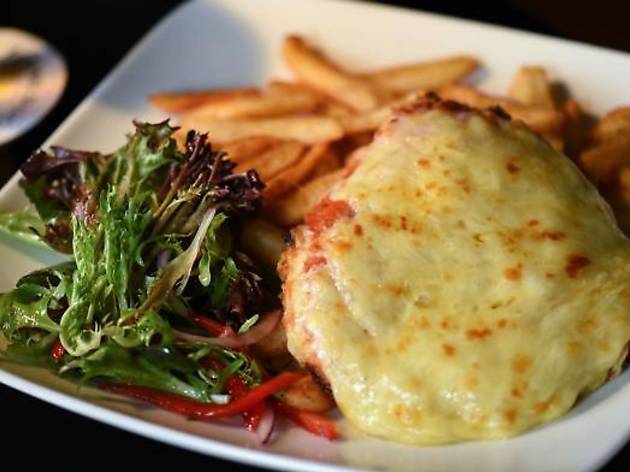 We set out to discover the best of what Melbourne has to offer in the way of the chicken parma; Australia's most iconic pub meal. To judge parma perfection, we arrived at a set of criteria that each winning parma would have to meet. We asked ourselves: is the chook fresh, flavoursome, moist and tender? Is the crumb well-seasoned and crisp throughout? Is the cheese rich and bubbly golden brown? Is the ham thick and rich, lending depth and umami to an otherwise simple dish? Is the sauce made from scratch, with the freshest of ingredients? And of course, are the parma's natural allies – the chips, the salad and the beer – all up to scratch?
After much deliberation, here, in no particular order, are five of the city's best and the personalities they represent.
The five best parmas in Melbourne
Honourable mentions
The Monster

A giant among parmas, the huge slab of ultra fresh chook at The Imperial looks like the filet of a small dinosaur. It's also delicious, ticking all the boxes of parma perfection with plenty of crispy bits around the edges. We love the shaved parmesan in the salad and beer battered chips, too.
Book now
Read more
The Beer Nerd

Melbourne's original craft beer pub remains one of our best, and their parma is no disappointment. Huge quantities of cheese ooze from the sides, capturing crispy chips and ensuring the perfect combo of chicken, ham, sauce, cheese and chip in every bite. Paired with one of their amazing beers, you can't go wrong.
Read more
Want more pub action?
Melbourne is a city that really knows how to do pubs. From beer halls with more than 50 craft beer taps to cozy locals with a great fireplace, there's a pub for every occasion.
Read more