Vegan hacks for non-vegan restaurants
You don't need to visit specialist restaurants to find cruelty-free cuisine these days. Many of Melbourne's chefs are going all-out on their vegan options – you just need to know where to look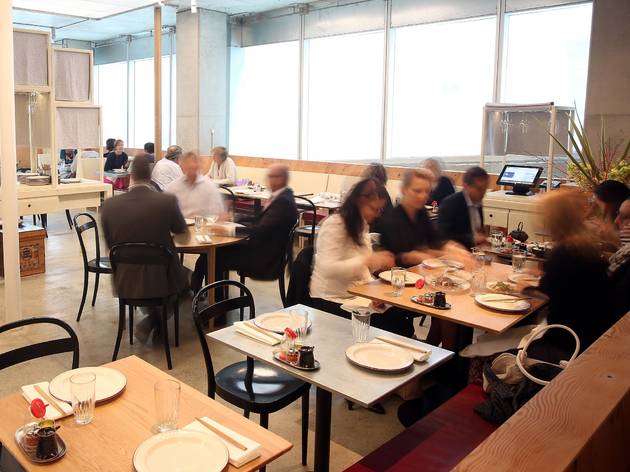 Not all restaurants advertise their vegan options, which is where we come in. For a more comprehensive guide to eating cruelty-free in Melbourne, check out our top vegan restaurants and vegetarian restaurants.
Restaurants with great vegan options
1
As a vegan, there's nothing better than having an entire menu to choose from. This dream is a reality at this suitably punk Brunswick café, where the on-request vegan menu includes hearty 'chicken' burgers and French toast with gingerbread tofu.
Read more
2
This little shopping centre canteen offers some of the tastiest dumplings in town for vegans and carnivores alike. Chef Meiyan Wang (aka Mama) creates handmade zucchini dumplings. Pan-fried to perfection and stuffed with tofu, zucchini and mushroom, they're little flavour explosions made even better with a little chilli and soy sauce.
Read more
3
Vegans, we don't need to tell you that Bio Cheese is the only fake cheese worth eating. You can bet it's available at this authentic Mexican eatery, and it's perfect inside their numerous varieties of vego quesadillas.
Read more
4
Just because you're vegan doesn't mean you want to eat Buddha bowls all day. This Brunswick pub knows this, and has devoted half their menu to vegan versions of all that hearty pub food you're missing out on: parmas, fish and chips, 'duck' souvlaki and more.
Read more
6
The staff at Andrew McConnell's Japanese diner on Flinders Lane don't mess around with their vegan offerings. They'll create an entire vegan banquet on request, or modify vegetarian dishes to suit your needs.
Read more
More cruelty-free eats
If you don't like food with faces (or food derived from animal products, like dairy or egg), it's becoming easier and easier to eat out, and eat well. Some are embracing veganism as a lifestyle choice; others are passionate about animal rights.
Read more