The best Melbourne restaurants for vegetarians
Vegetarian? You're living in the right city. Here's where to go if you don't like food with faces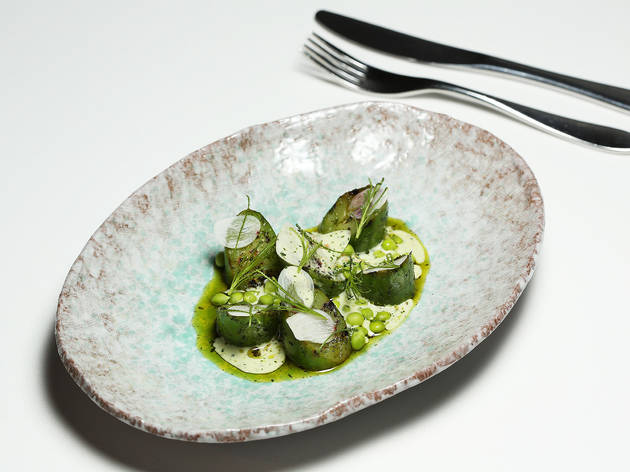 When it comes to vegetarian dining, Melbourne is home to some long-serving heroes – meat-free institutions like Shakahari and Moroccan Soup Bar have been winning hearts for decades. But vego restaurants aside, eating well at some of the bigger players hasn't always been easy. Thankfully, the last few years have seen a resurgence of the humble veg, as chefs step up to work their magic on food without faces. If you know where to go, you should have no problem dining just as well as your carnivore counterparts.
While you're on the veggie train, make it a priority to try our favourite healthy smoothies. You know what else doesn't involve meat? Cocktails.
Top of the tree
1
You'll be hard pressed to find a chef who digs their fruit and veg as much as Ben Shewry. Attica's chef is a forager, an artist, and the owner of two deeply tainted green thumbs. Shewry tackles Attica's all-veg, eight-course degustation ($220) with relish (pun intended), with his trademark dish of potato, baked in its own earth, putting in repeat appearances. Ripponlea.
Read more
2
2015 was the year that the three Bertoncello brothers – the eldest of which is 27 – burst into Beaconsfield with a degustation-only fine dining restaurant and a commitment to champion locally sourced vegetables. They'll happily adapt your meal to be meat-free, so file this in the special occasion folder, vegetarians. Beaconsfield.
Read more
How about a spot of Japanese?
Say "konnichiwa" to the city's finest places to enjoy sushi, sashimi, sake and so much more. Whether you want to dip into a cosy inn-style café or hobnob with the glitterati, you'll find what you're looking for here.
Read more