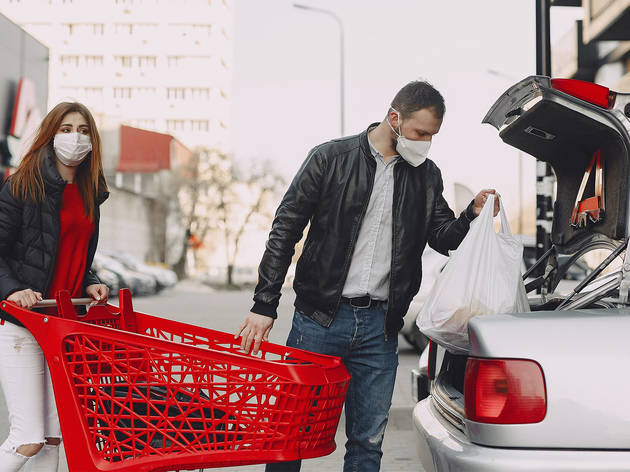 29 tips for living under coronavirus restrictions in Melbourne
Isolate smarter, not harder with these local tips for life during Melbourne's lockdowns
We get it: you're over it. We're over it. EVERYONE IS OVER IT. Except for the virus of course.
Living through lockdown in Melbourne has been draining and it's getting harder to find new ways to entertain ourselves, stay connected, motivated and even just be positive right now. So we thought we'd put our heads together and share some of our tips and tricks on living in Melbourne right now that you might not have thought of yet.
Sure, you'll probably scoff at a few of these tips, but maybe someone else hasn't heard them before. We're hopeful that every Melburnian can gather some ideas or inspiration from this list and it maybe makes lockdown just that teensy bit easier for you.
29 tips for living under Melbourne's lockdowns
1. Keep your masks near your keys so you don't forget to put it on before leaving home (unless you forget both your keys AND your mask – uh oh).
2. Moisturise your hands. Washing your hands a lot is necessary but can dry them out. Slather on some moisturiser every now and then. And if you're getting red, itchy or sore skin from hand washing, talk to your doctor.
3. Download and use an app like Crowdless to get an idea of how busy your supermarket is before you go.
4. And then use a trolley to maintain your 1.5 metres of distance from other shoppers while there.
5. Or get your groceries delivered rather than going to the supermarket. Here are our favourite grocery delivery services.
6. In fact, order everything you can online – lots of places offer free shipping over a certain amount.
7. Check out exactly how far you can go from home for exercise with a tool like 5km from Home (the DHHS also shows you how far the 5km radius is).
8. Use your elbow, knee (or as one reader commented, a pen) to press the button at traffic lights. PLEASE STOP KICKING THE BUTTONS.
9. If you have a car don't just let it sit idle throughout lockdown. Take it out every week or so (when doing an essential activity like shopping for groceries) to ensure it's still in a good condition when lockdown lifts.
10. Use your extra time at home to FINALLY watch that huge, seminal television series you are yet to see (for example, The Sopranos, Game of Thrones and Six Feet Under – they're all currently streaming on Binge so use that two-week free trial wisely).
11. Make the most of the emptier streets to get some great urban photography (that is, while out for your daily exercise).
12. Love film but want to save money? Kanopy is service accessible using a library membership that lets you stream a huge range of fantastic films.
13. You can't go to the cinema with friends but you CAN synch up watch parties and debrief on a vid call after, vino in hand, which achieves a similar buzz. Or try a service that does it for you like Netflix Party.
14. For those wanting to volunteer (but don't know where to start) the Victorian government has launched a website to connect those who want to volunteer with organisations that need volunteers.
15. For a cute activity to do with your kids, try your hand at painting a couple of spoons as part of the spoonville initiative.
16. Working from home? It's important to try to separate it from your home life (easier said than done, we KNOW). Try turning off your email notifications outside of work hours and make sure you take all entitled breaks – set alarms if you tend to forget. Use the Pomodoro method!
17. We can't go to the pub – but we can get the pub to come to us. Moon Dog Brewery has created a pub in a box kit complete with bar mat, beer and snacks.
18. Stand near (not blocking) a door or window if you have to use public transport. Here are more ways to stay safe when catching trams, trains and buses in Melbourne.
19. Keep hand sanitiser in your glove box, as well as your bag and in the pockets of all your jackets.
20. Leave your house every day, even if you don't feel like exercising. Just stroll around the block, breathe some air and listen to a podcast or some fun music for a break.
21. Take on small, manageable projects, like cooking from scratch. There's a lot of satisfaction to be found in turning ingredients into delicious food, and it's something you can control from start to finish.
22. Shower as soon as you wake up (or before you go to bed, whatever is normal for you) to keep your routine.
23. Where possible, go out for exercise at off-peak times (so not between 7-9am; between noon-2pm and between 5-7pm) to minimise interaction at your local park or beach.
24. When it's warm enough and if you live within 5km, go swimming in the ocean. It'll make you feel like you're on holidays (and it's nice and socially distant).
25. If your house is not well heated, invest in some good socks (or wear shoes) to prevent chilblains. Of course, chilblains can also be a rare symptom of coronavirus, so if you're feeling unwell, see a doctor and get tested.
26. Keep in contact with your mates. Even just a small message every now and then will make both of you feel better.
27. Hugs are in short supply for single-living folks without a bubble buddy, but if you make time for snuggles with a pet every morn and eve, it's a huge mental help. Got no fur baby? Now's the time to look into adopting, or if that's too much like hard work, any old cushion will do. Ed's note: I find screaming into a cushion is also therapeutic from time to time.
28. Looking for love? Use Tinder/Bumble/Grindr/Scruff to spark up some retro pen letter-loving, since you can't meet up with (new) partners at the moment. Slow things right down and get to know someone by asking lots of questions. And if it also turns to sexting, well, who are we to judge?
29. If possible, switch off social media if it's making you feel anxious or unhappy. Same goes for the daily press conferences – it's genuinely great to receive a daily update, but if it's too much just switch it off. You will find out if there's anything super important to know.
If you or someone you know needs support, please call Lifeline (13 11 14) or Beyond Blue (1800 512 348).