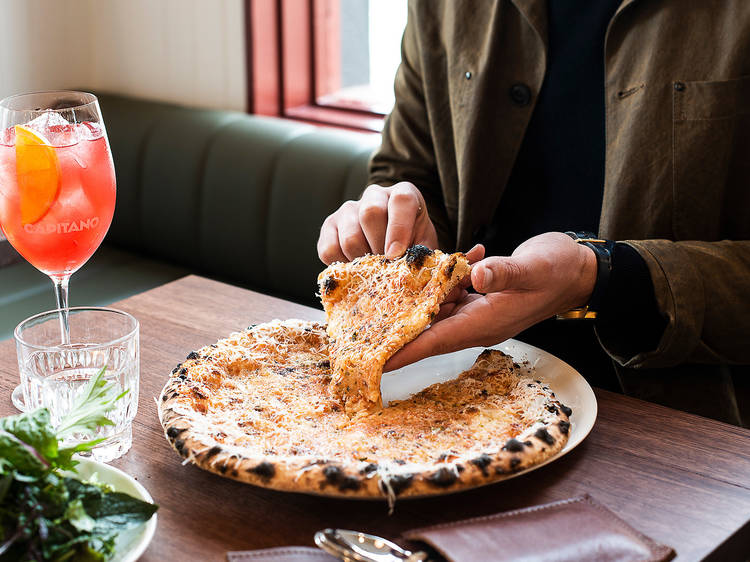 Photograph: Carmen Zammit
We'd be doing Carlton a disservice if we didn't start with Italian. Tiamo (303 Lygon St) has served authentic Italian food and coffee for over 40 years, so you can expect it to be busy whether you show up at 9am or 9pm. "I've been going there since 1972," says Mark.
Further up on Rathdowne is a modern Italian restaurant that you don't want to miss, Capitano (421 Rathdowne St). Capitano's Detroit-style, cheesy, carby grandma pie is unlike anything else in Melbourne, and drinking the slightly unusual cocktails (like the PB & Miso Old Fashioned) are a fun way to spend an afternoon.
But Carlton isn't just Italian food. Time Out Food Award winner Kazuki's (121 Lygon St) is one of the newer fine diners on the block, but worth your business. This Japanese-ish, French-ish modern restaurant moved from Daylesford to this location back in 2018.
Just off Lygon on Faraday is another long-term establishment, Shakahari Vegetarian Restaurant (201 Faraday St). Exclusively serving vegetarian food since 1972, this place will satisfy even the staunchest of meat-eaters. We highly recommend the legendary satay.
Abla's (109 Elgin St) is another Carlton institution. Lebanese immigrant Abla Amad started this home-style restaurant in the '70s and it's still going strong today. While the chicken and rice is a favourite with regulars, don't forget to leave room for baklava for dessert.
If you're looking for an authentic Japanese style lunch or dinner, Sushi Ten (178 Rathdowne St) is worth a visit. Locals know to bring cash, and that the owners don't always open the doors on time, but the food here is worth the hassle.
Taquito (350 Drummond St) is a modern Mexican taqueria and bar. All the tortillas are made from scratch in house, the guac is delicious, and you need to check out the selection of rare mezcals and tequilas on offer.