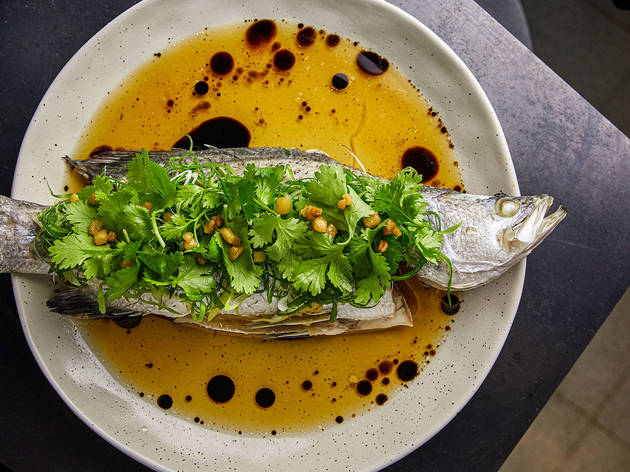 1/10
Photograph: Ben Moynihan
2/10
Photograph: Ben Moynihan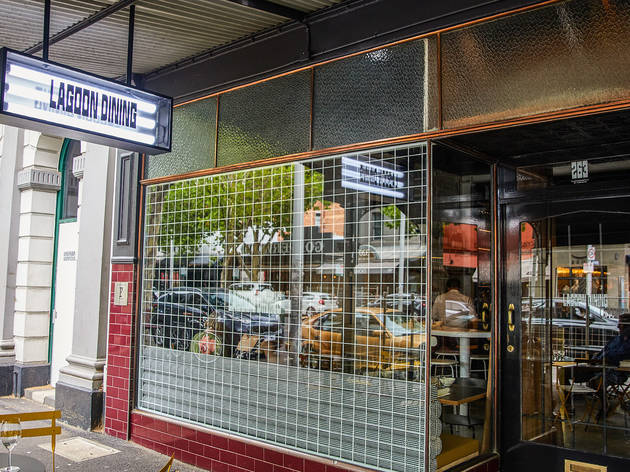 3/10
Photograph: Ben Moynihan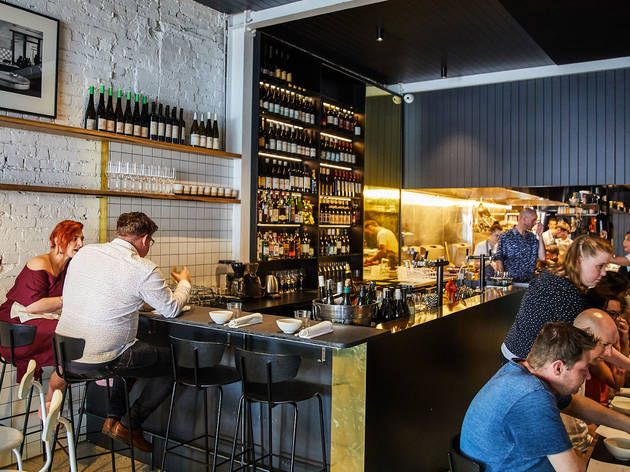 4/10
Photograph: Ben Moynihan
5/10
Photograph: Ben Moynihan
6/10
Photograph: Ben Moynihan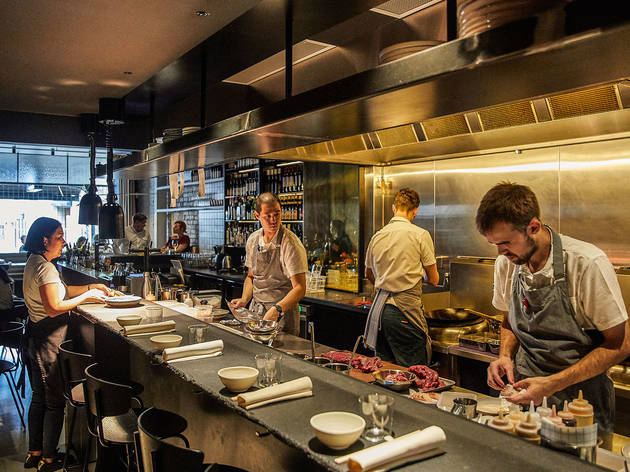 7/10
Photograph: Ben Moynihan
8/10
Photograph: Ben Moynihan
9/10
Photograph: Ben Moynihan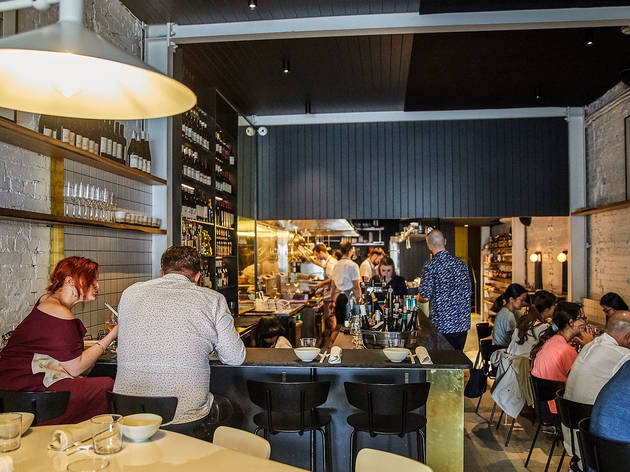 10/10
Photograph: Ben Moynihan
Time Out says
Clever pan-Asian cooking can be found in the thick of Lygon Street's Little Italy
If you squint, you can see the bones of the Lygon Street Food Store, the deli and sandwich shop that stood for 66 years where Lagoon Dining is now. The narrow room confidently displays white painted brick walls, slick black tables with banquette seating, an open kitchen with a bar wrapped around it and on-street dining. The distinct zones mean that beautiful young couples can have intimate dates next to serious family dinners and solo diners can prop up comfortably at the bar without feeling out of place.
The team behind Lagoon are ex-Ezard, which explains why the service is crisper than you'd expect for a casual offering, which travels from the door to floor, the kitchen and beverage, with informed and friendly being the key to Lagoon's charm. The menu reads like any other pan-Asian restaurant in the city where Chinese doughnuts take place of bread in tartare service, fried chicken comes dusted in togarashi and XO sauce inevitably finds its way onto noodles via a wok, only Lagoon's menu isn't a scattergun of Asian flavours, more a focus on Cantonese and Sichuanese cuisine with a holiday in Japan. The wine list is a compact collection of interesting, small local and international producers that pair with the umami, soy and chilli that threads its way through the menu at reasonable prices – not an easy task.
Sydney Rock oysters come with a house-made hot sauce, like a grown-up, fermented sriracha, that will leave you conflicted on whether you want to dab or not dab your pristine bivalve with an acidic chilli hum. The raw kingfish in a bath of crustacean oil, topped with puffed buckwheat and sancho pepper alongside a refreshing onion salad, is a bright, multi-layered departure from obvious, thick-slabbed sashimi-like dishes doused in sweet, tacky sauces you'd be served at other restaurants falling under the same umbrella. The Strange Flavoured dressing (not 'strange flavoured') that comes smothered on baby cos (rather than the traditional poached chicken) is a touch sweet and thick, lacking the tang of vinegar and warmth of chilli, making it pasty on the palate.
Cooked dishes use fantastic produce and are built on sound ideas, but some fall flat due to minor technical issues. Rolled rice noodles in XO sauce and a fried rice dish that triples down on the salted fish (blue eye salted cod, bottarga, fried anchovies) have great flavour but seem to us to lack the necessary breath of the wok that prevents greasiness, amplifies the sweetness and textures of the vegetables and adds a charred aroma synonymous with Cantonese cookery. The steamed flounder (this day's market fish) served in the traditional soy, ginger and spring onion style misses its dose of oil heated to smoking point to bring out the flavours of the aromatics and tastes a touch one-dimensional from the pork crackling flourish. Japanese steamed rice is perfectly cooked, but when it arrives at the table the grains are clumped together.
In a strip where people are dodging questionable Italian restaurants, Lagoon Dining may not be perfect, but it is what Lygon Street needs; a refreshing combination of professional hospitality with a smart remix of traditional Asian flavours and an energetic wine list that sets itself apart from the other relaxed, main street offerings.
Details
Address:
263 Lygon Street
Melbourne
3053

Menu:
View Menu
Contact:
Opening hours:
Mon, Wed, Thu 5pm-late; Fri noon-late; Sat 5pm-late; Sun noon-late
Users say