Five dishes to eat at Night Noodle Markets
We've made things easy for you, make a beeline for these delicious market eats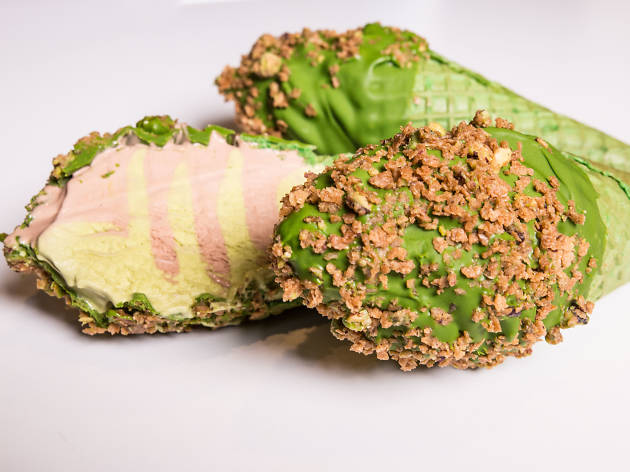 If you've ever been to Night Noodle Markets before, you'll know how hectic lines to the stalls can be. And for good reason. Melbourne's most hyped about eateries and street food businesses flock to the market each year and it's a great opportunity to tick them off your Melbourne foodie bucket list in one fell swoop.
This year, marketgoers can expect Wonderbao, Hoy Pinoy, Mr Miyagi, Sake and Gelato Messina, and we've picked out the best of the bunch so you can head straight for the most delicious dishes at Night Noodle Markets.
Five things to eat at Night Noodle Markets
1
Gelato Messina will be bringing their Very Very Good Lucky Fortune Bar to the Night Noodle Markets with four special edition flavours. The Turron Not (pictured) is a deep fried banana and brown sugar gelato wrapped in filo pastry, with ube cream, kalamansi puree and coconut crunch. Double up and order the Matcha Ado About Nothing number in a cone while you're there (lead image).
Read more
2
Hold on to your hats, Sydney patisserie Black Star Pastry are teaming up at Night Noodle Markets to create the tastiest of food marriages. Black Star Pastry will be serving their famous strawberry watermelon layer cake, and N2 Gelato will be scooping up gelato made with the famous strawberry and watermelon cakes by the Sydney cake shop.
Read more
4
Street food regulars Hoy Pinoy BBQ will be back at this year's Night Noodle Markets with their famous smoky barbecued satay sticks and whole roasted pig. Definitely order the Liempo: a 12-hour smoked pork dish with adobo sauce, served on steamed rice.
Read more
5
Warm nights call for Nem N' Nem's fresh Vietnamese dishes. Their mini banh mi baguettes are stuffed with delicious crispy-skin braised pork belly, and the vermicelli rice noodle salads are a favourite of summertime lunch crowds. Go for the Nem's Platter if you want a bit of everything.
Read more
Melbourne's best cheap eats
With so many cheap eats options in Melbourne it's not hard to eat out without breaking the bank
Read more